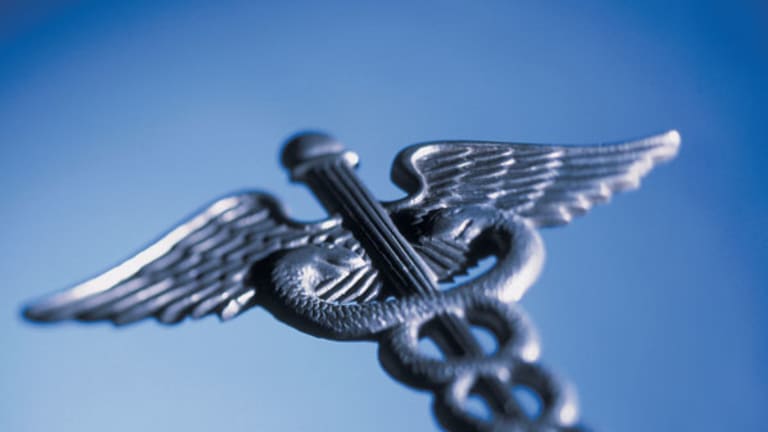 Boston Scientific: Where Will It Trade in 2011?
Is Boston Scientific, the medical technology underdog, finally set for a comeback in 2011?
(Boston Scientific article updates for insider trading at key competitor, Medtronic.)
NEW YORK (TheStreet) -- Will 2011 be the year during which we can finally call Boston Scientific (BSX) - Get Report the comeback kid?
Recent trading in shares of the underperforming medical technology company has been heavy. More than 110 million shares of Boston Scientific were traded over three trading sessions last week, when Boston Scientific shares reached their highest share price since the defibrillator recall in March. The recall had cast a pall over the already floundering business earlier this year, and resulted in BSX reaching its rock-bottom share price just above the unenviable $5 mark.
Boston Scientific shares were above the $7.80 mark at their highest point during last week's heavy trading, and have since settled at the $7.70 mark.
The heavy trading might just be part of some year-end bottom-fishing by investors across the health care sector. Analysts noted that there hasn't been any news of note related to Boston Scientific specifically, but there have been plenty of health-care stocks hitting 52-week highs in recent trading.
If there's a case to be made for the health care sector, or medical technology niche, being a last-minute bottom fisher's paradise in 2010, a transaction reported to the SEC on Monday might be wise to review. Jack Schuler, a long-time director at BSX competitor
Medtronic
(MDT) - Get Report
increased his ownership stake in Medtronic by 19%, or roughly $3.7 million in an insider buy on Dec. 22.
Inside sales tracker
Insiderscore.com
noted that it was the longtime director's largest purchase, as well as the largest by any officer or director, in nearly three years. The inside sales tracker also noted that Schuler previously bought $13.7 million in Medtronic shares at $48.91 in February 2008. A few months following that buy, MDT hit a high of $52.92, a level that it has not since reached.
"Schuler has been around the block more than once and he's someone who has shown a willingness to make long-term investments. Considering the dearth of interesting buying across the market, this buy stands out,"
Insiderscore.com
wrote.
Look at
C.R. Bard
(BCR)
or
Covidien
(COV)
, or direct Boston Scientific competitors
St. Jude Medical
(STJ)
and
Medtronic
(MDT) - Get Report
. Bard is up 10% in the past month, while Covidien and St. Jude, and Medtronic have rallied by 7%.
With its recent gains, Boston Scientific has gained 13% in the past month. BSX, even with its problems, trades at a higher price to earnings ratio than Medtronic.
Rick Wise, health care analyst at Leerink Swann, says that one doesn't need to look into the Boston Scientific details to explain what is going on. "There is some bargain hunting going on in the most beaten up stocks, and it's happening across the broad market. Maybe investors are thinking it's dangerous to be short some of these names, but whether it's a sustainable rally or not remains to be seen," the health care analyst said.
Others are looking at Boston Scientific, specifically, and still don't like what they see as far as comeback potential. At its recent analyst day, Boston Scientific targeted double-digit growth annually, with aggressive cost cutting among the means to make its ambitions reality. Several Street analysts bristled at the Boston Scientific management outlook, and believe the company remains the weakest positioned among medical technology peers.
It's been a painful experience to be associated with Boston Scientific, too. When Ray Elliott took over as CEO in 2009, the turnaround specialist was supposed to do just that for the floundering medical technology company. Instead, the year got off to a disastrous start with the defibrillator recall, from which Boston Scientific has finally freed itself. Even as the company now has the ability to look forward and set its growth targets, during the worst of the defibrillator crisis one frustrated analyst quipped that the only thing left to descend on Boston Scientific was a biblical plague of locusts.
The most telling stat on Boston Scientific, in fact, may be the number of Street analysts that rate the stock a hold. Of 29 analysts who cover Boston Scientific, 21 rate the medical technology company a hold. It's not typical of the Street for the consensus opinion to be
not
to have a strong opinion on a stock one way or the other. Boston Scientific is, has been, and will remain to be the ultimate "show-me" stock.
David Lewis, an analyst with Morgan Stanley, wrote in a recent research report, "We question how Boston can acquire growth assets and invest to maintain leadership positions with a depressed balance sheet vs. peers and a stated objective to maintain absolute levels of
research and development spend. Competition for attractive growth assets is likely to be intense, and competitors continue to invest heavily in internal development programs."
Yet Leerink Swann's Wise -- who has a current price target of $9 to $10 on Boston Scientific shares -- says that for every negative that critics can harp on about the medical technology company, the fact remains that Boston Scientific has outperformed since its bottoming out. "It was an extraordinarily painful start to the year, but the stock has bounced back from the profound depths, shipping defibrillators again faster than people expected and regaining market share faster than people thought they would. That was 40% of the franchise that came to a halt," the analyst noted.
The health care analyst noted that it's been a lengthy, multi-year process of deterioration, that started well before current management took over. "Boston Scientific has been viewed more as roadkill than as an investment," Wise remarked, adding "You have to start somewhere and my experience with turnaround stories is that they surprise people with moves."
Yet for Boston Scientific, even surprising people with its recovery from the defibrillator recall, the bigger surprise in 2010 was that the recall occurred.
Even Leerink Swann's Wise, who remains one of the few Street analyst firmly taking a bullish stand on Boston Scientific shares, concedes that there's no way to guarantee the double-digit growth dreams of Boston Scientific, but with an improving balance sheet, a pipeline of 150 products -- of course which may only include a few if any winners -- and continued cost-cutting, there's an above average possibility that the current management team has set a reasonable floor for growth.
"I don't take their annual growth target lightly. I'm not going to be cynical about it, but I can't say it's a lock either," Wise said.
And there's always some issue with Boston Scientific, isn't there?
As a godfather might say, just when Boston Scientific thought it was out, something pulls it back in.
On Tuesday morning, the bad news came courtesy of a
Wall Street Journal
article indicating that the Internal Revenue Service was seeking $525 million from Boston Scientific stemming from its purchase of
Guidant
. Guidant has been albatross around the neck of Boston Scientific in other ways, with the long-running civil case involving its defibrillators in the headlines for years.
For a company with an already stressed -- albeit improving -- balance sheet, a big tax bill is another headache, though it may not be migraine-sized in nature. Boston Scientific disagrees with the accounting methodology used by the IRS, and stated in an SEC filing on Monday that it has sufficient income tax reserves for the worst-case scenario.
The recent sale of its neurovascular business to Stryker for $1.5 billion has helped the cash situation. There was plenty of market chatter about the company selling its neuromodulation business, too, to shore up the balance sheet. That is, before the more recent speculation that Boston Scientific has decided to not sell the neuromodulation business.
Matthew Dodds, a Citigroup analyst, wrote in a research report after the Boston Scientific investor day, "We just don't envision a scenario of Boston's combination of revenue acceleration while aggressively cutting costs as viable."
In the end, the recent rally in Boston Scientific shares is at odds with the long-running skepticism about the company, as evidenced in the outlook from the Street. Indeed, with 21 analysts sitting on the fence when it comes to Boston Scientific, it raises the question,
Where will Boston Scientific shares trade by the end of 2011?
Take the poll below, to see what the investors of
TheStreet
predict.
-- Written by Eric Rosenbaum from New York.
RELATED STORIES:
>>Orexigen Therapeutics FDA Panel Live Blog
>>Orexigen Contrave FDA Panel Preview
>>Clean Energy Winners: Tax Cut Trades
>To contact the writer of this article, click here:
Eric Rosenbaum
.
>To follow the writer on Twitter, go to
.
>To submit a news tip, send an email to:
.