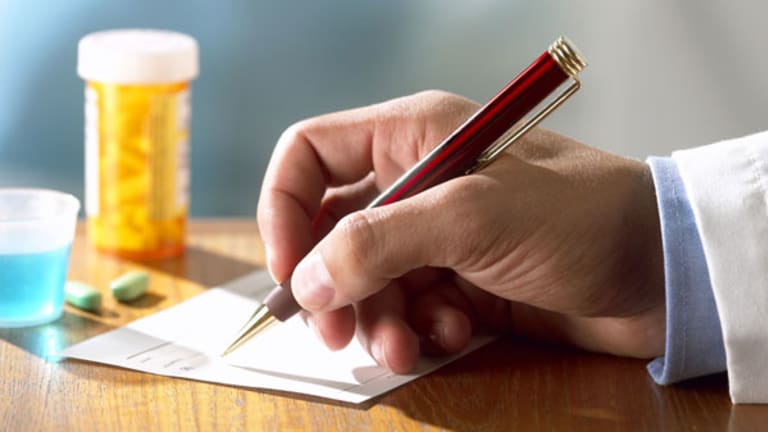 Boston Scientific: Don't Call It a Comeback
Boston Scientific shares slump in early trading Wednesday even though it performs better than analyst expectations in the second quarter.
Boston Scientific shares slump in early trading Wednesday even though it performs better than analyst expectations in the second quarter.
Boston Scientific story updated with comment from Leerink Swann analyst)
NATICK, MA (
) -- It's been a tough year for
Boston Scientific
(BSX) - Get Report
, but the medical device maker was able to beat the Street in its second quarter earnings, announced after the market close on Tuesday. Yet the earnings beat didn't help Boston Scientific shares gain ground after the market opened on Wednesday morning.
Boston Scientific shares dove after the opening bell on Wednesday on elevated trading -- the medical device company had surpassed its average daily trading volume of 21 million shares by midday. BSX losses had increased from an opening bell drop of 4% to a decline hovering between 5% and 7% at midday, pushing BSX shares back below the $6 mark.
The Street was only expecting earnings of 3 cents per share from Boston Scientific, which delivered earnings of 6 cents.
Boston Scientific hit the Street expectation of $1.9 billion in revenue for the quarter, which was lower than last year's second quarter revenue of just under $2.1 billion for Boston Scientific.
Boston Scientific shares had risen between 2% and 3% in after-hours trading on Tuesday as it beat on the bottom line and met the Street on the top line, even as profits fell versus the previous year. Yet that all changed after the earnings conference call on Wednesday morning.
Several analysts described the Boston Scientific earnings in a moderately positive light, and the medical device company's shares need a boost, trading near 52-week lows and already a "turnaround story" even before a recent crisis in its defibrillator business.
Analyst Joanne Wuensch of BMO Capital Markets described the Boston Scientific results as "better than expected." Leerink Swann also described the results as encouraging and supporting a recent Leerink Swann study on Boston Scientific's recovery in the defibrillator market.
Larry Biegelson, Wachovia Securities analyst, who is at a hold on BSX shares, was also modestly positive on the results, describing the quarter as "decent" for BSX, and referred to the "strong return to the ICD market."
Wachovia noted that worldwide ICD sales of $379 million beat its estimate by $55 million, and U.S. ICD sales of $238 million beat the Wachovia estimate by $58 million. "BSX's return to the ICD market seems to be going better than expected," the Wachovia analyst wrote.
Implantable cardiodefibrillator (ICD) sales came in at what BMO Capital Markets described as a "healthy" $379 million, down 16.5%, but well ahead of the diminished recall-triggered consensus of $328 million and management guidance of $290-$325 million. BMO Capital said Boston Scientific "battled back in the US ICD market."
A decline in Boston Scientific's key drug eluting stent (DES) sales, down 11% to $389 million, could be one of the headwinds on Wednesday morning -- though the drop was only $6 million below consensus sales.
Larry Biegelson, Wachovia Securities analyst, had said earlier this year that the weak sales outlook for the drug-eluting stent (DES) business would continue to be an earnings headwind for Boston Scientific. Yet he described the drug stent sales drop as in line with his expectations, in a flash note released Tuesday night.
Analysts estimate that Boston Scientific lost 3% market share to competitors during a month-long recall in its defibrillator business in March. The main competitors are
St. Jude Medical
(STJ)
and
Medtronic
(MDT) - Get Report
>>Boston Scientific: Calm Before the Locusts?
The BMO analyst speculated that there could be downward pressure on St. Jude and Medtronic shares as a result of Boston Scientific's recovery, and both companies were down in trading on Wednesday, though the entire health care sector declined. St. Jude, which was expected to keep more of the long-term market share gain from the BSX recall and Medtronic were both down more than 2%.
Boston Scientific CEO Ray Elliott commented on the cardiac rhythm management (CRM) market in the second quarter results, saying, "In CRM, we finished the quarter well ahead of where we expected to be, thanks to exceptional execution by the sales team and everyone else involved in our recovery. "
The defibrillator market is Boston Scientific's largest market, and the recall forced analysts who already thought shares had bottomed at $8 before the March recall to take price targets down even lower, with several analysts arguing $7 to $8 was fair value. The BSX shares have slipped even lower as the entire medical device market has taken a hit with the European market situation worsening in 2010.
Rick Wise at Leerink Swann, wrote on Monday about a just completed Leerink Swann study of the defibrillator market share showing that while BSX competitor
St. Jude Medical
(STJ)
picked up some lasting market share during the defibrillator recall, Medtronic's gains might be short-lived, and Boston Scientific's market share should return to normal by the end of 2010.
The Leerink Swann analyst wrote in a research note on Monday morning, "BSX market share is recovering, now possibly back into the 24-25% range in the June-July time frame and should continue to recover into 2H10 and 2011."
Yet Boston Scientific can't seem to shake an unhappy investor audience.
The Leerink Swann analyst said he didn't believe there was a sole reason or single fear driving the BSX selling, writing in an email to
TheStreet
, that there was some 'sell on the news' activity in BSX shares on Wednesday.
"There had been some anticipation that BSX's US ICD rebound (post the ship hold) was happening faster than the Street had modeled. That was correct. The ICD was clearly strong. But now some may have decided to take some profits in a tough MedTech group environment."
The MedTech environment was the larger issue in the opinion of the Leerink Swann analyst, who noted that some big names in the medical space have not gotten off to a good start earnings-wise. Wise pointed to the
Johnson & Johnson
(JNJ) - Get Report
and
Stryker
(SYK) - Get Report
results as examples of recent earnings that have spooked health care investors. Stryker shares are down more than 8% on Wednesday, and healthcare stocks are down to a greater degree than the broad equity markets.
"Reports and comments from Johnson & Johnson and Stryker fanned the flames of investor concerns over slowing U.S. procedure growth...and the likelihood of greater EU pricing pressures ahead in 2011," the Leerink Swann analyst wrote.
Boston Scientific estimates net sales for the third quarter of 2010 of between $1.9 billion and adjusted earnings of 10 cents to 13 cents. The Street expects earnings of 6 cents and revenue more or less in line with the company's target.
The medical device maker revised its estimates for the full year 2010, to net sales of between $7.6 billion and $7.9 billion, with the high end slightly lower than previous guidance -- possibly related to foreign exchange charges -- and adjusted earnings of 54 cents to 62 cents per share.
The Street was looking for full year revenue of $7.6 billion from Boston Scientific and earnings of 28 cents.
-- Written by Eric Rosenbaum from New York.
RELATED STORIES:
>>Boston Scientific: Calm Before the Locusts?
Follow TheStreet.com on
and become a fan on
Copyright 2009 TheStreet.com Inc. All rights reserved. This material may not be published, broadcast, rewritten, or redistributed.