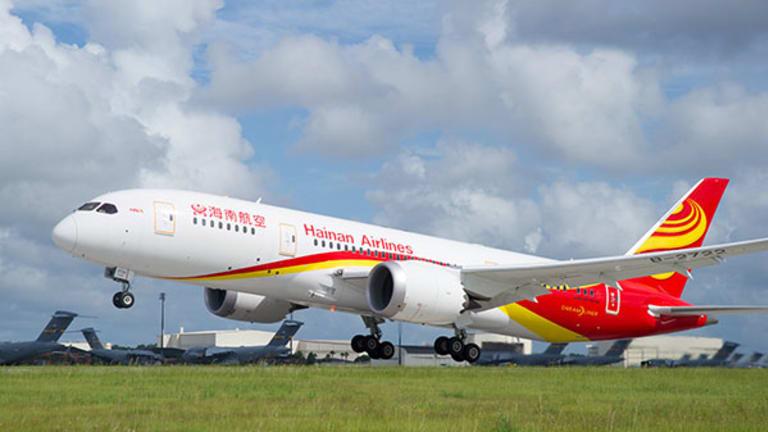 Boston and San Jose Get China Routes, Thanks to Boeing 787
Boeing's 787 Dreamliner enables flights on routes that, initially, don't have huge traffic flows -- routes like Shanghai-Boston and Beijing-San Jose on Hainan Airlines.
NEW YORK ( TheStreet) -- Chinese carrier Hainan Airlines, an aggressive deployer of Boeing (BA) 787 Dreamliners, has announced two new routes that likely would be impossible without the unique aircraft.
Hainan said last week that it will begin service from Shanghai to Boston and Seattle, and from Beijing to San Jose in June. On Beijing-San Jose and Shanghai-Boston, the carrier will use the 787.
Since it began flying in 2011, the aircraft has opened a series of "long, thin routes" where there might initially not be enough traffic for a larger aircraft. Although it is relatively small, the 787 can still carry enough fuel to fly extremely long distances.
On Shanghai-Seattle, Hainan will use an Airbus A-330.
"We absolutely love the 787," said Joel Chusid, U.S. executive director for Hainan. "We can't get enough of them." Hainan has taken delivery of eight of the 10 787s it ordered, with two more coming in March. The line awaiting deliveries is long, but Hainan likes to think it can find a way to get more aircraft.
In the meantime, it has allocated its latest deliveries to two cities that offer unique advantages, although neither is a hub for a major global airline. Both cities already have Japan routes, enabled by the 787, which are doing well.
In April 2012, Japan Air Lines began Tokyo Narita-Boston service, the first regularly scheduled 787 service at any U.S. airport. ANA began flying a 787 between Tokyo Haneda and San Jose in 2013.
"There's no question from our point of view that the 787 is the single biggest factor in the additional routes we've gotten," said Tom Glynn, CEO of the Massachusetts Port Authority. "The 787 opened the door to Beijing, and they've had 90% load factors, which opened the door to Shanghai."
"We had to compete with bigger airports, (including) Miami and Chicago for some international flights," Glynn said. "But we've had some advantages. Our governors (past and present) and other officials in Massachusetts see these flights as critical (while) Chicago and Miami might be more nonchalant. We have a good relationship with Customs and Border Protection (at the airport)."
Also, "Our business community has been welcoming and willing to meet with airlines," Glynn said. Boston's hospitals have attracted international business, particularly from Europe, while its colleges and universities draw students from throughout the world.
"Boston has an additional dimension of education and medical on top of the financial services, technology and manufacturing, which are all very significant," Glynn said. "And they all create demand for these flights."
Despite being a major U.S. city, Boston lacks a global airline hub; JetBlue's (JBLU) Boston hub primarily serves domestic destinations. Yet the Shanghai flight means Boston will have service to China's three principal entry airports -- Beijing, Shanghai, and Hong Kong -- once Cathay Pacific begins Hong Kong-Boston service in May.
Chusid expects little impact, given that Delta's (DAL) Seattle-Hong Kong flight has had little impact on Hainan's existing Shanghai-Seattle traffic.
Mineta San Jose International Airport is an unusual candidate for trans-Pacific service because it is relatively small, with just 9.4 million passengers in 2014, and it is just 35 miles from United's (UAL) global and domestic hub at San Francisco International Airport, the best U.S. hub for trans-Pacific service.
But it can be a long 35 miles on Highway 101. "It is less than an hour by miles, but it can take two to three hours," said Cheryl Marcell, deputy director for business development at the San Jose airport.
Silicon Valley also is a global technology and wealth center. "Our airport is 10 minutes from Apple undefined (headquarters) and 15 minutes from Google (GOOG) (headquarters)," Marcell said. "And they prefer to use our airport.
"Have you seen the wealth of this economy?" she asked. "Nobody has this kind of economy. Measure us against any economic benchmark." A favorite stat: the median Silicon Valley household income is $94,000; the U.S. average is $53,000.
Another factor was China's policy of restricting competition between Chinese carriers that want to fly to the same U.S. city. "We were looking for a West Coast gateway," Chusid said. "There is a limitation on the number of carriers on a specific route. That left San Diego, Oakland, Portland and San Jose. San Jose is a nice airport, a little gem, with so much business back and forth to China -- and taking 101 is terrible."'
-- Written by Ted Reed in Charlotte, N.C.
To contact this writer, click here.
This article is commentary by an independent contributor. At the time of publication, the author held no positions in the stocks mentioned.