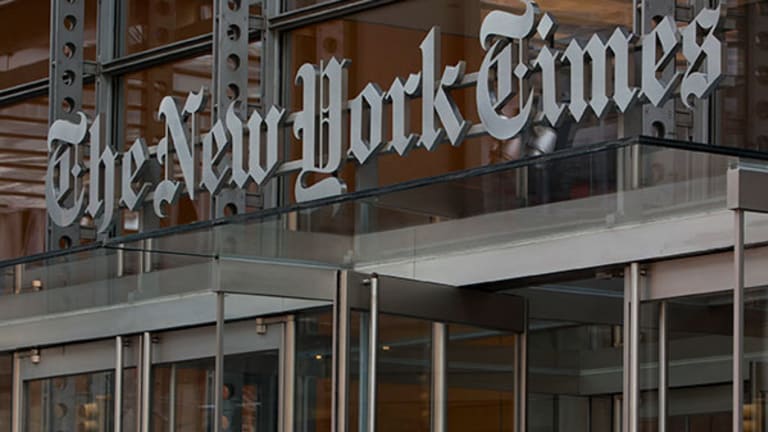 Boost in Online Subscriptions May Be Salvation for New York Times
Read all about it! Despite plunging profits, the newspaper publisher enjoyed a shot in the arm last year.
The print media have been a big casualty of the Internet revolution.
As people around the world go online for content that would have previously been accessed through newspapers, magazines and even books, publishers have been taking major hits to their profits, and that has had a significant impact on investors.
Last month, U.K.-based Pearson, the owner of Penguin paperbacks and the world's largest textbook publisher, cut its 2017 operating profit guidance by nearly 20% and discarded 2018 guidance altogether, citing an intensely difficult environment for the publishing industry. The company's stock lost 30% of its market value in one day.
And we have the impact that declining book and magazine sales have had, thanks to both ereaders and online bookstores -- Amazon being the chief culprit on both counts -- on the brick-and-mortar bookshop industry. Barnes & Noble has been one of the few retail chains to stay alive but just barely.
It would seem that publishing doesn't hold much potential for investors. However, on Thursday, New York Times (NYT) reported earnings results that hold a bit of hope for those bullish on the 165-year-old company.
Overall, the company's fourth-quarter earnings weren't great.
Net income clocked in at $37.1 million or 23 cents a share, a year-over-year decline from $51.7 million or 31 cents a share. Adjusted earnings of 30 cents a share were above the consensus estimate of 24 cents a share, however.
Revenue for the quarter slid to $439.7 million from $444.7 million a year earlier. But again, this beat Wall Street's expectation of $438 million.
However, the big news is on the digital front. New York Times has been aggressively pushing its online division, and that is paying off.
For the fourth quarter, digital-advertising revenue rose by 6% to $209 million. And the company added 514,000 net digital subscribers during the full year, with 276,000 customers purchasing subscriptions during the fourth quarter, attributable to interest in the U.S. presidential election.
Quarterly revenue from digital-only subscriptions increased by 22% to $64 million. And for the full year, digital revenue rose 17% to $233 million.
"We continue to experience significant headwinds in print advertising, but the robustness of our consumer business, which we expect will continue, provides a strong counterbalance to these market challenges," Chief Executive Mark Thompson said. "We will remain focused on our legacy cost base while continuing to invest in digital growth and innovation."
As Americans grow more concerned about current events, driven largely by the already controversial administration of President Donald Trump, there is potential for online news readership to continue to grow.
Investors seem to agree that, though New York Times continues to face trouble when it comes to traditional streams of revenue, the company's foray into digital advertising and subscription can help it thrive.
With more than a decade and a half of providing quality content and value, this company is one of the last good profit opportunities in the publishing industry. However, it isn't without risk.
---
But if risk isn't your thing, I know a way you can a steady stream of dividend income every month... and it's practically guaranteed by the IRS. The company signing the checks might not be one that you've heard of. However, Silicon Valley's top CEOs - think Mark Zuckerberg and Larry Page - know that its product is invaluable. Click here for the full story.
The author is an independent contributor who at the time of publication owned none of the stocks mentioned.