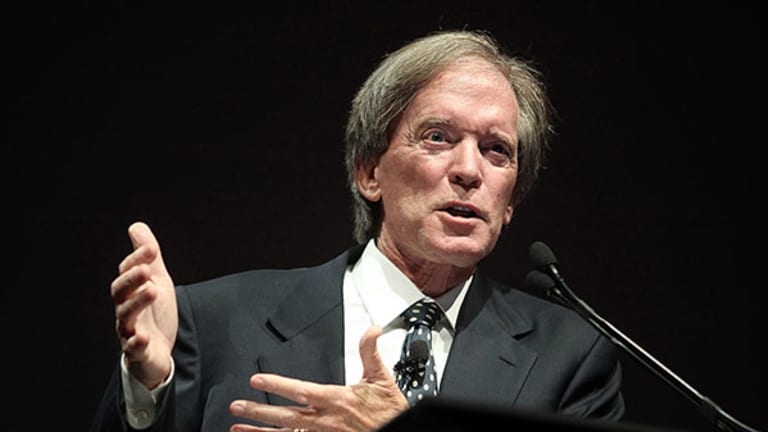 Bill Gross Departs PIMCO Amid 'Fundamental Differences' Over Leadership
Bond king Bill Gross is leaving PIMCO for Janus Capital Group.
Most recently updated from 01:30 p.m ET to include PIMCO management changes. This story was originally published at 9:01 a.m. ET.
NEW YORK (TheStreet) -- Bond king Bill Gross is leaving Pacific Investment Management Company (PIMCO) for Janus Capital Group (JNS) , in a surprise move that comes less than a year after a public split between he and former PIMCO CEO Mohamed El-Erian and amid SEC scrutiny into his flagship exchange traded fund.
Gross characterized his move to Janus as bittersweet and he said it came about as a result of piling administrative activities at PIMCO that distracted him from investment management. PIMCO thanked its founder Gross for 43 years of service at the bond manager, however, the firm said in a statement it had "fundamental differences" with Gross's leadership.
Watch the video below for more on Bill Gross' Exit from Pimco and what it means for bond investors:

WATCH: More market update videos on TheStreet TV
At Janus, Gross will manage a new fund called the Janus Global Unconstrained Bond Fund. He will also establish offices for the asset manager in Newport Beach, Calif., according to a press release on Friday morning. Janus Capital Group stock surged over 40% in Friday trading to $15.89 on news of Gross's appointment. Shares in the company, excluding dividend payments, had fallen nearly 20% over the past five years.
"I chose Janus as my next home because of my longstanding relationship with and respect for CEO Dick Weil and my desire to get back to spending the bulk of my day managing client assets," Gross said in a statement. "I look forward to a mutually supportive partnership with Fixed Income CIO Gibson Smith and his team; they have delivered excellent results across their strategies, which deserve more attention."
In a personal statement, Gross added he was leaving PIMCO "with a mixture of excitement and sadness" after founding the asset manager in the early 1970s. Gross said in his letter the move to Janus will allow him to reduce management responsibilities and focus on the "pure aspects of portfolio management" at a smaller firm.
Left unsaid in Gross's letter was any mention of scrutiny into Gross's recent performance at PIMCO.
Earlier this week, Bloomberg Newsreported that the Securities and Exchange Commission was investigating PIMCO's Total Return ETF (BOND) , a publicly traded bond fund that mimics Gross's Pimco Total Return mutual fund. In September, PIMCO's Total Return fund suffered its sixteenth consecutive month of outflows, according to Morningstar data. PIMCO Total Return ETF was down 0.3% in Friday morning trading.
"While we are grateful for everything Bill contributed to building our firm and delivering value to PIMCO's clients, over the course of this year it became increasingly clear that the firm's leadership and Bill have fundamental differences about how to take PIMCO forward," PIMCO said in a Friday statement.
A source close to Janus said the firm did "significant due diligence" into Gross' activities at PIMCO and added that the firm was confident he committed no wrongdoing. CNBC's David Faber reported on Friday PIMCO was preparing to fire Gross.
A Wave of Change at PIMCO
For PIMCO, which is owned by German insurer Allianz, Gross's resignation is the second surprise departure of the year. In January, CEO Mohamed El-Erian abruptly retired from PIMCO and within weeks he and Gross were trading swipes at each other in the press.
With Gross and El-Erian now gone, PIMCO, one of the leading bond managers on Wall Street, will now face the task of replacing two of the industry's most well-respected minds. The firm, which has over $2 trillion in assets under management, recently appointed Douglas Hodge as CEO to replace El-Erian and brought back some old talent such as chief economist Paul McCulley.
Late on Friday, PIMCO elected Daniel Ivascyn group chief investment officer and the firm elected Andrew Balls, Mark Kiesel, Virginie Maisonneuve, Scott Mather and Mihir Worah as CIOs. Balls and Worah will manage PIMCO's trading floors globally, while Saumil Parikh, Ivascyn, and Mohsen Fahmi will manage the firm's Unconstrained Bond Fund.
"The management and investment structure put in place in January as well as the thorough succession planning gives us complete confidence in PIMCO's investment and executive leadership team," Allianz CEO Michael Diekmann said in a statement.
Todd Rosenbluth, director of ETF and Mutual Fund research at S&P Capital IQ, noted in a Friday interview top portfolio managers like Ivascyn and Worah have shown strong performance in recent years, oftentimes bettering Gross's returns with their funds.
Nonetheless, Rosenbluth believes Gross's departure will cause PIMCO fund investors to move their money elsewhere, whether it is Janus or other fixed income funds. Allianz shares fell over 6% in Friday trading in New York.
Gross Moves On
Gross is estimated by Bloomberg to be worth in excess of $2 billion, with most of his wealth derived from Allianz's acquisition of a 70% stake in PIMCO in 2000 for $3.3 billion. Public filings compiled by Bloomberg show Gross to hold nearly $250 million in PIMCO-related fund assets. He is also reported to have commanded a $200 million-a-year salary at PIMCO. By quitting, he almost certainly turned his back on a substantial severance package.
Janus Capital Group hasn't yet disclosed Gross's salary as he joins the firm, or any other forms of compensation, however, analysts expect a large salary and one that may be tied to assets he draws to the firm.
"[Bill Gross's] involvement provides Janus a unique opportunity to offer strategies and products that are highly complementary to those already managed by our credit-based fixed income team," Richard M. Weil, CEO of Janus Capital Group, said in a statement announcing Gross's hiring.
"This is a major positive for Janus," Mac Sykes, an analyst at Gabelli & Co. said in a telephone interview with TheStreet on Friday. Sykes believes valuation multiples for Janus are trending upwards after weak the firm's weak performance in recent years.
Janus Capital Group declined to comment beyond its press release.
-- Written by Antoine Gara in New York