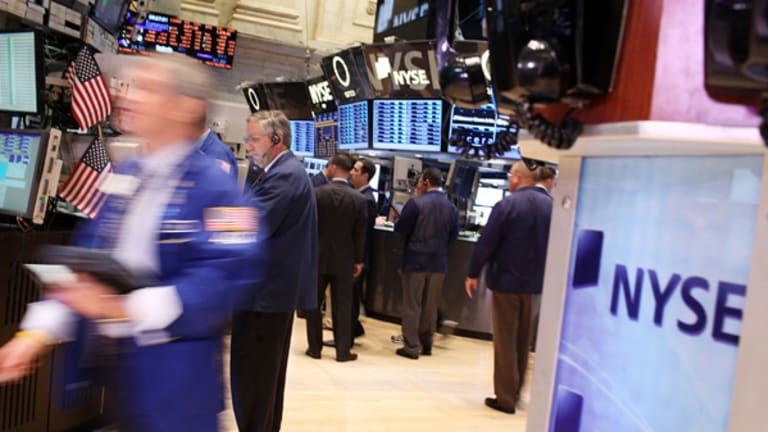 Bond ETFs Grow More Specialized
Following the appearance of foreign bond funds, new sector funds offer better choices for investors.
NEW YORK (TheStreet) -- Most ETF investors know that the first equity fund was the S&P 500 SPDR (SPY) - Get Free Report, which of course tracks a very broad index. Subsequent equity funds then got narrower to cover sectors, foreign countries, themes and possibly the ridiculous; there was a short-lived ophthalmology ETF from the now defunct Health Shares.
Bond ETFs are following a similar trajectory. The earlier funds have been generic, covering the U.S. Treasury market like the
iShares Barclays 20+ year Treasury Bond Fund
(TLT) - Get Free Report
; very broad covering the entire market like the
iShares Barclays Aggregate Bond Fund
(AGG) - Get Free Report
; or broadly covering the corporate bond market like the
iShares iBoxx $ Investment Grade Corporate Bond Fund
(LQD) - Get Free Report
.
6 Stocks to Benefit From Truckers' Switch to Natural Gas >>
In the last couple of years bond ETFs have become more specialized, with foreign funds having proliferated. The next phase of specialization is rolling out with sector bond funds.
PowerShares
filed for a suite of sector bond funds several years ago but did not end up bringing them to the market but now iShares has.
The
iShares Financial Sector Bond Fund
(MONY)
targets ground zero of the financial crisis with large positions in
Citigroup
(C) - Get Free Report
,
Bank of America
(BAC) - Get Free Report
and
JP Morgan
(JPM) - Get Free Report
. Traditional investment banks like
Morgan Stanley
(MS) - Get Free Report
and
Goldman Sachs
(GS) - Get Free Report
are also in the fund.
MONY's average credit rating is BBB+, the effective duration is 5.32 years and the SEC yield is reported at 3.0%. With that five-year duration, the fund does not take undue interest-rate risk should rates go up, but obviously the big risk here is credit risk.
If the financial crisis from 2008 really was the worst in 80 years then it is plausible that more shoes could drop for banks and other financial institutions. Conditions in Europe are continuing to deteriorate and to the extent U.S. banks are exposed, or believed to be exposed, there could be more trouble ahead. Would they be bailed out again? If you believe they would not get another bailout then this fund becomes relatively unattractive.
4 Stocks That Are Real Sleepers in 2012 >>
iShares has also come out with the
Utilities Sector Bond Fund
(AMPS)
which should take far less credit risk than MONY, but with an effective duration of 8.23 years it will take more interest-rate risk. The SEC yield for AMPS is reported at 3.16%, which seems a little low when compared to the much shorter duration for MONY.
The most interesting of the three sector ETFs is the
iShares Industrial Sector Bond Fund
(ENGN)
. Its duration is 7.08 years and shows an SEC yield of 2.87%. The average credit rating is BBB+. Despite the theme of the fund of being industrial, it is more of an ex-financials corporate bond fund with companies like
AT&T
(T) - Get Free Report
,
Pepsico
(PEP) - Get Free Report
and
Oracle
(ORCL) - Get Free Report
alongside names like
Caterpillar
(CAT) - Get Free Report
and
Dow Chemical
(DOW) - Get Free Report
.
If rates do rise, these funds should not drop in price anywhere near as much as TLT, but they will look very volatile when compared to a very short maturity fund like
iShares Barclays 1-3 Year Treasury Bond Fund
(SHY) - Get Free Report
.
As these are new funds, investors should prepare for the possibility that dividend payments will be uneven as there will likely be a swift increase in assets under management. The significance here is that today a fund may collect interest on $1 million face value of a bond, but a week from now it might have to pay out that interest to twice the number of shares, making the actual payout look unattractive.
10 Best-Performing 'Dividend Aristocrats' >>
As with foreign bond ETFs, hopefully sector fund become a popular option leading to more choices. Too many funds are very heavy in bonds from financial companies and any exposure available for people who would rather not buy individual bond issues would be welcome, as an excellent way to reduce credit risk.
At the time of publication, the author's firm was long ENGN in a client portfolio.
This contributor reads:
On Twitter, this contributor follows: