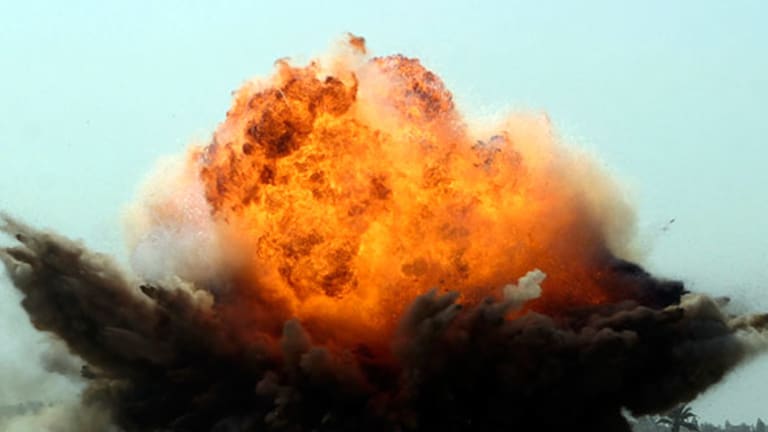 North Korea Threats Are Sending People Out to Buy Bomb Shelters
One bomb shelter company has seen sales increase nearly tenfold.
One bomb shelter company has seen sales increase nearly tenfold.
North Korea launched a long-range missile that flew over the northern part of Japan Tuesday, triggering another round of intense back-and-forth between Washington and Pyongyang.
As stock markets struggle to find their footing amid heightened geopolitical turmoil and increasing volatility, one industry is doing better than ever: bomb shelters.
Murchison, Texas-based Rising S Company manufactures and sells bunkers and bomb shelters throughout the world. Recent strong words exchanged between the U.S. and North Korea has kicked Rising S's bomb shelter sales into high gear.
Bunker cost depends on size, but each and every unit is made on-demand and can be customized at no extra charge, Rising S general manager Gary Lynch said in an exclusive interview with TheStreet. On the Rising S website, underground bunkers range in price from the $39,500 economy survival shelter to the $8.35 million "Aristocrat" luxury bunker. Rising S ships worldwide and can have a basic underground bomb shelter installed in as little as one to three days.
Though most sales are made to U.S.-based buyers, Rising S has seen an uptick in sales to South Korea and Japan since the threat of a North Korean nuclear strike becomes more intense, Lynch said.
"It's definitely the rhetoric," Lynch said. "We're pushing [Kim Jong-un] into a corner and he's going to strike."
Rising S has made 69 bunker sales in South Korea and Japan so far this year, with two in the last two days. Last year, South Korea and Japan bought a combined six bunkers.
Sales in the U.S. have increased, too, with 2017 sales through Tuesday at 120 bunkers. Rising S didn't make it to 100 U.S. bunker sales in all of 2016.
In a Tuesday interview, Lynch said his business had seen an uptick in just one day after North Korea's missile launch over northern Japan late Monday. According to Lynch, Kim Jong-un is "unstable with actions and words," meaning any move the leader makes can affect his bottom line.
To keep up with skyrocketing demand, Rising S has expanded both its workforce and physical manufacturing space twice in the last three years. What started as an operation with just a handful of workers now employs about 100 in three Texas factories.
It's not just North Korea that Rising S is banking on. "It's just as important to protect from Iran and even Russia," Lynch said.
"We encourage clients to make it an extension of the home," Lynch said. "So when it comes time to get inside it, it feels like home."
More of What's Trending on TheStreet: