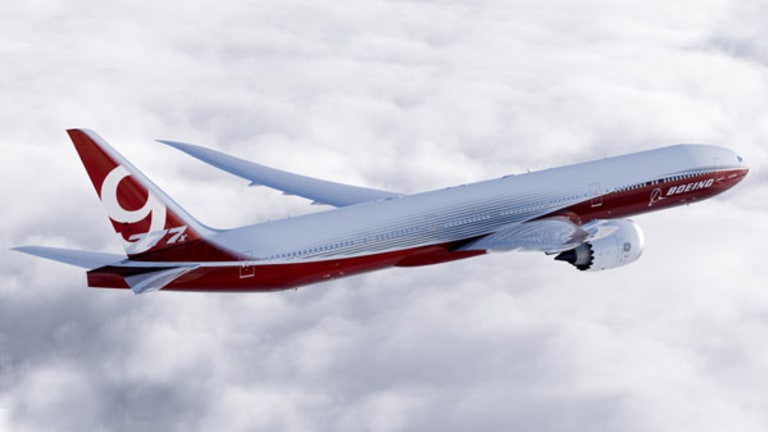 Boeing's Massive 777X Order Book: Is It Partly a Shell Game?
Boeing plans to sell 225 new aircraft to Middle Eastern customers who likely will take traffic from its European customers, and who operate three hubs within a few hundred miles of each other.
DUBAI (TheStreet) -- Boeing's (BA) - Get Boeing Company Report 225 orders from three state-owned airlines for its new 777X aircraft are being widely applauded in some quarters, but the orders raise questions about the viability of the customers' strategies and the impact on U.S. and European airlines.
At the Dubai Air Show, Boeing announced 259 orders and commitments for the 777X, its latest technological miracle, with deliveries expected to begin in 2020. The customers include Emirates, 150 aircraft; Qatar Airways, 50 aircraft; and Etihad Airways, 25 aircraft. A fourth 777 customer, Lufthansa, previously ordered 34 aircraft.
The three Middle Eastern carriers have hubs within a few hundred miles of one another, all doing the same thing, which is to connect passengers in hubs that have almost no local traffic. It is a model that failed in the U.S. airline industry, which gave up on redundant hubs to instead operate a small handful of profitable hubs.
Moreover, experts said, Boeing's orders represent a zero sum game because many of the passengers who fly on the new aircraft will come from European airlines who are current Boeing customers. Those carriers, theoretically, will now order fewer new planes.
"There are two issues with the order," said Richard Aboulafia, aerospace analyst for Teal Group. "One is it's other people's traffic. The other is it's three guys with the same idea."
The orders "are great news -- it's good to see new products launched -- but they are not additive," said Aboulafia, who is attending the Dubai Air Show. "Most of them will come from other people's jets."
Boeing spokesman Tim Neale said that with continuing strong traffic growth in Asia and the Middle East, "there is a real demand out there for air travel and air shipments that can benefit all airlines -- So I don't agree that this is a zero sum game." Also, in a position paper, Emirates maintained that while it is state-owned it receives no state subsidies or funding, and in fact pays dividends to the Dubai government.
The airlines most widely thought to be threatened by the Emirates/Etihad/Qatar model are European carriers including Lufthansa. International passengers, connecting between five continents, make up the vast majority of the Middle Eastern carriers' passengers. They would connect in Dubai, Abu Dhabi and Doha, respectively, rather than in Frankfurt, London, Paris and Amsterdam, the principal hubs of Europe.
Aviation consultant Bob Mann said the Middle Eastern carriers "have the view that over time they will erode the European carriers' share." He said the rise of the Middle Eastern hubs has been enabled by the evolution of long-range aircraft like the 777 and Airbus A340 and A380, and now the 777X. "As airplanes become more capable, you've got no technical limitation on where you can put a hub," he said.
Historically, locating multiple hubs close to one another, in cities with minimal local traffic, is viewed as a failed experiment in U.S. aviation. In the 1980s, US Airways (LCC)  had hubs in Baltimore, Charlotte, Dayton, Indianapolis, Philadelphia and Pittsburgh; all but Charlotte and Philadelphia are gone. In the 1990s, various U.S. airlines had Southeast hubs in Atlanta, Charlotte, Memphis, Nashville, and Raleigh-Durham. Only two remain hubs, and Charlotte is an outlier among U.S. hubs because only about 25% of traffic originates locally. At the Middle Eastern hubs, only a small fraction of the passengers originate locally, Mann said. Of course, financial losses may not concern state-owned airlines.  
Might the number of Middle Eastern carriers decline? "Rumors over the years have suggested that when one of the venues becomes less commercially viable than the others, you could have some consolidation," Mann said. "The fact that they all held hands on a (simultaneous) order was interesting -- it may be more than a collective buying opportunity."
While European carriers are threatened by the purchases, U.S. carriers are less so, since U.S. hubs are not generally connecting points for passengers from third countries. Still, the Middle Eastern model has raised the concern of the Air Line Pilots Association, the largest pilot union, and Airlines For America, the industry trade group.
In October, Emirates began service on a Milan-JFK route, already served by Alitalia, American and Delta (DAL) - Get Delta Air Lines, Inc. Report, in addition to United (UAL) - Get United Airlines Holdings, Inc. Report, which flies Milan-Newark. At the time, ALPA said the flight was "a clear first step in long-term strategy by a heavily supported state-owned foreign airline to undercut U.S. airlines and hurt U.S. jobs." Delta spokesman Trebor Banstetter said Wednesday that "Delta shares ALPA's concern on this issue."
ALPA and A4A issued statements saying the orders by Emirates, Etihad, Qatar and Flydubai for Airbus and Boeing aircraft total $162.2 billion. "These state-owned foreign airlines are spending billions to purchase widebody aircraft so they can increase flights to and from the United States and unfairly compete against U.S. airlines in the global marketplace," said ALPA President Lee Moak, in a prepared statement.
"Emirates already has more widebody aircraft than any U.S. carrier, and has more of these large aircraft on order than all four U.S. legacy carriers combined," said A4A, in a statement. The orders "reflect the supportive environment some state-owned foreign competitors experience with their own governments, which is often in direct contrast to the way the U.S. government treats its own carriers," it said.
Unlike state-owned Middle East airlines, U.S. airlines often face government-imposed obstacles. They carry an extremely high tax burden, while foreign competitors often operate largely tax-free. The U.S. plans a U.S. Customs preclearance facility in Abu Dhabi, even though no U.S. carriers fly to Abu Dhabi. And the Export-Import Bank often subsidizes the purchase of Boeing aircraft by foreign carriers, including both Emirates and Etihad, but no one subsidizes U.S. airline aircraft purchases from Airbus or Boeing.
Boeing's Neale said he expects the carriers will likely fund the planes in the commercial financing market rather than rely on the Ex-Im Bank. Not only has "Middle East carriers' use of export credit has been below the historic global average," Neale said, but also "the cost of government export credit doubled earlier this year and is now in line with what's available from commercial lenders without government loan guarantees. In fact, U.S. airlines have been getting better rates this year in the commercial bond market than foreign airlines have been getting using government export credit."
Written by Ted Reed in Charlotte, N.C.
To contact this writer, click here.