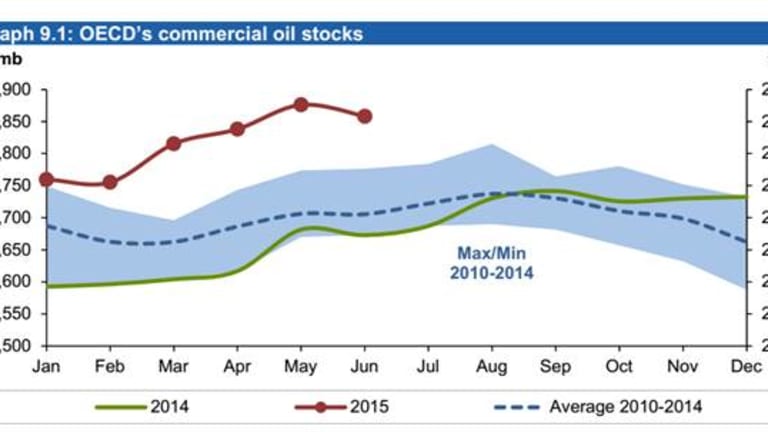 Boeing's Fuel-Efficient Jets Shine a Bit Less as Oil Prices Slump
Boeing has benefited for years from high oil prices that make new, fuel-efficient airplanes an obvious bargain. Now the benefit is not quite so obvious.
NEW YORK (TheStreet) -- Include Boeing (BA) - Get The Boeing Company Report on the list of companies that are not benefiting from the decline in the price of oil.
The problem for the world's biggest aircraft manufacturer is that while older aircraft are considered to be fuel inefficient, inefficiency matters much less with lower-cost oil, making new aircraft less essential.
The situation has not been lost on investors. In the second half of the year, oil prices have dropped by about 50%, the S&P 500 has gained about 5% and the Dow Jones Industrial Average has gained about 6%. Boeing, a Dow component, has been flat.
Investor concerns include the impact of declining fuel prices, gaps before Boeing can begin delivery of the new model 777X and 737MAX and declining cash flow related to costs for the 787 and other aircraft. Boeing shares opened on July 1 at $127.66. On Monday, shares closed at $128.22.
Richard Aboulafia, aerospace analyst for the Teal Group, said Boeing has been "in a state of denial" about the impact of falling oil prices.
"They continue to ramp up production, when they should be conservative," he said. "They don't show any signs of conservatism."
In particular, Air France raised concerns with its Dec. 18 announcement that it will defer delivery of 10 Boeing 777s, although several issues -- not just falling oil prices -- factor in.
The troubled carrier has issued three profit warnings in six months. A deferral means it can possibly take delivery of the 777X, expected to come to market in 2020, rather than the current model. It had planned to replace aging 747s with the new 777s, but now the need has diminished.
"Could AirFrance do this if fuel had stayed at $100 a barrel? Maybe not," Aboulafia said. "It's a lever they can pull because fuel has gotten cheaper. So it's somewhat fuel related. But also, they are mindful of the realities of being Air France, with so much of their traffic going to the Gulf carriers.
"Now anyone who needs to save cash will be tempted to follow Air France," he said.
Aboulafia said a winner among airlines has been Delta (DAL) - Get Delta Air Lines Inc. Report , which is seeing validation of its long-time strategy of flying older aircraft rather than rushing to buy new ones. "Delta faced the situation and said, 'We don't care, we're sticking with older jets,'" he said. "The rest of the market said, 'We care, we wanted newer jets.' Will this persuade more airlines to think like Delta does? That depends on how much oil falls."
Boeing responded to oil price concerns on Dec. 16, in a blog by Randy Tinseth, vice president of marketing.
"As the price of crude oil keeps dropping, you may be wondering what that means for an industry focused on bringing newer, more fuel-efficient airplanes to the market," Tinseth wrote.
"As we talk with our customers, we aren't seeing any desire to change fleet plans due to the drop in oil prices," he said. The International Air Transport Association "is out with new figures showing that airlines are more profitable-which means they can grow in new areas with a larger fleet."
"Even in a low price fuel environment, it's hard to argue that 15% to 20% better fuel efficiency isn't a good thing," Tinseth said. He added that between 2005 and 2007, when oil averaged $60 a barrel, Boeing booked more than 3,000 commercial airplane orders.
Nevertheless, in a recent report, UBS analyst David Strauss expressed concern that lower oil prices could make used aircraft more viable, which in turn makes new aircraft less essential.
"While the drop in jet fuel hasn't yet yielded any meaningful changes to airline schedules or fleet plans, we believe it could, as previously loss-making markets/aircraft are now more attractive," Strauss wrote in a report issued Dec. 17. "We think the move lower in fuel mainly leaves current generation aircraft at risk of deferral.
"At current $2.00/gal jet fuel, our analysis indicates that 10-to-15-year-old used narrowbody aircraft are 10-15% more cost effective than new, current generation aircraft, while 5-10% more cost effective than next generation narrowbodies," Strauss wrote.
"We believe airlines could begin to look to defer current generation aircraft on order if fuel remains at these lower levels for 6-12 months," he said. "We think the risk is more significant for Boeing than for Airbus as Boeing has a much larger gap to try to bridge to its next generation models."
-- Written by Ted Reed in Charlotte, N.C.
To contact this writer, click here.
This article is commentary by an independent contributor. At the time of publication, the author held no positions in the stocks mentioned.