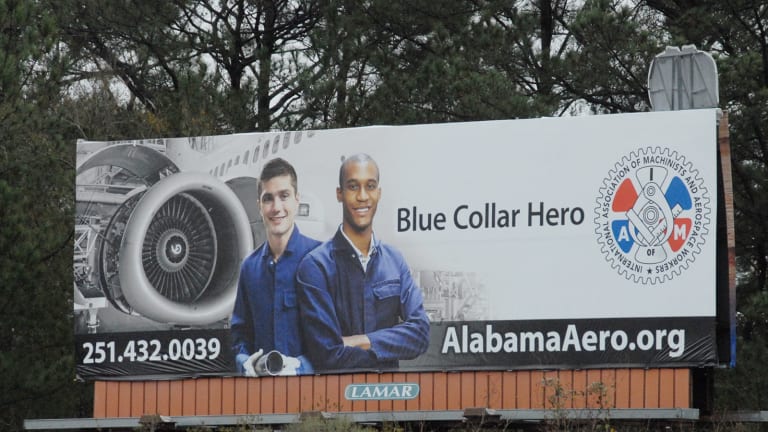 NEW YORK ( TheStreet) -- One more Southern labor battle is ramping up in Mobile, Ala., where two weeks ago the International Association of Machinists opened a new office dedicated to organizing the Airbus (EADSY) - Get Airbus SE Report plant seven minutes away.
The 4,000-square-foot office is located on a nondescript commercial street that could be anywhere in the South. It shares a row of four storefronts with a vacant former Radio Shack outlet, a bookkeeper and a tax firm. Across the street are a Whataburger and a Dollar General (DG) - Get Dollar General Corporation Report store.
While the location is mundane, the purpose is overarching: to achieve a major victory in the South, where for the moment it seems that the labor movement, in particular the IAM, has been butting its head against a wall. 
In 2014, in a closely watched election, the United Auto Workers failed to organize the Volkswagen plant in Chattanooga, Tenn. This year, the IAM cancelled planned unionization votes for production workers at the Boeing (BA) - Get Boeing Company Report plant in Charleston, S.C., and for flight attendants at Atlanta-based Delta (DAL) - Get Delta Air Lines, Inc. Report. In each case, the union said its actions were just early steps in ongoing campaigns.
Now the IAM, which is Boeing's biggest union, is eyeing the $600 million Airbus Mobile plant, where production is expected to begin any day. The first major component assemblies arrived last month and the first A320 is scheduled to be delivered to JetBlue (JBLU) - Get JetBlue Airways Corporation Report in the second quarter of 2016.
By 2018, Airbus expects to employ about 1,000 people in Mobile and to turn out 40 to 50 aircraft a year.
For now, the IAM office houses a team of five, headed by lead organizer Al Granado, a 59-year-old native of Haskell, Texas, an IAM member since 1979 and a veteran of a dozen organizing campaigns in the South. Granado has a relaxed manner and, importantly, a Southern accent.
He has already met with a handful of Airbus employees. He is vague about numbers since the union is uncertain how Airbus will react to the campaign. But he said that when Airbus sends local workers to Hamburg, Germany, for training, European workers speak with them and discuss the value of unionization.
Now at least some of the local workers "are listening to us," Granado said. "We do not push people: We educate them. We show them we're not a bunch of thugs the way the media portrays us. Our kids go to school with their kids. We are proud of the products we put out.
"Nobody has told us to go fly a kite," he said.
So far, Airbus has hired more than 200 employees.  "Recruiting continues, and training continues at Airbus' facilities in Hamburg, Germany and Toulouse, France," said spokeswoman Kristi Tucker.
"We want to maintain a direct relationship with our employees," Tucker said. "The decision whether or not to unionize is up to our employees, and we respect their right to choose. Airbus' goal is to provide our employees with all of the relevant facts about unionization so they can make an informed decision."
Alabama has a relatively large share of union-represented workers. According to the Bureau of Labor Statistics, 12.1% of the state's work force is organized, ahead of the national average of 11.1% and by far the highest percentage in the 11 states that comprised the Confederate States of America.
In right-to-work states, including all of the Southern states, workers can have union representation and enjoy the benefits of union membership without paying union dues.
The IAM has a 5,000-member district in Enterprise, Ala. Most of its members are employed by a dozen defense contractors supporting nearby Fort Rucker, a center of U.S. Army Aviation. Federal law encourages union representation in defense contracts. The IAM believes its members, Alabamians grounded in the state and its culture, can make the point that unions need not be viewed as alien to the Southern way of life.
Shane Forbes -- a native of Ariton, Ala. (population 800), who is an aircraft mechanic at Fort Rucker and a trustee in an Enterprise local -- said Southerners can best organize Southerners. "We look like them and sound like them," he said of the Airbus employees. "We have similar backgrounds."
Forbes defies the stereotype of union members who back liberal social causes. "I will be union 'til the day I die, but I will vote for someone who thinks what I think," he said. "I have moral obligations I believe in."
The UAW election at VW and the cancelled elections at Delta and Boeing Charleston all underscore the complications associated with labor organizing in the South. That includes local politicians in Tennessee and South Carolina, who were outspoken opponents of the union effort.
A spokeswoman for Alabama Gov. Robert Bentley did not respond to requests for a comment.
At VW, the UAW lost a February 2014 election even though the automaker didn't oppose unionization. Now Chattanooga is the only VW plant in the world that lacks a works council with employee representatives.
The UAW has continued its efforts to represent workers. In an April filing, it said it is supported by 55% of them. But some workers are represented by an anti-UAW worker group called the American Council of Employees.
At Delta, the U.S. Justice Department is reviewing the case of thousands of fraudulent signatures on cards requesting a union election. When the mystery surfaced in April, the IAM postponed its effort. Both Delta and the IAM welcomed the review.
Must Read:
Delta Flight Attendant Fake Union Card Mystery Referred to Feds
At Boeing in Charleston, the IAM -- which represents 35,000 Boeing workers in Seattle -- canceled a planned April unionization vote for 3,175 workers, citing "an atmosphere of threats, harassment and unprecedented political interference." Boeing said the charge was frivolous. South Carolina Gov. Nikki Haley once declared: "I wear heels, and it's not for a fashion statement. It's because we're kicking the unions every day."
Mark Blondin, IAM general vice president of the Southern territory, said filing for an election enabled the union to learn the names and addresses of the members of the Boeing bargaining unit. "Over several years they used a lot of non-Boeing employees," Blondin said. "It was hard to get a handle on how many people there were and who was Boeing and who was a contractor. Now that has been clarified."
Despite the high-visibility setbacks, IAM can claim its share of victories in the South. In the last 24 months, the union has organized more than 3,000 area workers, including about 1,200 at URS (URS)  who refurbish vehicles at the Red River Army Depot in New Boston, Texas, and about 1,000 who work on helicopters for L-3 Communications (LLL) - Get L3 Technologies Inc Report at the Corpus Christi Army Depot.
Meanwhile, an Alabama success story involves about 100 IAM workers who lost their jobs in the 2009 closure of a plant in McIntosh, Ala. -- operated by London-based agribusiness giant Tate & Lyle -- that makes the key ingredients in Splenda sweetener. The work was moved to Singapore, but in 2011 it was moved back to Alabama.
Workers "were taken care of; they got a severance package," when the plant closed, said the IAM's Granado. When the plant reopened, "they asked us to 'find our workers,'" he said. Most workers returned. "Buy all the Splenda you can," Granado added.
Nice, but at some point, the labor movement in the South needs something more than a sweetener.
This article is commentary by an independent contributor. At the time of publication, the author held no positions in the stocks mentioned.