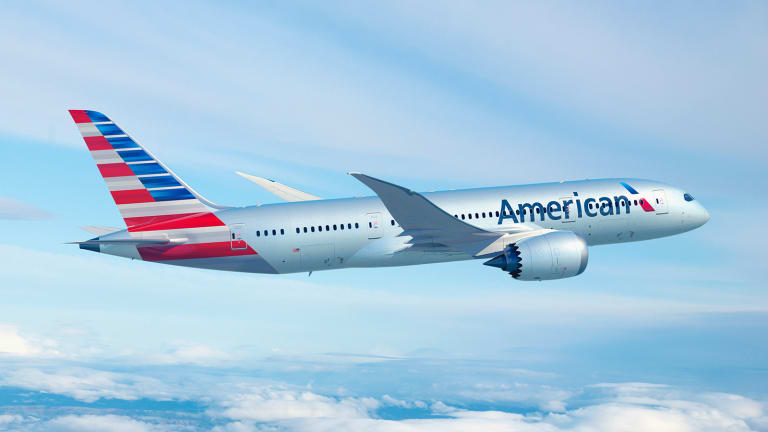 Boeing's 787 Dreamliner Has a Nice Problem - Demand Exceeds Supply
American delayed deliveries, United traded deliveries and Delta picked Airbus, but the biggest problem for the Dreamliner is that Boeing can't make them fast enough
NEW YORK (TheStreet) -- All three of the U.S. global carriers seem willing to delay, trade or eschew deliveries of the Boeing (BA) - Get Boeing Company Report 787 Dreamliner, but that doesn't mitigate what still seems to be the key issue for the aircraft: Boeing can't build them fast enough.
Last week, United (UAL) - Get United Airlines Holdings, Inc. Report said it will trade 10 Dreamliner orders for 777-300ER orders, a deal that appears to reflect price considerations as well as United's desire to use larger aircraft at its congested Newark hub.
Then American (AAL) - Get American Airlines Group, Inc. Report said it will defer delivery of five 787s that had been scheduled to arrive in 2016. Instead, it will take four of the planes in 2017 and one in 2018. President Scott Kirby said the carrier is cutting capacity to match demand.
On Monday, Leeham News and Comment, which covers the aircraft manufacturers, reported that it wasn't just weak travel demand that explains the American deferrals. Rather, the newsletter said, "American wanted to swap 787-9s to the smaller 787-8s (market demand), which is allowed in the contract. Boeing couldn't accommodate on the timetable American wanted, hence the new schedule."
Leeham publisher Scott Hamilton said Boeing could not make delivery adjustments for American, the largest airline in the world, because too many other customers await delivery of the 787-8. "The thing here is that the 787 is sold out until the 2020 timeframe," he said. An American spokesman declined to comment.
On Boeing's earnings call Wednesday, top executives trumpeted the company's intent to boost 787 production to 12 a month in 2016 and to add the bigger 787-10 to the product line, which includes a 787-8 and a 787-9.  According to the Web site All Things 787, Boeing has received orders for more than 1,100 aircraft and has delivered 266 of them including 38 in 2015.
"We have now delivered more than 250 airplanes," said CEO Jim McNerney. "Notable among the strong new bookings during the quarter was ANA's order for three 787-10s. 787-10 development remains on track for first delivery in 2018."
Chief Financial Officer Greg Smith added, "We continue to see progress in key operational performance indicators for the 787 program, as we further implement production efficiencies, while meaningfully increasing the 787-9 production, and managing through some near-term disruption in supply chain, largely around cabin interiors."
Still, long waits for the 787 are creating opportunities, particularly for the Airbus A330neo.  Without an existing order, "You can't get a 787 until 2020, but you can get an A330neo in 2017," Hamilton said.
 Additionally, Hamilton said maintenance costs on the A330 are well known "because you have a long history of defined maintenance costs, but with the 787 it's still a crap shoot.
"Boeing would make the case that the 787 is so much better than the A330 on any number of levels," he said. "But the real advantage Airbus has is delivery in 2017."
The timing advantage was the key factor in Delta's (DAL) - Get Delta Air Lines, Inc. Report decision in November 2014 to order 25 A330-900 as well as 25 A350-900s with deliveries starting in 2019 and 2017, respectively.
 "Boeing competed for the order with the 787-9, but we did not have enough 787 positions available in the time frame that met Delta's requirement," Boeing spokesman Doug Alder said at the time.
This article is commentary by an independent contributor. At the time of publication, the author held no positions in the stocks mentioned.