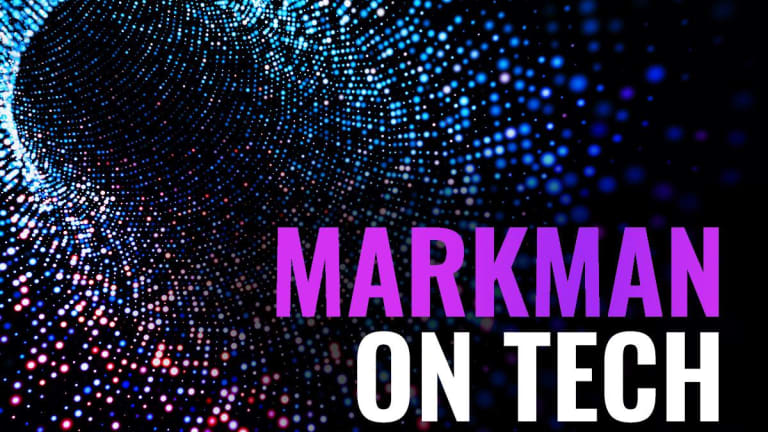 Boeing's Troubles Are Creating a Rare Opportunity for Automation Play PTC
Automation software stocks have been grounded along with Boeing's 737, creating a good buying opportunity.
Automation has been sold as a panacea. Removing irrational human impulses is supposed to make planes, trains, automobiles and other machines safer.
Last week, a cutting-edge Boeing  (BA) - Get The Boeing Company Report 737 Max jetliner plunged from the sky, killing all 157 passengers and crew aboard Ethiopian Airlines flight 302. It was the second such crash in four months, spurring speculation that the problem is software-related. 
Automation software stocks have been grounded along with the Boeing jet. It's a rare opportunity for investors.
The Max is an aerospace engineering oddity. The fourth generation 737 seats up to 230 passengers, a 27% bump over the classic. Yet, larger CFM turbofan engines, positioned ahead of the wing, distinctive split-tip winglets and other changes make the aircraft 14% more fuel efficient.
Unfortunately, the rejiggered avionics brought an unintended consequence. The nose of Max aircraft often lifted unexpectedly during high angles of attack and steep turns, maneuvers common to takeoffs. In the worst case, this position could cause stalling.
To compensate, Boeing engineers implemented the Maneuvering Characteristics Augmentation System, a set of anti-stall software protocols designed to automatically lift the tail flags and push the nose lower.
Last October, 189 passengers were killed in Indonesia when an Air Lion jet crashed minutes into the flight. It was the first time a Max aircraft failed. Preliminary findings suggest a faulty sensor, coupled with MCAS, may have been responsible.
Similarities to the Ethiopian Airlines crash are alarming. The captain of Flight 302 reported a flight control problem just after takeoff, The New York Timesreported. And air traffic controllers noticed the aircraft was flying erratically, gaining and losing hundreds of feet in altitude.
The response from Boeing has been quick. The company promised a software fix within 10 days, as well as full cooperation with all ongoing investigations. The Max, with its unparalleled fuel efficiency, has become a symbol for technological innovation. It's also an industry workhorse. The aircraft is in use at 69 airlines around the world. Backorders now exceed 5,000 units.
More importantly, the relative low failure rate of the jetliner is responsible for a groundswell of consumer confidence. We take for granted that commercial aircraft are safe. We assume they can fly -- and even land -- using automation.
It's a transformation that is playing out in high-speed trains and automobiles, too. DAF, a unit of PACCAR (PCAR) - Get PACCAR Inc. Report , demonstrated autonomous truck technology in 2016. Elon Musk, the chief executive of Tesla (TSLA) - Get Tesla Inc. Report , promises a fully self-driving car by the end of 2020. One way or another, automation is coming to all of the transportation sector, soon.
The Ethiopian Airlines tragedy is a setback. But it will not change the trend.
PTC Inc. (PTC) - Get PTC Inc. Report offers a comprehensive way to invest in automation. Its industrial innovation platform has been embraced across every sector. From aerospace and automotive to oil and gas to retail, leading companies use PTC software to automate processes and maximize competitiveness.
The Boston-based company boasts 800 partners and a developer ecosystem 550,000 strong. They are all focused on one really big idea: Networks of connected things should provide total awareness. PTC software makes those connections seamless.
ThingsWorx, its Internet of Things platform, allows companies to quickly build, connect and analyze networks of sensors, machines and software protocols. According IT research firms Gartner, IDC, and many others, ThingsWorx is best-in-class.
Bain & Co., a global management consulting firm, predicted in 2018 that the combined market for IoT software, hardware, systems integration, and data services will grow to $520 billion by 2021, more than double the 2017 spend.
In an era of sensors, data and super complex machines like the Boeing 737 Max, that kind of growth makes good sense. Software that binds everything together is more important than ever.
PTC shares trade at 56x forward earnings, for a total market capitalization of $10.8 billion. That is only a fraction of top rivals such as Adobe Inc. (ADBE) - Get Adobe Inc. Report at $125.7 billion, and Autodesk (ADSK) - Get Autodesk Inc. Report at $33.6 billion.
The stock completed a four month consolidation between $77 and $90. It is down from a record high of $107.50 last October. The current weakness is an opportunity. PTC is a leader in a huge new market for software services. Shares could double over the next three years.
Long-term oriented investors should consider owning the stock ahead of that growth.
Will You Have Enough Money to Retire?
Want to learn about retirement planning from some of the nation's top experts? Join TheStreet's Robert "Mr. Retirement" Powell live in New York on April 6 for our Retirement Strategies Symposium. For a limited time, tickets are available for $99 for this full-day event. Check out the agenda, learn about the speakers and sign up here.
To learn more about Jon Markman's recommendations at the crossroads of culture and technology, check out his daily investment newsletter Strategic Advantage. To learn about Markman's practical research in the short-term timing of market indexes and commodities, check out his daily newsletter Invariant Futures.
A Special Invitation: Do you want to learn more about planning for and living retirement from the nation's top experts, including Ed Slott and Robert Powell, the editor of TheStreet's Retirement Daily? Want to learn how to create tax-efficient income in retirement and how to manage and mitigate all the risks you'll face in retirement? Then sign up to attend TheStreet's Retirement Strategies Symposium on April 6 in New York City. For a limited time, you can attend this extraordinary symposium for $149 -- a cost savings of $50 off the general admission price of $199. You can see the full day's agenda, learn about the guest speakers and sign up here for this special event.
Jon Markman owns the following stocks mentioned in this column: Adobe