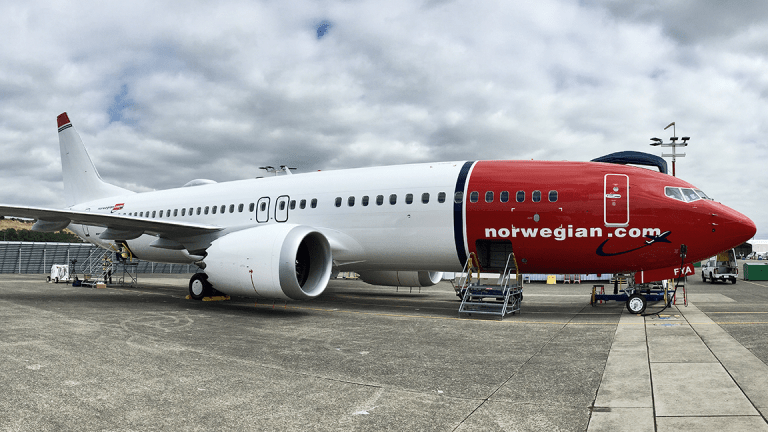 Boeing Trades Higher as Investors Shrug Off S&P Warning
S&P affirmed the Chicago aerospace giant's A credit rating, but lowered its outlook to negative from stable amid the controversy surrounding the grounded 737 MAX.
Boeing (BA) - Get Boeing Company Report investors shrugged off a downbeat S&P report to send shares of the aircraft manufacturer higher Tuesday as it prepares to report quarterly earnings tomorrow.
Boeing's stock rose 2.6% to $339.51 amid signs the worst of the crisis surrounding the Chicago company's 737 Max may be finally over. The jet has been grounded since March after a horrific crash in Ethiopia as well as an October 2018 crash offshore Indonesia.
FAA Administrator Steve Dickson on Tuesday told a conference of air-traffic controllers that Boeing was making progress with the changes needed to get the 737 MAX back in the air, but that several more weeks of review and work were needed, Reuters reported.
The crashes have been attributed to a new automated anti-stalling mechanism that malfunctioned, repeatedly pushing down the noses of both planes. The crashes killed 346 people.
In another encouraging sign for the jet maker -- and for investors -- United Technologies (UTX) - Get United Technologies Corporation Report said it planned to keep building 42 new 737 MAX jets per month for the rest of 2019, according to Bloomberg.
Boeing had warned in July it might have to lower or slow production of the jets as they pile up in the parking lots and storage areas surrounding its Seattle factory.
But Boeing may still wind up suffering longer-term damage from the crisis, which has grounded more than 300 737 Max jets and put $500 million of 737 MAX orders on ice, S&P contends in a new report.
While affirming Boeing's A credit rating, S&P lowered its outlook on the jet builder to negative from stable.
S&P cited recent reports that Boeing may have misled the FAA about problems with the 737 MAX's flight controls. In particular, messages between development pilots at Boeing on potential problems with the MCAS anti-stall software were forwarded by Boeing to the FAA and congressional investigators only recently, months into an intensive probe.
"The negative outlook reflects that potential lasting damage from the 737 MAX grounding could weaken its competitive position and make it difficult to maintain funds from operations to debt above 40% after deliveries resume, absent a more conservative financial policy," the S&P report said.