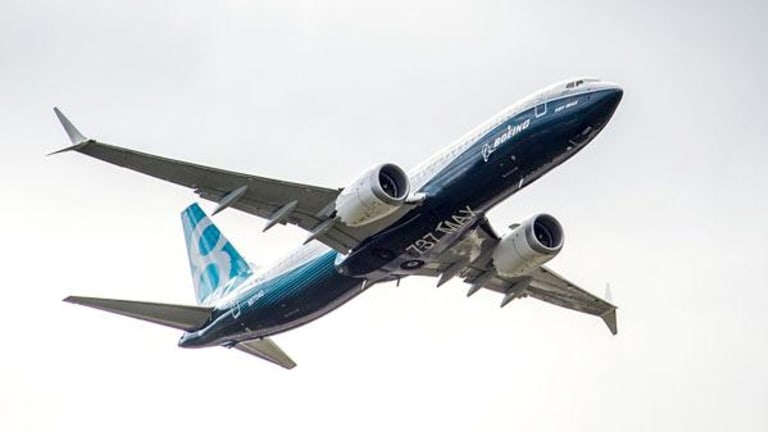 Boeing Stock Is Flying High
Boeing is cutting production of some planes and is raising its dividend. Investors are wondering if these moves will boost the stock.
Shares of Boeing (BA) - Get Report are up 20% in the last quarter. Can the stock continue to take flight or are investors in for a hard landing?
On Monday, Boeing announced it was cutting production of its wide body jet, the 777, and boosting its dividend by 30%.
The 777 aircraft is thought to be one of the company's biggest moneymakers. Production was cut to just five aircraft per month starting in August 2017. The company plans to cut a number of jobs as well.
Last year, Boeing was producing 8.3 planes a month, but slowed down to 7 planes this year. Demand for wide body jets has been declining all year. The company had only had 17 net orders for the 777, well below the 50 to 60 needed to keep the factories humming.
Boeing is being hurt by a glut of wide body jets. And with low fuel prices, there is less incentive for airlines to get rid of their older planes and buy newer fuel-efficient models.
Boeing's 30% divided hike puzzled investors. The company is spending billions to develop the 737 MAX and the 777-8/9 programs, and investors were left wondering where the money is coming from. The dividend went from $1.09 to $1.42 per share. The board of directors also authorized a $14 billion share buyback. The company said it purchased $7 billion worth of shares this year.
Sales are projected to fall 3% in 2016. Analyst estimates for 2017 and 2018 are all over the place. Estimates for next year range from $6.70 to $7.43 per share. Estimates for 2018 have an even larger spread. Those range from $7.75 to $10.30.
Right now, the consensus view is that the company will earn $7.09 this year and $9.36 per share next. Historically, Boeing's stock trades between 15 and 24 times estimates. At 19.5 times, the stock is probably worth over $175 per share, assuming 2018 estimates won't be cut by manufacturing delays. 
With such a wide range of estimates and with the stock up so far and so fast, I would be cautious and wait for a pullback. In the longer term, I think the stock can stay aloft as the company introduces a new narrow body plane. Narrow body planes have more demand than the wide bodies, and Boeing bulls are counting on those to drive earnings in 2018 and beyond.
This article is commentary by an independent contributor. At the time of publication, the author held no positions in the stocks mentioned.