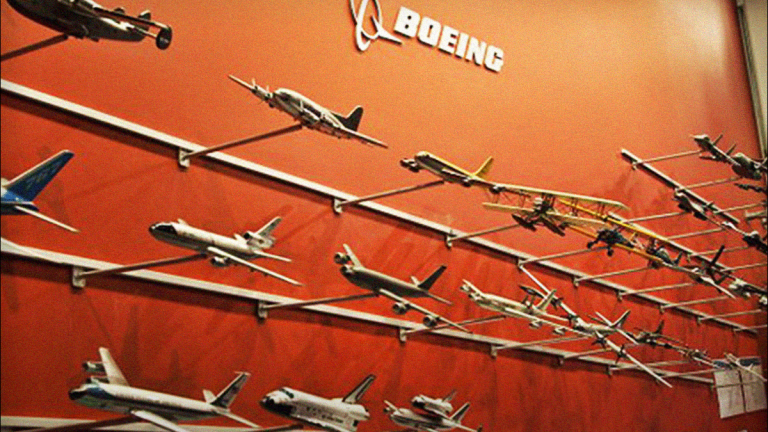 Boeing Stock Grounded on Report It Could Be Targeted in U.S.-China Trade War
The editor of a state run Chinese newspaper speculates that Boeing could be singled out in the country's trade war with the U.S.
When it rains it pours for Boeing (BA)  as a report said the aerospace giant could face targeted reprisals from the Chinese government as part of the ongoing trade battle between the U.S. and China, according to a tweet from the editor-in-chief of Chinese newspaper Global Times. 
Boeing shares fell 4.88% to $337.37 on Monday. 
China on Monday said it would hike tariffs on as much as $60 billion worth of U.S. imports to as high as 25% following the collapse of last week's trade talks in Washington.
Boeing isn't the only American company that could be hurt by the trade posturing. 
Shares of Apple (AAPL)  were also falling 5.8% to $185.72. 
"Apple has one of the most significant exposures to Chinese exports to the U.S, given final assembly for many of its consumer devices is located in China," Morgan Stanley analyst Katy Huberty wrote in a note last week. "Given the reliance on China's established, low-cost labor force and expertise in manufacturing/tooling, a large-scale move out of the country would not only be costly, but could take multiple years to complete, potentially raising the odds of execution risk."
Caterpillar (CAT)  also was declining because of its exposure to China.. 
"The companies could really be crushed by the trade war are really down to the 'Big Three', and that's ABC: Apple, Boeing and Caterpillar," Jim Cramer said on  CNBC's "Mad Money" on Friday. "But Apple's been one of the best performers of the year, gaining 25%, Boeing's up 10% for 2019 even with 737 MAX issue and Caterpillar's up 3%."
Caterpillar shares were down 4.6%. 
Apple is a holding in Cramer's Action Alerts PLUS charitable trust. 
Learn the History of the Companies in Your Portfolio | Behind the Label