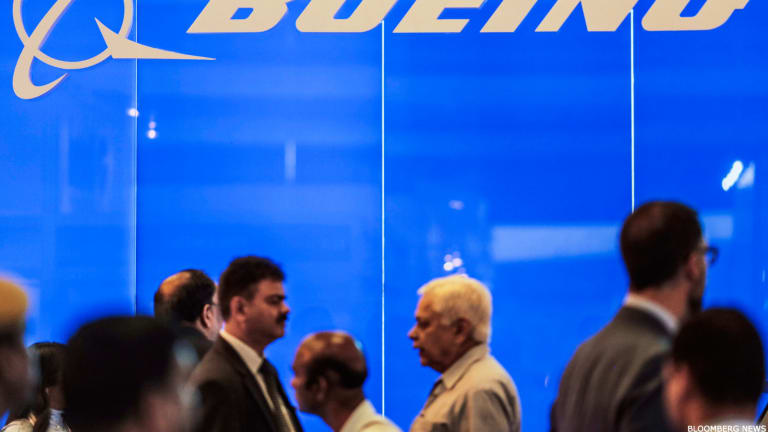 Boeing Shares Soar on Solid Quarterly Results, Upbeat Guidance
The Chicago aerospace company reports adjusted earnings of $4.80 a share on revenue of $25.4 billion for the fourth quarter.
Boeing Co. (BA) - Get Report shares soared on Wednesday, Jan. 31, after the aerospace company reported solid top- and bottom-line beats for the fiscal fourth quarter and upbeat guidance for 2018.
The Chicago company posted net profit of $3.13 billion, or $5.18 on a per share basis. Adjusted core earnings of $4.80 per share handily beat estimates of $2.89 per share, and revenue of $25.37 billion also topped forecasts calling for $24.6 billion. The overhaul of the U.S. tax system provided a benefit of $1.74 per share to adjusted earnings.
For full-year 2017, Boeing reported earnings of $12.04 per share on revenue of $93.4 billion.
Shares of the world's largest aerospace company rose 5.7% to $357.18 in afternoon trading on Wednesday. The stock gained as much as 6.8% during premarket trading. 
Operating cash flow for the fourth quarter came in at $2.9 billion, compared with $2.8 billion during the same period in 2016. Operating cash flow for the full year was $13.34 billion.
"Looking forward, our team remains focused on winning through innovation, driving growth and productivity and extending our position as the world's leading aerospace company," Boeing chairman and chief executive Dennis Muilenburg said in a statement.
Boeing expects full-year earnings for 2018 in the range of $13.80 to $14 per share, with revenue of $96 billion to $98 billion. The company anticipated operating cash flow for 2018 would increase to about $15 billion. The aerospace company is also forecasting 810 to 815 commercial airplane deliveries for 2018, compared with 763 in 2017.
More of What's Trending on TheStreet: