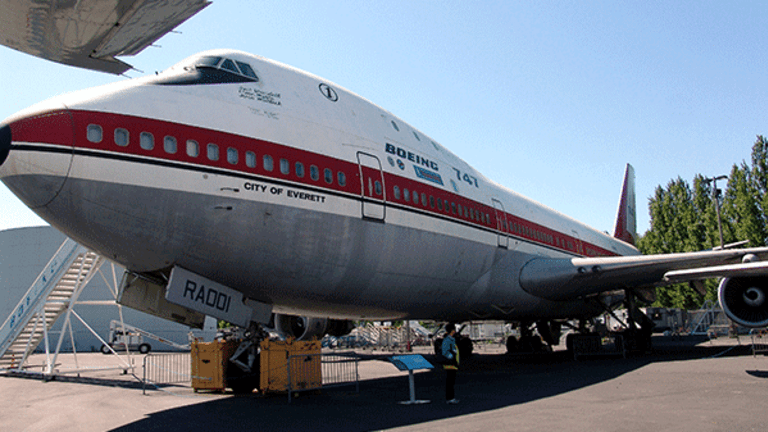 Trump Sold His Boeing Stock by June, Before Slamming Air Force One Costs
President-elect Donald Trump took to Twitter on Tuesday to criticize Boeing. Just months ago, Trump sold his shares of the aerospace giant, likely at a notable gain.
Though Boeing's (BA) shares slipped a bit today after President-elect Donald Trump took to Twitter on Tuesday to criticize the price for a new Air Force One, it won't damage Trump's pocketbook. That's because Trump sold his Boeing stock by June, his spokesman Jason Miller said today.
Trump on Twitter said "costs are out of control" on the planned Air Force One replacement, a Boeing 747-800, saying the costs are "more than $4 billion" and that the government should "cancel" the order. Shares of Boeing fell about 1% after the tweet.
The critique raised eyebrows among observers, who noted that Trump himself was once a Boeing shareholder. When asked about the president elect's Boeing holdings Tuesday morning on a call with the press, Miller said Trump sold his stocks in June. 
Miller later confirmed to the AP that he was referring to all of Trump's stocks and was unaware if Trump had any Boeing shares at that time. He did as recently as May -- in his financial disclosure with the FEC, Trump listed holding $50,001 to $100,000 in Boeing stock.
Trump tweeted in January 2013 that he bought stock in Boeing after it went "way down." 
Boeing's stock gained more than 70% between January 2013 and June 2016.
Boeing is the latest company to come under fire from Trump in recent weeks, following United Technologies (UTX) and Rexnordundefined . UTX last week struck a deal to preserve about 1,000 jobs at a Carrier facility set for closure after discussions with the incoming administration.
Chicago-based Boeing last January won a contract to start preliminary work on a new fleet of Air Force One aircraft, though the government does not currently have an order in for any planes. The Air Force has so far earmarked $1.65 billion for a replacement aircraft and is likely to order two planes to ensure there is always transport available.
The current Air Force One is a Boeing 747-200 that began service in 1990 with a planned 30 year life cycle. President George W. Bush began work on a replacement late in his term but that plan was cancelled because of the poor economy. The Air Force is currently seeking to have a new fleet of planes in service by about 2024.
The source of Trump's $4 billion figure is unclear. The 747-800 list price is $370 million, however Air Force One models are considerably more expensive due to the amount of communications, defense and other technology add-ons that are required.
The Pentagon in 2015 estimated that the total replacement program would cost more than $3 billion, which presumably would include two jets.
Boeing said in a statement that it currently has a contract for $170 million to help determine the capabilities needed for the next presidential jet. "We look forward to working with the U.S. Air Force on subsequent phases of the program allowing us to deliver the best planes for the president at the best value for the American taxpayer," it said.
Miller on the call with press declined to specify where Trump had gotten his $4 billion number but said the matter "really speaks to the president elect's focus on keeping costs down across the board with regard to government spending," noting that Americans are frustrated with the price tags on government programs. "We're going to look for areas where we can keep costs down," he said, adding the exact details would come after Trump's January inauguration. "The message has clearly been sent, we're going to try to save taxpayers' money."
Though Trump's criticism of the Air Force One contract was unexpected, investors have been nervous about a potential showdown between the president-elect and Boeing. Company CEO Dennis Muilenburg has been publicly lobbying the new administration to keep the U.S. government's Export-Import Bank, which Boeing uses as a sales tool against rival Airbus.
Boeing's Muilenburg has argued that without the bank it would be harder for his company to win new plane orders overseas, potentially putting at risk U.S. manufacturing jobs.
The Ex-Im Bank has been a target of criticism from Republican lawmakers, who argue it is a form of corporate welfare. Trump on the campaign trail vowed to abolish the bank should he win the election.