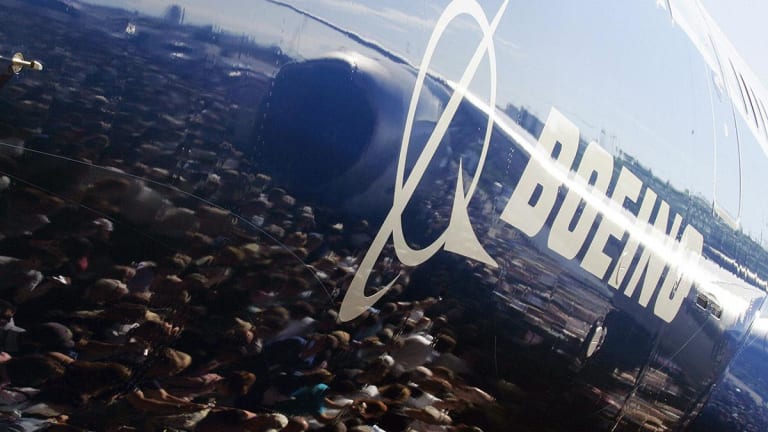 Boeing Shares Hit 7-Month Low Amid Trade Tensions and 737 Software-Fix Reports
BA sheds another 2.5%.
Boeing  (BA) - Get The Boeing Company Report shares fell more than 2% Monday to a seven-month low following reports that the planemaker is preparing a major fix to the flight software linked to its troubled 737 MAX aircraft and the escalating trade dispute between Washington and Beijing. 
The Seattle Times reported late Friday that Boeing is working on a software redesign that involves both flight control computers as it works towards a solution that will address concerns for the system raised by the Federal Aviation Administration in June. The fix is still expected to allow Boeing to hold to an October timetable for FAA approval, but deeper concerns with respect to the planemaker's exposure to China, as well as its deteriorating credit metrics, have pressured shares over the past few weeks and pushed the stock to this morning's multi-month low.
Boeing shares shed 2.5% Monday to close at $331.06 each, their lowest finish since Jan. 7. The move trimmed the stock's year-to-date gain to just 2.6%.
Last month, China's Premier, Li Keqiang, said his government is prepared to continue talks with France linked to the purchase of Airbus SE (EADSY) - Get Airbus SE ADR - Level I Report  aircraft in a signal that Beijing is ready to adjust some of its industrial strategies amid the threat of fresh trade tariffs from U.S. President Donald Trump.
The reference to Airbus purchases could also signal a shift away from the purchase of aircraft from Boeing, which is locked in a battle with the Franco-German aerospace giant for sales to China. The pair have about an equal share of sales to the world's biggest aviation market, which the Chicago-based planemaker thinks could require more than 7,000 new aircraft -- worth more than $1 trillion -- over the next two decades.
Last week, analysts at Standard & Poor's cautioned they may lower their credit rating for the world's biggest planemaker owing to the ongoing crisis in its 737 MAX program.
S&P said Boeing's credit metrics are likely to deteriorate over the next few quarters, and could fall below the threshold of cash flow to debt that normally triggers a downgrade.
Boeing plans to sell bonds later this year in a six-part offering that analysts think will take priority over share repurchases at least until the 737 MAX is brought back into full service. Moody's Investors Service rated the notes at A2, while Fitch gave them a single-A grade.
Boeing posted a record second-quarter loss of $5.82 per share last week, compared to a profit of $3.33 per share over the same period last year, after booking a charge of nearly $5 billion linked to the grounding of its flagship 737 MAX aircraft, the company's most profitable plane.
Group revenues, Boeing said, were pegged at $15.8 billion, but noted that the 737 MAX charge was only an estimate of "potential concessions and other considerations to customers" owing to the 737 MAX grounding, as well as production delays, following two deadly crashes over a six month period that killed 346 people.
Boeing also said 737 production costs had increased by around $1.7 billion in the second quarter, and could likely compress margins for the flagship carrier going forward, but sees regulatory approval for the aircraft's return to service in the U.S. and elsewhere early in the fourth quarter.