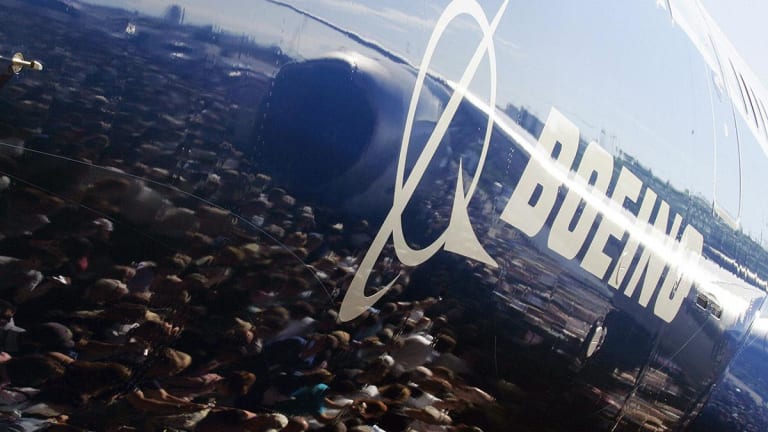 Boeing (BA) - Get Boeing Company Report shares extended declines Monday, falling to a near two-month low, after analysts at Standard & Poor's cautioned they may lower their credit rating for the world's biggest planemaker because of the ongoing crisis in its 737 MAX program.
S&P said Boeing's credit metrics are likely to deteriorate over the next few quarters, and could fall below the threshold of cash flow to debt that normally triggers a downgrade. Boeing said earlier Monday that it will sell bonds later this year in a six-part offering that analysts think will take priority over share repurchases at least until the 737 MAX is brought back into full service. Moody's Investors Service rated the notes at A2, while Fitch gave them a single-A grade.
"Fitch estimates debt could rise above $24 billion before year-end as a result of working capital build up related to the 737 MAX grounding, but this will begin to decline once deliveries resume," Fitch said Monday following Boeing's filing of the bond sale prospectus. 
"Fitch recently revised BA's Outlook to Negative based on regulatory uncertainty regarding the timing and global sequencing of the 737 MAX's return-to-service, the growing logistical challenge of returning parked planes to service and delivering stored post-production aircraft, the substantial financing needed for temporary working capital build-up, and the risk of higher concessions to airlines, especially if the 737 MAX grounding extends into the end-of-year holiday season," the company added.
Boeing shares were down 1.44% to $340.05, the lowest since June 3.
Boeing posted a record second-quarter loss of $5.82 per share last week, compared to a profit of $3.33 per share over the same period last year, after booking a charge of nearly $5 billion linked to the grounding of its flagship 737 MAX aircraft, the company's most profitable plane.
Group revenues, Boeing said, were pegged at $15.8 billion, but noted that the 737 MAX charge was only an estimate of "potential concessions and other considerations to customers" owing to the 737 MAX grounding, as well as production delays, following two deadly crashes over a six month period that killed 346 people.
Boeing also said 737 production costs had increased by around $1.7 billion in the second quarter, and could likely compress margins for the flagship carrier going forward, but sees regulatory approval for the aircraft's return to service in the U.S. and elsewhere early in the fourth quarter.
Shares have been further pressured after it revealed it would no longer bid for an Air Force contract to build a replacement for the Minuteman III intercontinental ballistic missile program.
Boeing's departure from the bidding process,which was first reported by the sector-focused Inside Defense, leaves aerospace and defense rival Northrop Grumman (NOC) - Get Northrop Grumman Corporation Report as the sole competitor for the Pentagon's Ground Based Strategic Deterrent contract, which was last estimated to cost between $85 billion and $100 billion and is expected to be awarded by the end of next year.
Boeing's second quarter Defense, Space and Security revenues were pegged at $6.612 billion, an 8% increase from the same period last year and a figure that represents nearly half of the group's top line. The division also has a $64 billion order backlog, around 70% of which comes from the U.S. Defense Department.