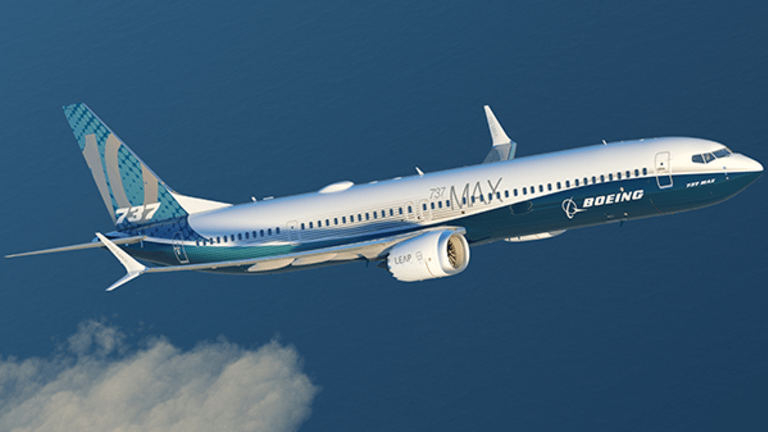 Boeing Shares Soar to 200,000 Feet and Remain the Best Dow Performer
Some analysts were skeptical. Not so much anymore.
Boeing (BA) - Get Boeing Company Report shares rose 1.2% on Monday after announcing a big deal with India. 
For Boeing, the stock market's reaction is nothing new.
The top stock in the Dow Jones Industrial Average continues to ride high after an "explosively positive" second quarter earnings report that has analysts gushing about the airplane manufacturer's prospects.
The Boeing Company's upbeat quarter was marked by solid execution of key product launches, including its first 737 MAX 8 delivery and the launch of the 737 MAX 10. The company's better-than-expected earnings came with upped guidance for operating margins, earnings per share and operating cash flow for the year as a whole.
"This is about as close to perfect as it gets from Boeing," analysts at Vertical Research Partners wrote.
Analysts at other firms were also impressed. The company saw upgrades across the board, including at Deutsche Bank, Jefferies, BofA/Merrill Lynch, Goldman Sachs, Credit Suisse, RBC Capital and Cowen.
The Chicago-based aerospace company reported a bump in its free cash flow in the quarter to $4.5 billion from $2.5 billion in the same period a year before. Free cash flow in the first half of the year doubled compared to the first half of 2016, to $6 billion up from $3 billion. Core earnings-per-share of $2.55 beat the FactSet consensus of $2.30 by 11%.
The report has some analysts kicking themselves that they didn't see it coming.
"With yesterday's explosively positive response to Q2, BA shares are now up 49% this year, and we fully recognize that we are late with this call, and a bit frustrated with ourselves too," analysts at Credit Suisse wrote. Credit Suisse upgraded their rating for the company to outperform from neutral, and upped their 12-month price target for the company 50% to $300 from $200.
Deutsche Bank raised their price target to $280, while Jefferies raised their target to $275, and Vertical Research Partners raised their target to $242. Goldman Sachs upgraded the company to neutral.
More of What's Trending on TheStreet:
This Is Why President Trump Can Now Blame Apple for Atlantic's Reporting