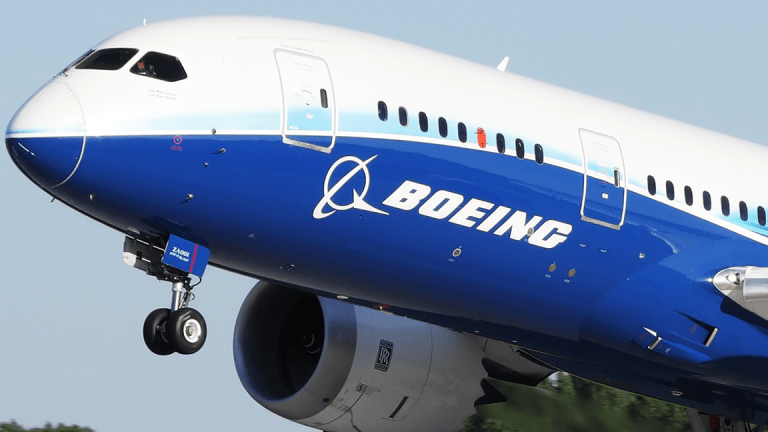 Will Boeing Be Grounded by a Trade War?
Analysts at Morgan Stanley and Bernstein suggest China's proposed tariff on aircraft will only marginally affect the Chicago-based aerospace giant.
Boeing Co. (BA) - Get Boeing Company Report shares rose Thursday, April 5 after analysts downplayed the potential effects of China's proposed tariffs for the Chicago-based aerospace company.
"We are less concerned about the direct implications of tariffs," Morgan Stanley analysts, including Rajeev Lalwani, said in an April 5 research note. "If the tariff impact to Boeing is isolated to the 737-700 and MAX 7, which account for less than 1% of the backlog, the impact to earnings is limited."
Shares of Boeing rose 2% to $334.00 at 10 a.m. New York time.
China announced earlier this week plans to implement a 25% tariff on more than 100 products across the agriculture, automotive, chemicals and aerospace industries. Specifically regarding the latter, the tariff would be imposed on aircraft with an empty weight of more than 15,000 kilograms but not exceeding 45,000 kilograms. The move was in response to the Trump administration's proposed tariffs that target about $50 billion worth of Chinese products.
For the aerospace company with a market capitalization of $192 billion, the tariff affects the 737, Bernstein analyst Douglas Harned noted. Like Morgan Stanley, Harned said the proposed tariffs will affect the 737 MAX 7, but he also believes it will affect all 737 Next Generations airliners, the name given to the -600,-700,-800,-900 series of the Boeing 737.
Still, the big question for Harned is whether the MAX 8 is affected. The MAX 8's operating weight is 45,070 kilograms, including crew and assumes a two-class configuration, which is just above the upper range of the tariff, the Bernstein analyst said.
"If the MAX 8 is unaffected and existing orders are exempted, the financial impact to Boeing would be minimal," Harned said. "If MAX 8s are affected, Boeing would be disadvantaged on new orders. This would be negative, but not a major issue to financials."
Moreover, it is difficult for China to apply tariffs to the aerospace sector as it "needs planes to support airline growth plans and Airbus is sold out," said Harned. Recently, China has represented approximately 15% to 20% of Boeing's commercial sales, and about 10% to 15% of total sales, Harned added.
Presently, orders for Chinese operators represent 6.5% of Boeing total order backlog, although there is a "significant number of orders whose operator country is not known; if we assume half of these 'unknown country' orders are in fact for China (we believe it is likely more than 50%), then China would represent approximately 17% of Boeing's backlog," the Bernstein analyst said. The firm rates Boeing stock at Outperform with a $422 price target.
To be sure, Larry Kudlow, the National Economic Council Director, said there is a possibility that the Trump administration's proposed tariffs on China may not go into effect.
"You know, there are carrots and sticks in life, but [President Trump] is ultimately a free trader," Kudlow told reporters Wednesday.
"He wants to solve this with the least amount of pain," Kudlow continued.
Given the desire from policy makers for a mutually beneficial outcome, Morgan Stanley sees de-escalation going forward, which lowers the risk to Boeing.
"Having said that, we do need to monitor any collateral effects from negotiations, aside from escalation, which may include a tighter credit market and elevated volatility that could pressure business as well as consumer sentiment," the Morgan Stanley analysts said. The firm maintained its Equal-weight rating on the stock with a $373 price target.
There are 17 Buys and 13 Holds on Boeing stock, according to Bloomberg data. 
Retirement is coming. It's never too early -- or too late -- to plan, save and invest for the retirement you want and deserve. Let TheStreet's new premium subscription newsletter, Retirement Daily, give you the insider's edge on how to maximize and protect your most important investment, your retirement savings. Learn more about Retirement Daily and get a free trial subscription.