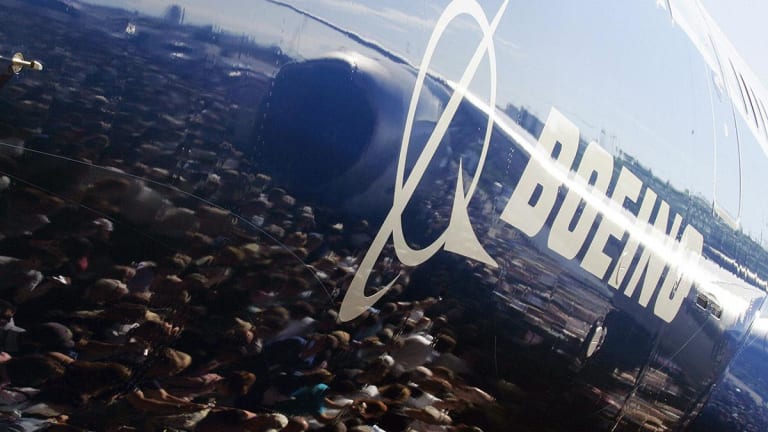 Boeing Resumes Slide After Ethiopia Crash Probe Finds Lion Air 'Similarities'
Boeing shares extend declines Monday after investigators in Ethiopia said their probe into last week's deadly crash of the planemaker's 737 MAX 8 jet found "clear similarities" to the October crash of a Lion Air plane that killed 189 people.
Boeing (BA) - Get Boeing Company Report shares extended declines again Monday after investigators in Ethiopia said its probe into last week's deadly cash of the planemaker's 737 MAX 8 jet found "clear similarities" to the October crash of a Lion Air plane that killed 189 people.
Reuters reported comments from Ethiopian transport ministry spokesman Muse Yiheyis indicating that data from Flight ET302's black box recorded had been validated by investigators from both Ethiopia and the United States and was deemed similar to that recovered from the Lion Air crash in Indonesia last year.
"First and foremost, our deepest sympathies are with the families and loved ones of those onboard Ethiopian Airlines Flight 302," Boeing CEO Dennis Muilenburg said in a statement Sunday. "Boeing continues to support the investigation, and is working with the authorities to evaluate new information as it becomes available."
"Safety is our highest priority as we design, build and support our airplanes. As part of our standard practice following any accident, we examine our aircraft design and operation, and when appropriate, institute product updates to further improve safety," the statement added. "While investigators continue to work to establish definitive conclusions, Boeing is finalizing its development of a previously-announced software update and pilot training revision that will address the MCAS flight control law's behavior in response to erroneous sensor inputs."
"We also continue to provide technical assistance at the request of and under the direction of the National Transportation Safety Board, the U.S. Accredited Representative working with Ethiopian investigators," Muilenburg concluded.
Boeing shares fell 2.2% on Monday to $307.62, a move that would extend the stock's slide since the fatal ET 302 crash, which killed all 157 passengers on board, to more than 12%.
The findings followed a weekend report from the Seattle Times, which alleged Boeing's assessment of the Maneuvering Characteristics Augmentation, or MCAS, flight control system was flawed prior to its coming to market in 2015, with one report by the company itself describing the system as one level below "catastrophic."
A Wall Street Journal report, meanwhile, said the U.S. Department of Transportation if looking into the Federal Aviation Administration's handing on the MCAS certification.
The FAA said last week that "new evidence" collected at the crash site compelled it to ground all "Boeing 737 MAX aircraft operated by U.S. airlines or in U.S. territory", reversing an earlier statement on the plane's safety.
"The grounding will remain in effect pending further investigation, including examination of information from the aircraft's flight data recorders and cockpit voice recorders," the agency added. "An FAA team is in Ethiopia assisting the NTSB as parties to the investigation of the Flight 302 accident. The agency will continue to investigate."
Beyond the horrific human cost of both the ET302 tragedy and the early October crash of a Lion Air flight out of Indonesia, which collectively took the lives of nearly 350 passengers, investors in Boeing, as well as companies linked to the 737's production in Renton, Washington, are looking into the impact on both its $600 billion order backlog and first quarter earnings.
Boeing's 737 lineup, perhaps its most important program, contributes around a third of the the Chicago-based planemaker's bottom line, as well as a fifth of its sales, and has a back order log of nearly 5,000 units.