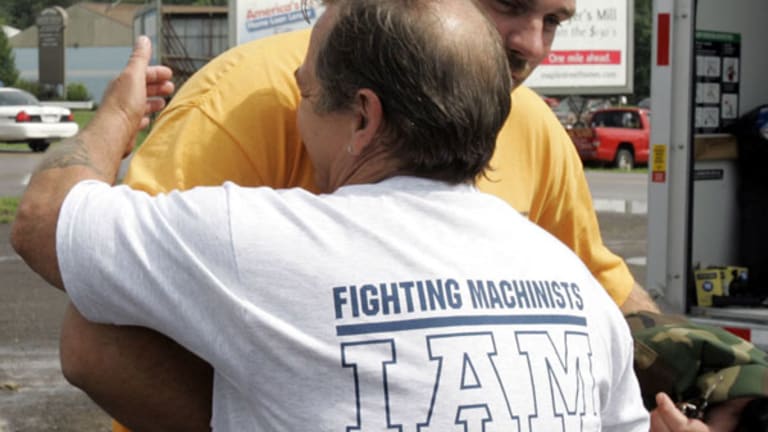 Boeing Offer Followed Union Push to 'Give Seattle a Shot,' Buffenbarger Says
The president of the International Association of Machinists says Boeing's demand that the union give up a defined benefit pension plan is a sacrifice, 'but without a job, you won't get a pension.'
SEATTLE (TheStreet) -- Boeing (BA) - Get Boeing Company Report didn't originally plan to build the 777X in Seattle, but late in the summer the International Association of Machinists began talking with the company about what it would take for Seattle to retain the work. That is how the controversial contract offer being voted on Friday originated.
"The union asked for the opportunity to pitch doing the work in Seattle," said IAM President Tom Buffenbarger in an interview. "We asked Boeing for a shot at keeping it in Seattle." A first round of negotiations led to the offer that workers rejected in a Nov. 13 vote by a 2-to-1 margin. A second round of talks led to the improved offer that is now on the table.
If the offer fails again, Boeing is expected to select a site outside Washington for work on its newest airplane. If the offer is approved, Boeing could bring an estimated 10,000 new jobs to Washington to work at a wing plant that would bring work back to the United States from China and Japan.
The plant could cost $20 billion. "When you get a company to commit those kinds of dollars to brick and mortar, that's work for a long time," Buffenbarger said.
In describing the process that led up to the contract offer, Buffenbarger said he wants to be sure that the 32,000 IAM members have sufficient information. This time, the national union has mailed contract information including economic analysis to the homes of every member. "They have been given the tools to make a decision," he said. "They didn't have that the first time" because the local union didn't provide it.
Boeing's plan to freeze the existing defined benefit pension plan is at the heart of the local union's objection to the proposed contract.
"I don't like the changes to the defined benefit pension plan," said Buffenbarger, who has long fought to retain such plans. But, he noted, "in every other Boeing location our members have given up defined benefit pension plans by a vote. The last place standing on defined benefit pensions for union members is Boeing Seattle. Even the engineers gave it up.
"Preserving the defined benefit pension plan is a noble cause," he said. "But without a job, you won't get a pension."
How did the contract talks with Boeing come about?
As long ago as March 2013, IAM leadership began to hear reports that Boeing was investigating potential locations for an undisclosed project. After Boeing announced in 2010 that it would build 787s in South Carolina, the IAM had "beefed up our surveillance of economic development activities that go on around the country," Buffenbarger said.

Late in the spring, IAM leaders asked Boeing directly about its plans for the 777X. "They said 'yes, we are planning to launch a replacement for the 777,'" Buffenbarger said. "The next question from us was: 'Are you going to build that in Seattle?' And they said: 'We don't have any plans to build in Seattle; we are looking at other locations to site this. We are looking at whoever is interested.' 
"So the union asked for the opportunity to pitch Seattle, and the company agreed to sit down and talk," he said.
During the summer, Buffenbarger said, IAM leaders researched plant costs and, to the extent possible, other potential sites. Contract talks began in late October, with the IAM team led by Rich Michalski, who had been instrumental in talks that placed 737MAX work in Seattle. Although Michalski is retired, "He is our most experienced guy and he is a dedicated trade unionist," Buffenbarger said. "He did us a favor."
The talks, Buffenbarger stressed, weren't secret. Leaders of Local 751, including President Tom Wroblewski, were full participants. In November, Boeing came up with its final offer. "There was give and take in negotiations; it was the best we could get," Buffenbarger said. The defined benefit pension plan would have ended, but Boeing's 401K contribution would have started at an unusually high 10%, then declined to 4% after four years.
"At the end of the day, it was good money," Buffenbarger said. "It wasn't a takeaway. But membership turned it down. I figured that's it, my job was done." But then Boeing called the IAM back to the table and made improvements, which Buffenbarger values at $1 billion. "In my world, $1 billion is a big improvement," he said.
Boeing spokesman Doug Alder didn't comment specifically on the course of the talks, but said: "There was indeed a lot of give and take during the negotiations. The most important thing is that we're now at a point where employees are voting." IAM spokesman Frank Larkin said it's part of the IAM's mission to let workers vote. "For 125 years, it's been the consummate meaning of being a union member, to vote on the terms you work under," he said.
Written by Ted Reed in Charlotte, N.C.
To contact this writer, click here.