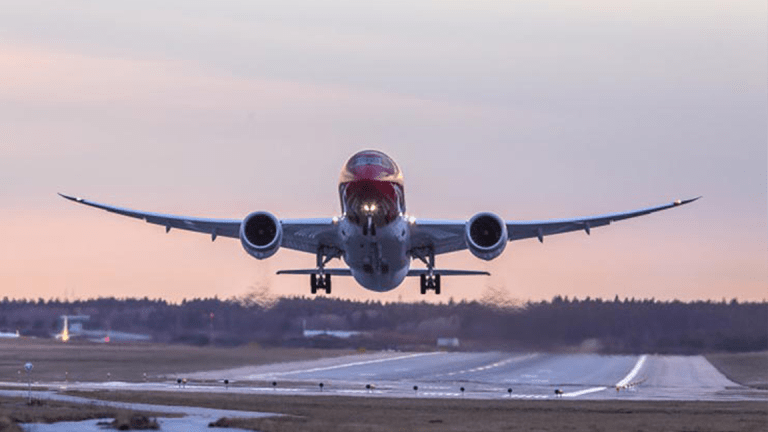 Will Boeing Now Become the Worst Performing Dow Stock?
Good results need to be great when a stock is up 65% on the year. Boeing reported better-than-expected results, but shares remain grounded.
What's a hot stock like you doing at a price like this?
Shares of Boeing (BA) - Get Boeing Company Report  lost altitude Wednesday, down 3% to $258.42 despite beating on earnings per share and revenue estimates.
Boeing stock was up almost 5% over the last month heading into the results. Even with Wednesday's fall, shares are still up 65% so far for the year. So even with a strong report -- including a backlog that grew to 5,700 airplanes valued at $474 billion -- it wasn't enough to stoke investors to come out and buy the stock.
Management even raised the bottom end its full-year core earnings per share guidance and gave a slight increase to its cash flow expectations. To no avail, it wasn't enough to bring in buyers. Boeing, the top-weighted component in the Dow Jones Industrial Average (DIA) - Get SPDR Dow Jones Industrial Average ETF Trust Report , is weighing on the index, which is now down about 75 basis points Wednesday.
Cowen analysts expected a strong open for Boeing, given the good results. They had a price target of $315 at the time, although the conference call had yet to begin when the report was issued. With Boeing's solid results, they said, "investors should like a robust Q3."
Perhaps that's part of the problem and it's something TheStreet's Jim Cramer talked about earlier: The derailing of the bull case. While the results from these companies are good, they're not enough to push the share prices higher. Heck, Boeing beat on the top and bottom line and raised (albeit lightly) its full-year forecast.
But up 65% on the year, it needs to be better. Good results need to be great results in order for great-performing stocks to head higher. That
feels like the takeaway from these analysts, too
.
Boeing also has one of the lowest short positions in the Dow, likely as it's been the best-performing stock in the index. It's unclear whether its recent results will cause short-sellers to try and press it lower over the next several sessions. Could Boeing stock be headed back down to the $235 to $240 range, where it consolidated for six weeks late this summer? We will see. First, though, it may find support from its 50-day moving average at $249.50.
More of What's Trending on TheStreet:
This article is commentary by an independent contributor. At the time of publication, the author had no positions in the stocks mentioned.