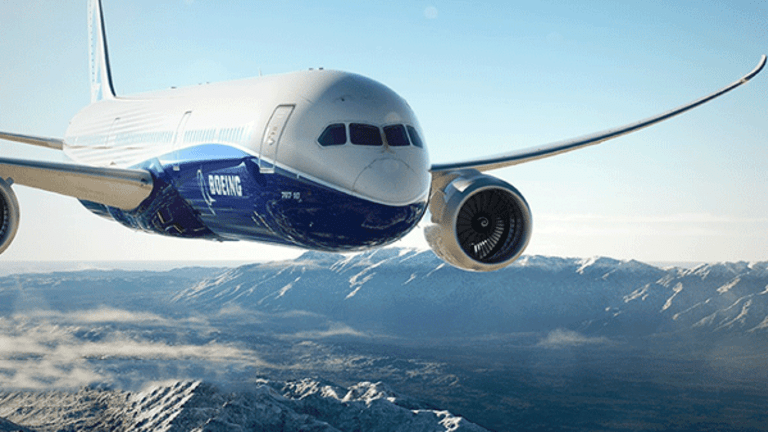 Boeing Is Dominating Its Battle With Bombardier: Technical Analysis
The U.K. is trying to pressure the Commerce Department to reverse its tariff decision against Bombardier, but Boeing's uptrend is alive and well.
If it's not Boeing, I'm not going.
The U.S. government is adopting Boeing Co.'s (BA) unofficial slogan this week, following news that the Commerce Department will slap duties on rival aerospace firm Bombardier's flagship C-series airliner.
The duties come after Boeing complained that Bombardier, a Canadian company, had received illegal subsidies from the Canadian and Quebec governments worth almost 220% of the aircraft's value. That decision could have a big impact as U.S. airlines make decisions on fleet upgrades. Delta Air Lines (DAL) agreed to buy at least 75 Bombardier CS100 aircraft last year.
Thursday, the U.K. stepped into the fold, as Prime Minister Theresa May suggested that Boeing could risk future contacts with the country if it continues to lobby for tariffs against Bombardier, which employs more than 4,000 people in Northern Ireland.
(Boeing, for its part, reminded the U.K. government that it is responsible for 18,700 U.K. jobs, either directly or through its Tier-1 suppliers.)
No doubt about it, Boeing wins this battle.
Boeing remains the best-performing Dow Jones Industrial Average component in 2017, up more than 63% since the calendar flipped to January. And shares aren't showing any signs of slowing down that breakneck momentum as we get deeper into autumn. In fact, shares are accelerating their uptrend.
So, while the politicians throw jabs at one another, we're turning to the charts for a technical look at how to trade Boeing in the final stretch of September.
First, the long-term picture:
You don't need to be an expert technical trader to figure out Boeing's price trend right now. Shares have been charging higher for more than a year now, in a well-defined, orderly price setup.
Boeing's price action is corralled by a parabolic uptrend that's done a good job of containing about 99% of this stock's price action since last October. Put simply, every test of the bottom of that uptrend has provided a low-risk, high-reward buying opportunity for shares.
Relative strength, a measure of Boeing's ability to outperform the broad market, has been in an uptrend of its own, signaling that shares are statistically predisposed to keep on outperforming in the final stretch of 2017.
Don't miss these top stories on TheStreet:
Mom Was a Harley Rider ('70's), I Ride Today ('17), Will my Girls Ride Tomorrow?
Zoom in to the shorter-term, and the picture is just as rosy:
Shorter-term, Boeing's price trend is more linear, but buy signal is the same. Shares are essentially hovering right above their trendline, making the next meaningful bounce higher a tradable buy signal. Shares could still have a little bit of room to the downside before that happens, but we're close to buy territory today. From a risk-management standpoint, the 50-day moving average looks like a logical place to park a protective stop; if the 50-day gets violated, then Boeing is likely to kick off a more substantial correction.
Meanwhile, buyers look like they're still clearly in control of the price action in Boing. Buy the dips.
Don't miss these top stories on TheStreet:
This article is commentary by an independent contributor. At the time of publication, the author held no positions in the stocks mentioned.