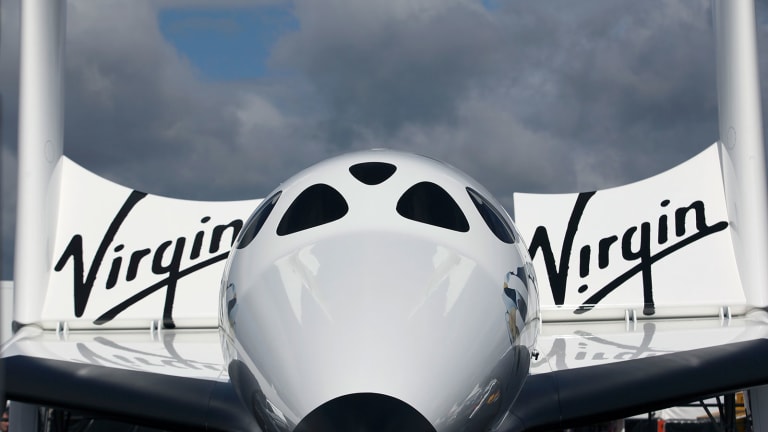 Boeing Invests $20 Million in Human Spaceflight Company Virgin Galactic
Boeing announces it plans to invest $20 million in Virgin Galactic to broaden commercial space access.
Boeing (BA) - Get Free Report  said it would invest $20 million in human spaceflight company Virgin Galactic to broaden commercial space access. 
"Boeing's strategic investment facilitates our effort to drive the commercialization of space and broaden consumer access to safe, efficient, and environmentally responsible new forms of transportation," said Brian Schettler, senior managing director of Boeing HorizonX Ventures.
Virgin Galactic, founded by the U.K. investor Richard Branson, has invested about $1 billion to build reusable human spaceflight systems as it looks to make space tourism a reality. 
In July, Virgin Galactic said it would go public by combining with the blank-check company Social Capital Hedosophia Holdings (IPOA) - Get Free Report .
Boeing said it would invest in return for new Virgin Galactic shares. Its investment is conditioned on that transaction closing, which the Chicago aerospace giant expects will occur this quarter. Boeing is investing in the post-closing company.
Separately, Boeing shares declined Tuesday after The Wall Street Journal reported that disputes between U.S. and European regulators could delay the return of the plane maker's 737 MAX jet.
The Journal said European safety officials aren't fully satisfied with Boeing's plans to repair the 737 MAX's software. The focus, the Journal reported, is on how the plane's dual flight-control computers will work together. 
The plane was grounded by the U.S. Federal Aviation Administration in March after two crashes involving the airliner.
Boeing finished down 0.7% to $374.10.