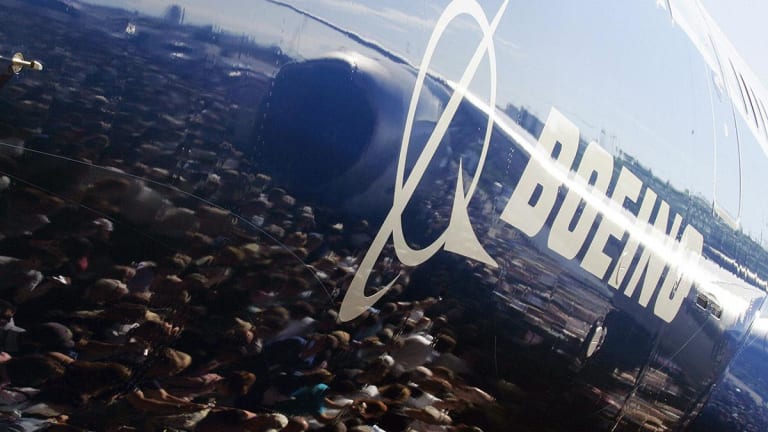 Boeing Flies Higher as Ethiopia Prepares Crash Report
Boeing is flying above its monthly value level for April at $383.08, which targets its weekly risky level at $415.70.
Boeing Co.  (BA) - Get Boeing Company Report is flying above its monthly value level for April at $383.08 in anticipation that the crash report due out from Ethiopia will not reveal any significant differences from the October crash in Indonesia. The software patch for the Boeing 737 MAX 8 airliner is being touted by the company as the AI fix that will prevent a crash given timely pilot intervention. If the news continues to be favorable,  the upside is to its weekly risky level at $415.70. If there are more concerns from the Ethiopia report or other investigation, the key level to hold is on weakness is the 200-day simple moving average at $359.32.
Back on Feb. 26, I wrote "Time to Book Profits on Boeing" and I talked about the risk of the Boeing 737 MAX 8 airliner. As an engineer by education with a Master of Science degree, I have an instinct about Artificial Intelligence. The Lion Air Boeing 737 MAX 8 out of Indonesia dropped 726-feet in 21 seconds to its demise in late-October. If the Ethiopia jet proves to have suffered from the same conditions, investors should focus on safety concerns about AI, not the make of the plane itself.
There are other stories to tell about Boeing. During congressional hearings last week, we learned that the so-called "Angle of Attack Indicator" and warning lights may have been separately-sold options. Here are some details. In my opinion, AI enhancements need to be standard equipment with easy-to-understand pilot intervention!
Findings and certification news are extremely important as Boeing is vulnerable to bad news. With 5,000 orders for the 737 MAX airlines at stake, air safety regulators face overall care in certifications, given potential law suits and cancelled orders.
The Daily Chart for Boeing
Courtesy of Refinitiv Xenith
The daily chart for Boeing shows that the stock set its all-time intraday 2018 high of $446.01 on March 1 on strong momentum that resulted from a positive reaction to earnings released on Jan. 30. Note the price gap higher on this earnings report. The stock obviously fully recovered from weakness that followed the Lion Air crash. The price gap lower on March 11 was caused by the Ethiopian crash. From the March 1 high to the March 22 low of $361.53, the stock slumped by 18.9%. The close of $322.50 on Dec. 31 was the input to my proprietary analytics and resulted in its semiannual and annual value levels at $323.80 and $302.60, respectively. The March 29 close at $381.42 was the latest input to my analytics and resulted in a monthly pivot at $383.08 and a quarterly risky level at $460.36, and a weekly risky level at $415.70.
The Weekly Chart for Boeing
Courtesy of Refinitiv Xenith
The weekly chart for Boeing ended last week negative but the stock begins this week above its five-week modified moving average at $388.24. The stock is well above its 200-week simple moving average or "reversion to the mean" at $228.57 last tested during the week of Feb. 26, 2016, when the average was $115.75. The 12x3x3 weekly slow stochastic reading is projected to decline to 59.73 this week down from 68.16 on March 29. A close above $388.24 this week causes the weekly chart to be upgraded to neutral.
Trading Strategy: Buy weakness to the 200-day simple moving average at $359.32 and reduce holdings on strength to this week's risky level at $415.70.
How to use my value levels and risky levels:
Value levels and risky levels are based on the last nine weekly, monthly, quarterly, semiannual and annual closes. The first set of levels were based on the closes on Dec. 31. The original semiannual and annual levels remain in play. The weekly level changes each week; the monthly level was changed at the end of January, February and March. The quarterly level was changed at the end of March. My theory is that nine years of volatility between closes are enough to assume that all possible bullish or bearish events for the stock are factored in already. To capture share price volatility, investors should buy on weakness to a value level and reduce holdings on strength to a risky level. A pivot is a value level or risky level that was violated within its time horizon. Pivots act as magnets that have a high probability of being tested again before its time horizon expires.
How Much Money Will I Need to Retire?
Want to learn about retirement planning from some of the nation's top experts? Join TheStreet's Robert "Mr. Retirement" Powell live in New York on April 6 for our Retirement Strategies Symposium. For a limited time, tickets are available for $99 for this full-day event. Check out the agenda, learn about the speakers and sign up here.
Disclosure: The author has no positions in any stocks mentioned and no plans to initiate any positions within the next 72 hours.