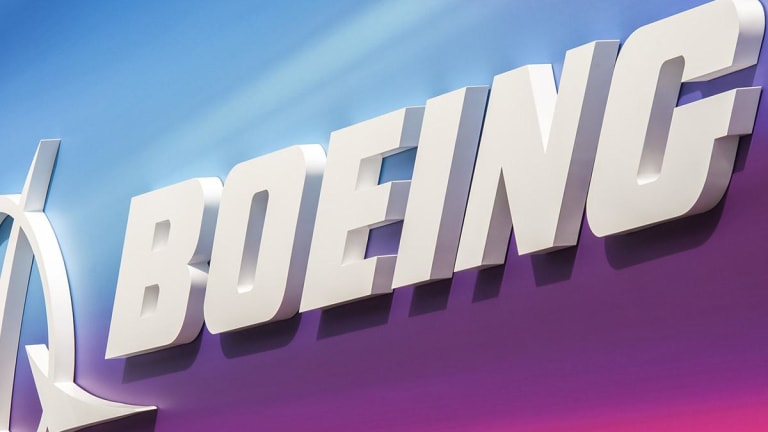 Boeing Unveils Fixes for 737 Max as Congressional Hearings Probe Approval
Boeing unveiled fixes for its 737 MAX aircraft Wednesday as FAA officials faced a grilling from lawmakers on Capitol Hill over the approval process for the planes which have been involved in two fatal crashes in the past six months.
Boeing Inc. (BA) - Get Boeing Company Report unveiled fixes to its grounded 737 Max 8 aircraft on Wednesday at its facilities in Renton, Washington, even as lawmakers launched probes into how the troubled aircraft won certification.
The proposed remedies included a software fix, additional pilot training and cockpit alerts, CNBC reported.
The move comes in the wake of two deadly crashes involving the planes in the past six months. The Max 8 was involved in the deadly crashes of Lion Air Flight 610 in October and Ethiopian Airlines Flight 302 earlier this month.
The fixes focus on the plane's Maneuvering Characteristics Augmentation System, or MCAS automated flight control system, which will now receive data from both angle of attack sensors, instead of just one. If those disagree by more than 5.5 degrees, the MCAS system will be disabled and will not push the nose of the plane lower. Boeing also will be adding an indicator to the flight control display so pilots are aware when the angle of attack sensors disagree.
Congress held hearings Wednesday regarding the Federal Aviation Administration's oversight and approval process for the 737 Max. The Senate Appropriations Subcommittee on Transportation, Housing, and Urban Development and Related Agencies and The Senate Commerce Committee's Subcommittee on Aviation and Space are both holding probes.
Secretary of Transportation Elaine Chao told the appropriations subcommittee that she asked the Department's Inspector General to "initiate an audit to compile a detailed factual history of the activities that resulted in the certification of the Boeing 737 Max 8" involved in the crash of Ethiopian Airlines Flight 302. Chao also said she'd created an advisory committee to provide independent, impartial advice on ways to improve the FAA safety oversight and certification process.
Boeing shares rose 0.7% to $372.92 Wednesday after trading lower earlier in the session.
A passenger-less 737 Max had to make an emergency landing Tuesday in Florida. Southwest Airlines (LUV) - Get Southwest Airlines Co. Report said pilots flying the aircraft to storage facility in California were forced to make an emergency landing in Orlando, where the plane departed, after experiencing engine trouble shortly after take-off. Southwest said the difficulties were not related to the plane's MCAS flight software system.
Southwest shares rose 2% to $49.81. The carrier -- which has 34 737 MAX 8 aircraft in its fleet -- lowered its near-term forecast for operating revenue for available seat mile, or RSAM, a key measure of airline industry profits.
"In light of the recent tragedy in Ethiopia and the subsequent grounding of the Boeing 737 Max aircraft, this hearing will examine challenges to the state of commercial aviation safety, including any specific concerns highlighted by recent accidents," the panel, which is led by Republican Senator Ted Cruz, said Wednesday, adding it would like, "in the near future, to hear from industry stakeholders that would include Boeing, other aviation manufacturers, airline pilots, and other stakeholders."
China's Civil Aviation Administration of China said Tuesday it had stopped taking new applications for 737 MAX 8 airworthiness as of March 21, confirming an earlier media report that came as European rival Airbus SE (EADSY) - Get Airbus SE Report agreed to sell China Aviation Supplies Holding Company 300 new planes worth around €30 billion ($34 billion) at list prices.
Last week, Boeing faced losing a $6 billion order for the 737 MAX 8 after Indonesia's national airline moved to cancel or amend a previous agreement for the controversial aircraft in what would be the first first formal cancellation of MAX 8 deliveries that could trigger broader concerns for the back order log of nearly 5,000 units with a list value of around $600 billion.
"Since the moment we learned of the recent 737 MAX accidents, we've thought about the lives lost and the impact it has on people around the globe and throughout the aerospace community," Boeing said in a statement Tuesday. "All those involved have had to deal with unimaginable pain. We're humbled by their resilience and inspired by their courage."
"Boeing stands together with all our customers and partners to earn and strengthen the flying public's trust and confidence in us every day," the statement said.
How Much Money Will I Need to Retire?
Want to learn about retirement planning from some of the nation's top experts? Join TheStreet's Robert "Mr. Retirement" Powell live in New York on April 6 for our Retirement Strategies Symposium. For a limited time, tickets are available for $99 for this full-day event. Check out the agenda, learn about the speakers and sign up here.