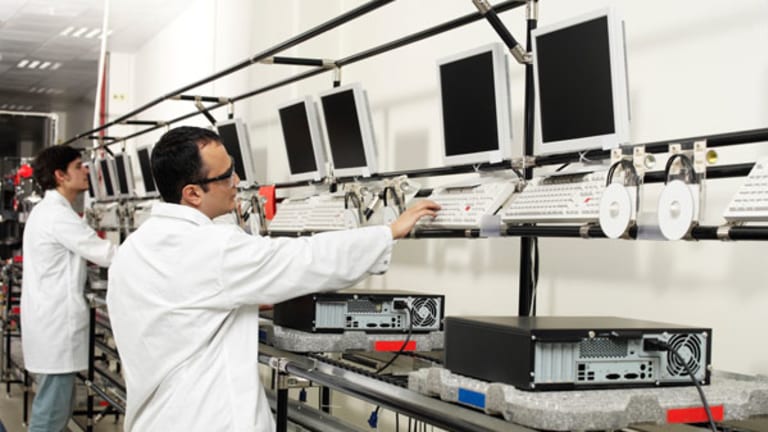 Boeing Dreamliner a Boon to Suppliers?
Which producers of esoteric gizmos will benefit from supply deals with Boeing's Dreamliner?
EVERETT, Wash. (TheStreet) -- A veritable cargo of space-age substances are taking a ride on Boeing's (BA) - Get Report787 Dreamliner Tuesday as the seminal and controversial aircraft makes its first-ever test flight through the skies above Seattle.
For the companies that produce the polymers and metals and fibers that go into the Dreamliner, Boeing's business will almost assuredly boost their prospects, and their stock prices -- but only if the 787 takes its hoped-for place among the fleets of the world's airlines. Investors have bid up shares of Boeing in advance of Tuesday's test flight, but they haven't really done the same to the Dreamliner's biggest suppliers.
Figuratively and literally, there is, in other words, a lot riding on the 787.
With that in mind, here's a breakdown of the stuff that Boeing's dreams are made of -- by weight (the 787 comes in at 547,000 pounds, by the way):
50% CARBON FIBER: This super-lightweight yet super-strong composite material represents the cutting edge of aircraft design: it will likely one day replace aluminum as the skin and skeleton of all newly built airplanes, starting with the Dreamliner.
The world's biggest supplier of carbon fiber is
Toray Industries
, of Japan, which has received an estimated $6 billion in orders from Boeing to build out the 787. Toray shares trade on the Tokyo, London, Berlin and Frankfurt stock exchanges, including Xetra.
20% ALUMINUM: The usual suspects, Kaiser and Alcoa , provide this metal to Boeing. Still, compared with airliners up until now -- which were comprised of 50% aluminum by weight -- this pair of producers stands to see a drop-off in the amount of material supplied to Boeing.
15% TITANIUM: One of the chief beneficiaries here is longtime Boeing supplier Titanium Metals , of Dallas, the largest producer of titanium in the U.S. Though the company has reported consistently weak earnings on a severe downturn in sales amid the recession, it inked its latest long-term contract with Boeing just a month ago. An existing pact expires at the end of 2010.
Boeing has spread the titanium wealth around, however. The aerospace giant cut a deal with Pittsburgh's
Allegheny Tech
(ATI) - Get Report
to supply titanium under a $2.5 billion contract through 2015, and formed a joint venture with Russia's
VSMPO-Avisma
, the world's largest titanium miner, to manufacture rough machined titanium forgings for the 787.
Indeed, the entire Russian titanium industry has enjoyed a windfall from the Dreamliner. Boeing has agreed to buy, according to the
Moscow Times
, $18 billion worth of Russian titanium over the next three decades.
According to some analysts, the 787 program will likely give the U.S. titanium business a profound kickstart as well.
The investment thesis runs thusly: The cutting-edge Dreamliner will provide a baseline of demand for titanium -- heretofore used mostly in such things as tennis rackets and white pigments for toothpaste -- that titanium producers will now have the wherewithal to seek out manufacturing breakthroughs, which will let them produce titanium items more cheaply, which will in turn heighten demand worldwide for stuff made out of titanium.
Other companies in this realm include
RTI International Metals
(RTI)
, also of Pittsburgh, which sells a lot of titanium to Boeing for the joint-strike F-35 fighter as well as the 787. For the latter bird alone, RTI has a 10-year contract worth $900 million, though when it reported a disappointing third-quarter loss in November, RTI's CEO said the Dreamliner's infamous delays "continue to stress our company."
10% STEEL: Forgetting the unfortunate ticker symbol, Precision Castparts , of Portland, Ore., manufactures the kind of esoteric metal-alloy widgets and gewgaws that make the guts of an airplane resemble the cities of an alien civilization, as seen from above. Jet engine components are a particular specialty (as are artificial limbs, though this business line is probably irrelevant to Boeing). According to Precision's latest estimates, it expects to pull $5.5 million in revenue from each Dreamliner that Boeing builds.
Other specialty-alloy parts makers -- Kokomo, Ind.'s
Haynes International
(HAYN) - Get Report
, Wyomissing, Pa.'s
Carpenter Technology
(CRS) - Get Report
-- make components for the Dreamliner's engines, which in turn are made by
General Electric
(GE) - Get Report
and Britain's
Rolls-Royce Group
.
-- Written by Scott Eden in New York
RELATED STORIES:
>>Boeing 787 Ready to Fly
>>The Making of the Dreamliner
>>A Look at Boeing's Markets
Scott Eden has covered business -- both large and small -- for more than a decade. Prior to joining TheStreet.com, he worked as a features reporter for Dealmaker and Trader Monthly magazines. Before that, he wrote for the Chicago Reader, that city's weekly paper. Early in his career, he was a staff reporter at the Dow Jones News Service. His reporting has appeared in The Wall Street Journal, Men's Journal, the St. Petersburg (Fla.) Times, and the Believer magazine, among other publications. He's also the author of Touchdown Jesus (Simon & Schuster, 2005), a nonfiction book about Notre Dame football fans and the business and politics of big-time college sports. He has degrees from Notre Dame and Washington University in St. Louis.