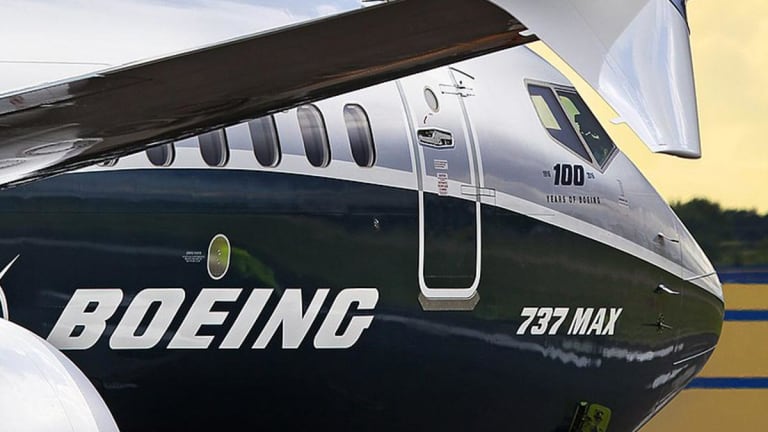 Boeing Orders Fall in October as 737 MAX Remained Grounded
Rival Airbus handed 77 planes to customers in October, and its deliveries are reportedly on track to overtake Boeing this year.
Boeing (BA) - Get The Boeing Company Report in October delivered 20 planes to customers, a bit more than a third of the 57 that it delivered in the year-earlier month.
The major factor holding up the Chicago aerospace giant's ability to hand over more planes is the absence of the 737 MAX jet.
That plane has been grounded since the spring, after two crashes six months apart killed 346 people. Investigators have linked the crashes to failures of the plane's MCAS flight-software system.
When will the 737 MAX be ready to fly?
Boeing said on Monday that it might be able to bring the 737 MAX back into service in January. It said it hoped the Federal Aviation Administration would certify its flight-control software updates in this quarter.
Of the 20 jets Boeing delivered in October 2019, a dozen were the 787 Dreamliner models.
The Wall Street Journal reported that the absence of the 737 MAX puts Boeing deliveries on track for a bit more than 400 this year, half of last year's total.
Airlines are hesitant to put 737 MAX back in the air
In a report last week from TheStreet's Tony Owusu, Southwest Airlines (LUV) - Get Southwest Airlines Company Report , the U.S. carrier with the largest fleet of the Boeing (BA) - Get The Boeing Company Report 737 MAX, said it was extending the removal of the beleaguered plane from its flight schedule to March 6. That extends its previous flight-schedule ban, through Feb. 8.
Is Boeing's competition capitalizing on their turmoil?
In comparison, Airbus (EADSY) - Get Airbus SE ADR - Level I Report delivered 77 jets in October, 59 of them from the A320 models. The Journal reported that Boeing's Leiden, Netherlands, a rival is on track to overtake the U.S. company and deliver 860 aircraft this year.
How has the stock reacted since the two crashes?
Boeing (BA) - Get The Boeing Company Report stock opened at $340.59 on October 29,2018, when Lion Air flight 610 crashed. The stock dropped 14%, hitting a low at $294.16 on Dec. 24, 2018, before jumping 50% to an all-time high at $440.62 on March 1, 2019. Ethiopian Airlines Flight 302 crashed on March 10, 2019, and the stock is down 17% since.