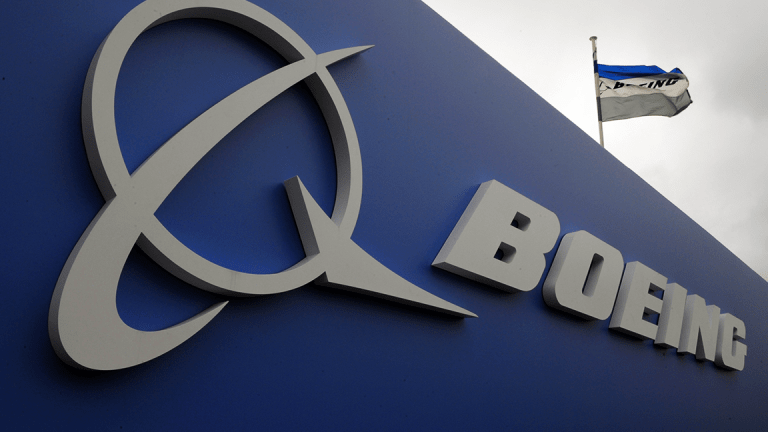 Boeing Deals Latest Blow in War With Airbus
The plane maker on Monday announced a partnership with aerospace firm Safran in a bid to expand its aftermarket services segment, an arena Airbus has vowed to triple revenue in over the next seven years.
The plane maker on Monday announced a partnership with aerospace firm Safran in a bid to expand its aftermarket services segment, an arena Airbus has vowed to triple revenue in over the next seven years.
One aerospace giant is clearly winning. 
Boeing Co. (BA) - Get Report has emerged in the last year as a stronger airplane maker than its European archrival Airbus SE, and on Monday, June 4, the company put that advantage to work on yet another long-term strategic move: a joint venture with French aerospace firm Safran SA that will make and service aircraft auxiliary power units. 
Boeing is using profits from record jet sales in 2017 to transition into other lucrative aerospace segments. After spending decades building a global supply chain and focusing its capabilities on final assembly, original equipment manufactures, or OEMs, in recent years have come to realize outsourcing much of the manufacturing process means they are losing out on substantial aftermarket revenue that comes with servicing existing aircraft. 
For example, Boeing in May agreed to pay $4.25 billion for aerospace parts distributor KLX Inc. (KLXI) - Get Report , which it will integrate with subsidiary Aviall, an aftermarket-parts distributor it acquired in 2006.
And in 2016, Boeing terminated an agreement with one of its largest suppliers, former subsidiary Spirit AeroSystems Holdings Inc. (SPR) - Get Report , which effectively eliminated the supplier's business of manufacturing spare parts using Boeing intellectual property.
"This move will strengthen Boeing's vertical capabilities as we continue to expand our services portfolio," Boeing CFO Greg Smith said of the deal, an indication of Boeing's eagerness to capitalize along the entirety of the value chain. 
Boeing and Safran teaming up in this arena places it in direct competition with Honeywell International Inc. (HON) - Get Report and United Technologies Inc. , and may be in part a response to the latter's pending $30 billion of Rockwell Collins Inc. (COL) . 
Boeing CEO Dennis Muilenburg discusses with TheStreet the possible impact of a trade war.
Boeing has expressed concern over the UTX deal, previously claiming it didn't think the transaction would benefit its airline customers. The company also has threatened to cancel some contracts with the combined United Technologies and Rockwell Collins if it comes to feel the combination undermines competition in the aerospace supply chain. 
To be sure, Boeing has dominated the supply chain over the past 12 months, in which it recorded operating income of $10.9 billion and produced free cash flow of $12.7 billion, according to FactSet. 
That blows Airbus' €2.2 billion ($2.6 billion) in operating profit and $41 million free cash flow loss out of the water. Media and analysts have speculated Airbus' smaller profits can in part be attributed to the company offering bigger discounts to customers to build up a stronger backlog of orders, with the thinking this will help it win long-term market share from Boeing.
Indeed, Airbus's backlog of orders totaled 7,179 aircraft in April, representing about nine years of production at current rates, while Boeing's sat at 5,835 jets in April. But the former has taken a recent blow in this regard, having placed 95 jets of the 170 Iran ordered in its backlog. Boeing did not include any of the 110 airplanes Iran purchased in its backlog. 
Airbus has not yet made as strong of a play in expanding its after-market manufacturing presence, however, even as the company has reportedly set a goal of tripling services revenues from its commercial aircraft business to $10 billion during the next seven years. 
Airbus also faces other struggles. The future of the company's staple double-deck, wide-body A380 is in question after it was forced in recent months to cut 3,700 jobs in Europe in response to reduced production of the world's largest passenger jet and its A400M military transporter. Airbus cut expectations for A380 deliveries from eight in 2018 to six in 2020 as it attempts to secure more orders of the jet to keep the series alive. 
Boeing has faced trouble with its larger commercial jets as well, with 777 production well down from past years as customers await the new, more fuel-efficient 777x jet. Airlines have reportedly been over ambitious in expansion in the past decade, and expensive wide-body jets, typically costing between $200 million and $400 million, are often the first orders to be cut by customers when investment drops. Boeing, which has a slightly larger market share in the wide-body market, has suggested the decreased demand for these jets will last through 2020 at least. 
Monday's move clearly illustrates how Boeing intends to grapple with this market shift, though, leaving the ball in Airbus' court. 
Honeywell is a holding in Jim Cramer's Action Alerts PLUS member club. Want to be alerted before Jim Cramer buys or sells Honeywell? Learn more now.
How to Play Today's Risky Markets. Click here and register for free to watch what top experts from Bank of America, Fisher Investments, Invesco and Wells Fargo say smart investors should do now.