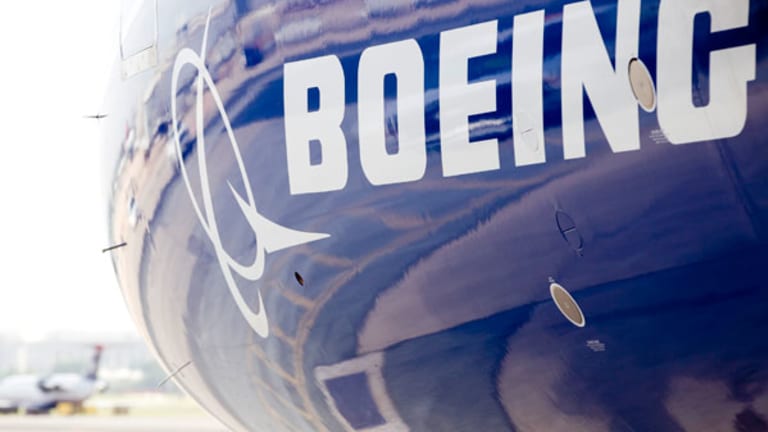 Boeing Contract Choice: Corporate Arrogance or Union Fantasy
Boeing workers will vote Friday on an offer that forces a choice between yielding to corporate arrogance or denying a harsh reality.

SEATTLE (TheStreet) -- The battle between Boeing (BA) - Get The Boeing Company Report and the International Association of Machinists is a tough one to watch, matching corporate arrogance against union miscalculation.
Boeing is among America's best companies. Part of a global duopoly, it produces great products: customers line up years out to buy them. It is America's leading exporter and a symbol everywhere of American ingenuity and competence.
In some ways, Boeing is more a nation-state than a company. It has its own Congressional delegation to do its bidding and a private bank, called the Export-Import Bank, which provides government backing for below-market loans to Boeing customers. Nearly half of Ex-Im Bank loans go to Boeing customers, some of them state-owned Middle East airlines that compete with U.S. airlines.
All of this vast success has gone to Boeing's head. It wants to play chicken with its workers and the state of Washington, its principal home since 1916, because it thinks it cannot lose. The 787 Dreamliner production fiasco, a leap too far in outsourcing that nevertheless involved a miracle product, is a symbol of all that is wrong with Boeing, as well as all that is right.
The IAM, like its peers, confronts the decline of the labor movement. But it has often seemed to embody labor practicality. While it has never been afraid to strike, it has sometimes been smart enough not to strike. It has struck Boeing, but also it has worked hand-in-hand with Boeing, time after time, to secure government contracts.
Now a Boeing "offer" has forced an ugly split between the IAM's national leadership and local leadership in Washington.
In December, Boeing submitted a wish list, which it called a contract offer, to its 31,000 Seattle-area workers. The document was accompanied by a threat to move production of the 777X, a future plane with massive potential, out of the Seattle area. It included higher health care premiums, the end of defined benefit pension plans, and fixed wage increases. What unionized company would not like to have all of these things? Most non-union companies already have them. Boeing gave workers one week to decide.
The offer was handily defeated. The parties talked again. Boeing made some limited improvements, valued by IAM national leadership at $1 billion. Then Tom Wroblewski, president of IAM District 751, and other local leaders declined to submit the offer to a union vote, saying the end of the defined benefit pension plan and other contract changes were not acceptable to members. National IAM leadership overruled local leadership.
A vote is scheduled for  Friday. Members face a tough choice between resistance, which their local leaders advocate, and reality.
Defined benefit pension plans are rapidly disappearing, thanks to societal trends, high funding requirements and the decline of the labor movement. The funding requirements are particularly burdensome at a time of historically low interest rates. Through bankruptcy, airlines, automakers and other companies have mostly eliminated or frozen these plans. Unions used to be able to protect workers from corporate efforts to degrade their pension plans, but that is no longer the case.
I have to laugh when I hear people discredit the labor movement, saying it has nothing to do with them and no longer has any relevance to their lives. Most of these people have lost or never had defined benefit pension plans, and their 401K retirement plans are often tied, by their choice, to the stock market.
For now, Boeing workers, IAM members at United Airlines (UAL) - Get United Airlines Holdings Inc. Report and Teamsters at UPS (UPS) - Get United Parcel Service Inc. Report -- which like Boeing is part of a global duopoly providing an essential product -- still have defined benefit pension plans. But they are outliers.
Last month marked the death of Charlie Bryan, who was president of IAM District 100, which represented about 10,000 Eastern Air Lines workers. Bryan led a 1989 strike that concluded in 1991, when Eastern shut down. In some ways, Bryan was a hero, fighting to preserve his members' standard of living. But also he was fighting history, because he sought to preserve work rules and pay levels that history had passed by.
Similarly, Wroblewski wants to keep defined benefit pension plans, which sadly are going away no matter what he does, and to trade off future Seattle-area jobs to preserve them, in a world where most people with good jobs are lucky to have them.
The battle may be heroic. The strategy is doomed.

Written by Ted Reed in Charlotte, N.C.

To contact this writer, click here.

Follow @tedreednc