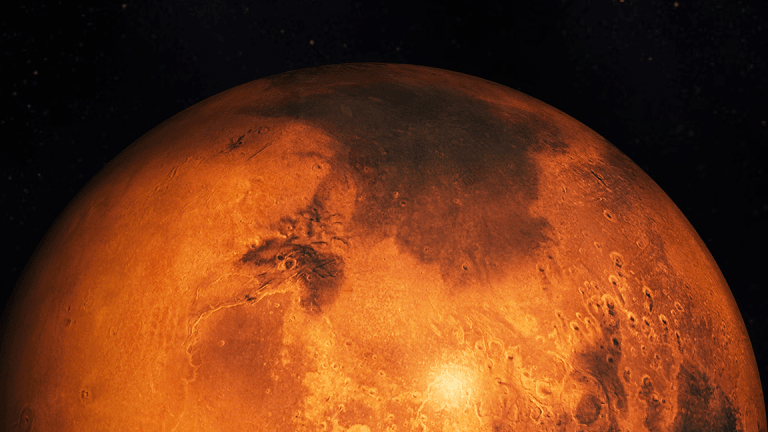 Boeing's CEO Is Bullish on Trump's Space Force
Boeing CEO Dennis Muilenburg tells TheStreet he is encouraged by the Trump Administration's efforts to get back into space in a big way.
Trump's Space Force -- and his overall push back into space exploration -- could be a huge opportunity for Boeing (BA) .
"I am very encouraged by what I see is the Administration leaning forward on investing in all dimensions of space, not just Space Force but more broadly, the work going into space exploration and the re-invigoration of that entire ecosystem," Boeing CEO Dennis Muilenburg told TheStreet on a post earnings media call Wednesday.
Muilenburg says he views space as a growth opportunity through Boeing's satellites and deep space/low Earth orbit products. "[Space travel] It's good for business, it creates growth opportunities for us and is also a way to develop STEM talent for the future."
President Trump added to the space-exploration fervor on June 18 by announcing his intent to create a sixth branch of the U.S. armed forces, which he affectionately dubbed "Space Force." The president's directive for the Pentagon to pour more resources toward this new force prompted Morgan Stanley to give their support in the plan from an investment standpoint.
Vice President Mike Pence will lay out the plan for Space Force on Thursday. 
The bank values space as the next trillion-dollar industry and anticipates it will enhance the U.S.'s technology capabilities in the future as well as providing more security for the country's national defense, according to a research note.
Morgan Stanley plans on monitoring over 100 private companies that deal in some aspect of the space industry for investment opportunities going forward, according to the note.
And of course, part of that space exploration includes the race to Mars between Boeing and Elon Musk's SpaceX.
Muilenburg told TheStreet earlier this year that Boeing will beat SpaceX to Mars.
"We are working jointly with NASA and building that first rocket space launch system. It's about 38 stories tall, the first story is being built right now. It has 9.2 million pounds of thrust on that rocket, it's the biggest rocket ever. We will begin test flights starting next year," he said.
Added Muilenburg, "I firmly believe that the first person to step foot on Mars will get there on a Boeing rocket."
Musk has stated this year that it will begin test flights of its Mars rocket in early 2019. The big-thinking entrepreneur believes SpaceX will be able to send manned rockets to Mars by 2024.
Musk took to Twitter after Muilenburg's comments, essentially telling Boeing to bring it.