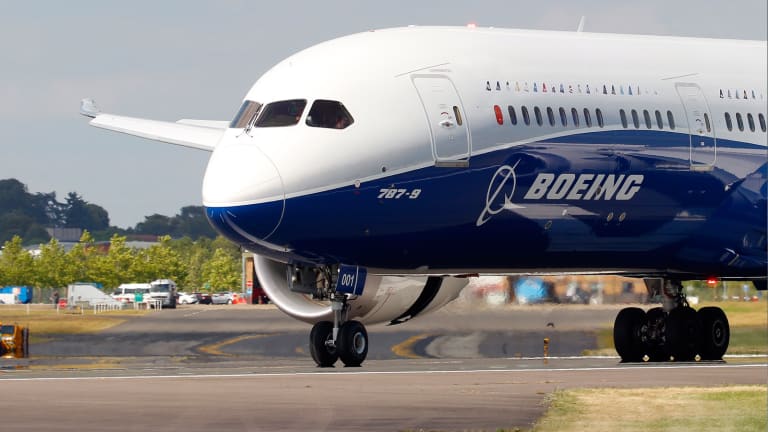 Boeing Calms Investor Fears as Aerospace Firms Report Strong Quarterly Results
The aerospace and defense giant reported strong earnings and reassured investors that the commercial sale environment remains strong, joining defense peers in reporting solid results.
Investors in Boeing (BA) - Get Boeing Company Report and throughout much of the aerospace sector have spent the better part of the year torn between trying to enjoy the ongoing wave of commercial jet sales, and fretting about what happens when the cycle turns. Boeing officials on Wednesday made their case for why fears about the future are overblown.
Chicago-based Boeing reported a third-quarter profit of $2.81 a share excluding one-time items, easily besting the $2.62 estimate, on better-than-expected $23.9 billion in revenue. The company also raised its full-year revenue guidance by $500 million to between $93.5 billion and $95.5 billion, and raised full-year earnings per share guidance as well.
Boeing said that customer demand for its commercial aircraft remains strong particularly for its 737 narrow-body jet, which has more than 4,300 orders in its backlog. Though demand for pricier wide-body jets like the 777 has fallen, the company believes that is due in part to upcoming transitions to newer-generation aircraft and said demand should stabilize and grow by the beginning of the next decade.
On the defense side, Boeing generated revenue of $7.5 billion and double-digit operating margins thanks to strength in its military aircraft business and its global services and support unit. International orders accounted for more than one-quarter of the defense revenue and makes up about 38% of backlog.
"Solid operating performance across our commercial and defense and space businesses in the third quarter again generated strong cash flow for Boeing, which continues to fuel investments in our future and enable us to deliver compelling returns to our shareholders," Chairman and CEO Dennis Muilenburg said. "We remain on track to deliver on our full-year commitments. At the same time, we are positioning Boeing for further growth through our intense focus on productivity, quality and safety across the company."   
The commercial aviation business is enjoying an unprecedented sales cycle, as demand from emerging economies coupled with a restructured and suddenly healthy aviation industry in the United States able to refresh its fleets has led to nearly eight years of growth and a large backlog of new plane orders.
Investors have ridden the wave, with shares of Boeing climbing more than 115% in the last five years, more than doubling the gains in the Dow Jones Industrial Average, but increasingly holders have grown concerned that the best of the cycle is now in the past. Boeing shares are flat year to date.
Muilenburg told investors on a conference call Wednesday that even if growth is slowing, demand will not fall off a cliff. In the meantime, the company has had success working with suppliers to bring down costs. Deferred production costs on the company's 787 Dreamliner -- part of a somewhat controversial accounting method used by Boeing to spread R&D over the life of a jet program instead of booking it all upfront -- decreased by $150 million in the quarter after growing by $30 million in the three months prior, a development Cowen & Co.'s Cai von Rumohr called "encouraging."
Shares of Boeing, which initially traded down after earnings were released, jumped during the conference call with analysts and were up more than 4%, or $5.90, to $144.95 on Wednesday afternoon.
Boeing this year has taken steps to trim production on certain wide-body models to try to manage its way through the expected slowdown. The company has said its 777 production rate will fall from a current 8.3 units per month to 7 per month in 2017 and 2018 as it transitions to a newer model, with the official 2018 delivery rate set at 5.5 units per month so the company can use some units to test new designs. The company has currently sold about 60% of its 2018 planned delivery slots, but Muilenburg admitted that there could be a further cut in 2018 if new orders do not materialize.
Elsewhere in the aerospace sector Wednesday, Northrop Grumman (NOC) - Get Northrop Grumman Corporation Report  reported a nearly 17% quarterly profit and raised its full-year forecast for the third time in 2016. Northrop said it expects full-year earnings per share in the range of $11.55 to $11.75, compared to earnings of $9.90 to $10.39 a share it forecast back in January.
Northrop credited increasing work supplying the F-35 fighter, the most expensive weapons platform in Pentagon history, for the beat, with the company also benefiting from below the line items including a pension gain and a lower tax rate. Shares of Northrop jumped 3.65% following the announcement.
Investors were not as excited by results at General Dynamics (GD) - Get General Dynamics Corporation (GD) Report , where shares were flat Wednesday afternoon after the company reported results that beat expectations on earnings but missed on revenue. The company was hurt by weakness in its aerospace business, where sales declined 13.2%, in part due to tepid demand for its Gulfstream business jets.
The defense side of the business performed better, with the company's information systems and technology operations -- which includes tech and cybersecurity -- reporting double-digit margins that topped estimates on stronger-than-expected sales. General Dynamics' total backlog at the end of quarter 2016 was $62 billion.
A day earlier, Lockheed Martin (LMT) - Get Lockheed Martin Corporation (LMT) Report kicked off aerospace earnings season with a beat and forecast boost, telegraphing the strength of the sector heading into 2017.