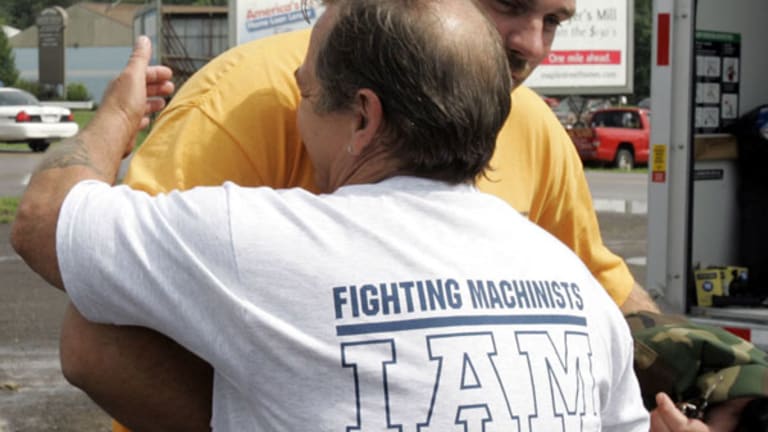 Boeing Battle Drives Election Challenge to Veteran Union President
Tom Buffenbarger, president of the International Association of Machinists since 1997, faces a rare election challenge from a onetime union official who was fired in 2013.
Updated with Boeing share price, relative Dow performance and first-quarter deliveries.
Seattle (TheStreet) -- Tom Buffenbarger has been president of the International Association of Machinists since 1997. During his tenure, the union has held its own despite discouraging societal trends for the union movement. Buffenbarger, who said he is on the road about 200 nights a year, has worked diligently. And now, he may be on the verge of a historic labor movement victory, if the IAM can succeed in organizing the Airbus plant in Mobile, Ala.
Nevertheless, at 63, engaged in his fourth and last presidential campaign given a mandatory retirement age of 65, Buffenbarger is facing his first ever election challenge. The bases for Jay Cronk's insurgent campaign are that IAM dues are too high, that the union is top-heavy and needlessly operates its own airplane, and that Buffenbarger mishandled a recent intra-union dispute at Boeing (BA) - Get Boeing Company Report, Cronk said in an interview.
-- Tom Buffenbarger, IAM president
Cronk, 59, has been an IAM member for 40 years, including 22 years as a union representative and 14 years working in union headquarters in Washington. He is now a railroad mechanic at Metro North New Haven maintenance base, after being fired as a top executive in the union's transportation organizing department. Not surprisingly, the two sides differ on the reason he was fired.
Cronk's presidential bid follows a controversial Boeing contract vote in January that provided an embarrassing moment in union history, when the union's inner conflicts were exposed to the world. Arguably, the affair also created an opportunity for Cronk, a defiant union official, to craft a campaign that could be viewed as a referendum on Buffenbarger's leadership.
Boeing didn't originally plan to build its 777X, a future plane with massive potential, in the Seattle area, but in the summer of 2013, "We asked Boeing for a shot at keeping it in Seattle," Buffenbarger said in a January interview.
A first round of negotiations led to an offer that workers rejected in a Nov. 13 vote by a 2-to-1 margin. A second round led to a slightly improved offer that was approved by 51% of voters. The 10-year-contract included moderate pay increases and job security, but eliminated a popular defined benefit pension plan. Leaders of Everett Local 751 opposed both the contract and the second vote.
-- Jay Cronk
"It's not so much that Buffenbarger stepped in, it's that he got involved without assistance from the (local reps) who are most knowledgeable," Cronk said. "He went in on his own and he agreed to terms that the local reps would not accept." After the loss, the local president resigned.
Buffenbarger sees the Boeing contract vote far differently, as a landmark victory for the union. Assembling the 777X in Everett means job security for 32,000 IAM members. Boeing's February announcement that it will the 777X wings in Everett will provide work for thousands more.
"We did a long term contract with Boeing," Buffenbarger said, in an interview. "I know people are upset about that. But now people can make plans that require the expenditures of billions of dollars. Boeing is going to invest $20 billion and the State of Washington is going to invest $9 billion (in incentives). That's how far reaching the decision we made was.
"It boils down to this: The company had a proposal to vote on," he said. "A few people in Seattle said 'we can't trust the members to make this decision' and refused to hold a vote. But our union policies and procedures require that we vote on a contract, that the members have the right to make the final decision.
"I've always found that our members make the decisions that work for them," Buffenbarger said. "My job is to support that."
Boeing announced Thursday that it delivered 161 aircraft in the first quarter of 2014, up from 137 deliveries in the same period a year earlier. Deliveries in the first quarter of 2014 included 115 B737s and 24 B777s, compared with 102 B737s and 24 B777s in the first quarter of 2013. 
In mid-morning trading Thursday, Boeing shares were up 69 cents to $129. Boeing shares led the Dow Jones Industrial Average in 2013, gaining 81%. In 2014, however, shares are down 5.52%, the fifth-worst performer in the Dow.  
Looking ahead, Buffenbarger said he anticipates a successful organizing drive at Airbus, scheduled to begin building aircraft in Mobile in 2015. Success would be history-making not just for the IAM but also for the union movement, which has met fierce resistance in the south, culminating recently in the defeat of the United Auto Workers' effort to organize Volkswagen's plant in Chattanooga, Tenn.
Buffenbarger said the Airbus outcome will be different. "We've already put in a lot of work," he said. "The IAM has a pretty good relationship with Airbus and we're pushing to win this." Buffenbarger was not specific about the timeline, but he expects the Mobile plant to be organized by his retirement date of Jan. 1, 2016.
Asked whether Buffenbarger had done anything good during his years in office, Cronk responded: "I can't say he hasn't done anything good, but his accomplishments are few."  
Cronk blamed high dues for a failed effort to unionize workers at Boeing's North Charleston, S.C. plant, a secondary site for 787 production. "If you could reduce dues and provide more value for the dollar, we could attract lower wage workers," he said. Similarly, he said, the Airbus unionization effort would benefit from a lower dues structure and lower costs.
In particular, Cronk objected to union ownership of a Lear Jet, used by various union officials, which in 2012 involved expenses of $2.3 million for pilots, a mechanic, fuel, hangar space and landing fees.
IAM dues are equivalent to twice the weighted hourly average of an IAM member, Buffenbarger said. That has been the case since 1976. The union president's salary is $260,000 annually, based on the level approved at a 2000 union convention and increased since then in line with cost-of-living increases.

The union has operated an airplane since 1978. To demonstrate why the plane is needed, Buffenbarger detailed his activities last weekend. Between Saturday morning and Sunday night, Buffenbarger said, he attended a union rally in Fort Rucker, Ala.; a Wichita, Kansas meeting with union negotiators preparing to bargain on a merger agreement with Beechcraft, and a meeting with the union's Missouri State council in Jefferson City, Mo., before returning home to Maryland late Sunday night.
The Learjet 60 holds six passengers and is used by various union officials, solely for union business.
Cronk announced on Nov. 18, 2013, that he would run for union president. A week later, he was fired from his post as the union's transportation coordinator. Cronk maintains he was fired because he was running for president, but his career as a union executive was already deteriorating, Buffenbarger indicated.
 Buffenbarger said Cronk's job involved transportation organizing, but Cronk "never won a campaign in four or five years there." Rather, organizing campaigns at Northwest and Delta (DAL) - Get Delta Air Lines, Inc. Report failed and flight attendants at United (UAL) - Get United Airlines Holdings, Inc. Report  left the IAM for the Association of Flight Attendants. Since Cronk was demoted, the IAM had regular successes including fighting off a Teamster effort to unionize US Airways mechanics, Buffenbarger said.
Cronk, however, said his principal job as transportation coordinator was simply to implement a superior's directions. During his tenure, Cronk added, IAM successfully won representation elections for about 15,000 United fleet service workers and agents. "The fact is I was fired because I believe in a novel idea: democratic elections within the IAM," he said.
The IAM election is being overseen by the Department of Labor because Karen Asuncion, a veteran United employee and a candidate for one of eight IAM general vice president slots, complained in January that some individual members were not properly informed that nominations were open. Subsequently, the union mailed election notices to each of its 577,000 members, including 332,000 active members, saying voting will take place at the first local lodge meeting in April.
The IAM has more than 1,000 local lodges. Voting at Boeing Local 751 in Everett begins today.
-- Written by Ted Reed in Charlotte, N.C.
To contact this writer, click here.