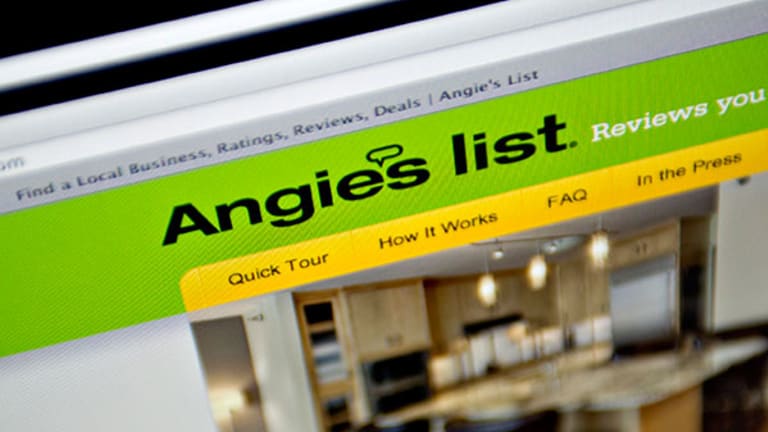 Board Shakeup at Angie's List Continues
The consumer review site's chairman John Chuang and director Steve Kapner have resigned, with former Bankrate CEO Thomas Evans replacing the former.
Angie's List (ANGI) - Get Angi Inc Class A Report  is seeing yet another episode of board shakeup as the consumer review site writes its turnaround story. 
The Indianapolis-based company announced Friday that former Bankrate (RATE) CEO Thomas Evans has been elected chairman of the board, effective Thursday. Evans is replacing John Chuang, who resigned as chairman and director on Oct. 3. Director Steven Kapner also resigned, effective Oct. 3. 
With the changes, the Angie's board now consists of 10 members. 
Shares of Angie's are down about 3% Friday morning to $9.28. Angie's is down less than 1% year-to-date.
The board change is the latest management shakeup at Angie's. Just in March, the company reached a settlement with its activist investor TCS Capital Management by adding three dissident-backed directors to the board. 
TCS Capital Management launched a campaign aimed at Angie's over a year ago in July 2015. TCS Capital's Eric Semler argued then that Angie's should explore a sale.
Four months later, the activist came back and pushed for a tax-free combination between Angie's and IAC/InterActiveCorp's (IAC) - Get IAC/InteractiveCorp. Report HomeAdvisor. In November, Barry Diller's IAC revealed a proposal to acquire Angie's for about $512 million, or $8.75 per share. But Angie's rebuffed IAC, arguing that the offer undervalued the company and that it wanted to focus on its so-called Profitable Growth Plan. TCS Capital continued pressure Angie's until it finally succeeded in adding a minority slate of directors. TCS now holds a 10% stake in Angie's, Bloomberg data shows.
Some company followers have said that the settlement with TCS will pave the road for a sale of Angie's and others have argued that chairman Chuang had been opposed to seriously weighing M&A options. 
Chuang -- like the majority of the Angie's top equity owners -- has been a long-term shareholder in the company. He currently owns about 19.8% of Angie's shares through his investment vehicle TRI Investments, according to Bloomberg data.  
"We continue to believe that a combination of ANGI with IAC's HomeAdvisor makes strong strategic and economic sense," wrote Wells Fargo analyst Peter Stabler in a Friday note, adding that IAC could increase its offer for Angie's. 
"We would ordinarily believe the resignation of Mr. Chuang could be viewed as a signal that ANGI's could reconsider IAC's offer," he noted. 
At the same time, IAC is known to be disciplined when it comes to checks the New York Internet company writes for acquisitions, and the $8.75-per-share bid was widely viewed as a fair price. Angie's has struggled with slowing growth, but industry watchers have said that its strong brand name could make it an appealing acquisition target for larger peers including Yelp (YELP) - Get Yelp Inc Report , Groupon (GRPN) - Get Groupon, Inc. Report , Priceline Group (PCLN) and Lowe's Companies (LOW) - Get Lowe's Companies, Inc. Report  , among others, in addition to IAC's HomeAdvisor. 
Meanwhile, the company's new chairman is joining Angie's with a strong track record. 
In addition to leading Bankrate from 2004 to 2013, Evans also served as the chief executive of Official Payments and GeoCities. Evans led the initial public offering and subsequent sale of GeoCities to Yahoo! (YHOO) for $4.6 billion in 1999. Official Payments was acquired by ACI Worldwide ACIW in 2013 for $109 million. 
"Tom is an outstanding choice to be chairman of the Angie's List board," Angie's president and CEO Scott Durchslag said in a statement.