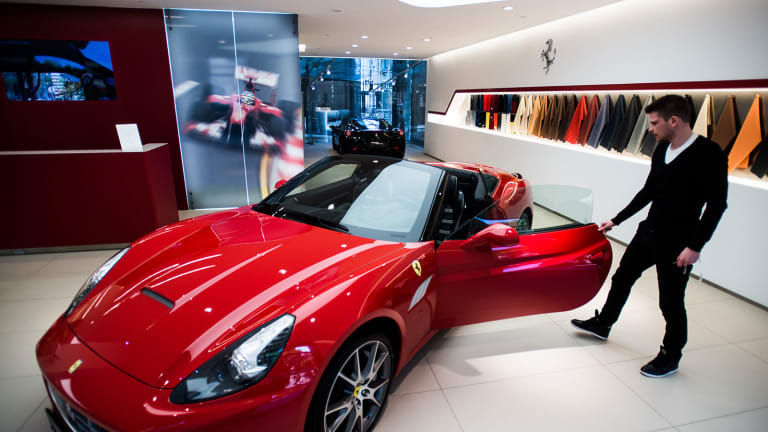 BMW Has One of the 10 Hot New Luxury Cars Priced Over $100,000 That You Could Buy Today
These are the rides to buy.
Luxury automakers had the convertible market mostly to themselves during the economic downturn, but that doesn't make convertibles any less of a rich man's game.
U.S. carbuyers pay an average of $94,408 for a high-end luxury car or $91,877 for a high-end performance car -- based on Kelley Blue Book's June transaction prices -- but that might buy you a fixer-upper in the loftier tiers of the luxury vehicle market. Through the first month of this year, Ferrari (up 2.8%), Jaguar (88%), Maserati (29.1%), Bentley (82.8%), Rolls Royce (54.5%) and Porsche (3.2%) have all increased from last year, according to MotorIntelligence.
In years past, that end of the market was where you had to look for a convertible. Prior to the recession, convertibles were limited to Chrysler Sebring/200s, Jeep Wranglers or a higher-end luxury vehicle from BMW, Audi or Mercedes-Benz. Convertibles still cost more than their hard-top versions, but gas prices that are $2.26 a gallon. Even though they're three cents higher per gallon than they were at this time last year, that isn't enough to make luxury carbuyers reconsider convertibles..
With vehicle sales down 2.1% through June, according to MotorIntelligence, convertibles are starting to look more like a luxury. There are just six convertibles on the road today that are capable of 30 miles per gallon or more -- and Tesla doesn't make any of them.
With U.S. fuel efficiency standards closing in on toward a fleet-wide average of 54.5 miles per gallon by 2025, as the Environmental Protection Agency has mandated, more fuel-efficient vehicles have become both more plentiful and less expensive. The average fuel economy (window-sticker value) of new vehicles sold last year was 25.2 mpg, according to the University of Michigan Transportation Research Institute. That's still less than halfway to the EPA and Department of Transportation's goal that they set back in 2012, but it beats the roughly 19 miles per gallon that the Department of Transportation measured for the same pool of vehicles in 1995. Convertibles by their very nature aren't all that efficient, and their prices tend to be a bit higher than their coupe counterparts.
That said, if you're going to splurge on one, you may as well go all the way. With help from the Environmental Protection Agency's FuelEconomy.gov, we found 10 of the most luxurious convertibles that you can buy. Enjoy the sun, even if it's from one of the multiple gas stations you'll be stopping at during your summer road trip.
Jaguar F-Type R convertible
Starting price: $103,000
Combined miles per gallon: 15
We could've shown you the F-Type with its puny 296-horsepower four cylinder engine or the SVR with its stripped-down, race-ready frame and 5.0-liter V8, but this felt like a happy medium. With a 5-liter, 500-horsepower V8 engine, switchable exhaust, navigation, assisted power steering, 10-speaker Meridian sound system and racing seats, this F-Type offers all of the performance without sacrificing any of the luxury.
Audi R8 Spyder
Starting price: $175,100
Combined miles per gallon: 18
The three-layer acoustic top keeps things quite and retracts in 19 seconds at 31 miles per hour, which is practically idling for the R8's 540-horsepower V-10 engine. Toss in tech features like Audi virtual cockpit, Audi connect PRIME telematics with Google Earth and an optional Bang & Olufsen Sound System, and the sleek R8 convertible is more than just a pretty face.
Bentley Continental GT convertible
Starting price: $218,400
Combined miles per gallon: 15
That GT designation is costly, but it's because this class of buyer knows exactly what it's looking for.
In the Continental, it's a 590-horsepower, 6-liter, 12-cylinder engine and performance all-wheel drive above all else. The 1950s throwback body, Breitling gauges with blood orange lighting, soft-touch leather, sport pedals, large-screen infotainment system and bespoke Naim sound system with 15-gigabyte just make it all look pretty.
Maserati GranTurismo convertible
Starting price: $145,740
Combined miles per gallon: 15
You're not going to want to race anyone in this GT.
This convertible GT is good for little else than being seen. It's a massive four-seater convertible with leather trim, multi-zone automatic climate control and a sprawling multimedia/navigation system. However, even with that six-figure price tag, buyers are getting a 4.7-liter V8 that's not only relatively underpowered at 444 horsepower, but somehow manages to be less efficient than its 12-cylinder counterparts.
Rolls Royce Dawn
Starting price: $343,875
Combined miles per gallon: 15
It's Rolls Royce's Wraith coupe with a haircut, but Rolls Royce claims that 80% of the body panels are specific to this new model. We aren't surprised. The swooping, nearly nautical design, the ridiculous 122.5-inch wheelbase, the slightly longer frame and the 400 pounds of extra weight compared to the Wraith all give this vehicle a life of its own. However, it shares the suspension, drivetrain,and structural elements derived from the BMW 7-series. That said, the 5776-pound Dawn's V-12 produces just 563 horsepower to the Wraith's 624, and the whole car is kind of dumb for being so new. There's no Wi-Fi, no smartphone compatibility, but with Rolls Royce's Phantom Drophead Coupe dead, this is your option.
BMW M6 convertible
Starting price: $122,300
Combined miles per gallon: 16
Now, if you wanted all of the tech toys you might find in the next-generation Rolls Royce convertible, consider trying on this top-of-the-line Beemer instead. You not only get a 4.4-liter, 560-horsepower V8 engine, but there's built-in Wi-Fi, a standard wireless charging pocket, navigation, Mobile Office features including message dictation and heads-up display. Throw in features like leather upholstery, 20-way seats, dynamic cruise control and dual-zone automatic climate control with memory, and you get a vehicle that may not be as bespoke as the Rolls Royce, but is similarly luxurious and far smarter.
Porsche 911 Targa 4
Starting price: $110,300
Combined miles per gallon: 22
The word "convertible" doesn't do the profoundly retro Targa any justice.
Its last overhaul a few years ago brought back the silver trim around the cockpit that was a throwback to its most iconic iteration of the 1960s. Along with its folding glass roof, these were design elements specifically targeting a special breed of golden-age Porsche buyers. In Los Angeles, however, Porsche finally announced that it would give the Targa the power it deserved.
The Targa is being transitioned to turbocharged engines, with 370 horsepower for the Targa 4 and 420 for the Targa 4S. Why 4? Because both of these vehicles are all-wheel-drive, which you don't often see on a warm-weather drop top, but is working wonders for Porsche's more zippy Carrera. After half a century, Porsche knows what works aesthetically in the 911. It's now getting a better sense of the kind of power and stability drivers are looking for behind the retro exterior.
Ferrari 488 Spider
Starting price: $272,700
Combined miles per gallon: 18
Ferrari (RACE) - Get Ferrari NV Report knows how to build a convertible, but this retractable hardtop with the 660-horsepower V8 engine and Formula 1-style seating is something to behold. Despite looking like a track-ready racer, the 488 is equipped with Apple CarPlay, sport infotainment center and keyless start. It's every bit the high-performance prancing pony, but the 488 gives you a slight bit more for the price.
Lamborghini Aventador roadster
Starting price: $399,500
Combined miles per gallon: 12
A carbon-fiber-and-aluminum convertible with a roughly 730-horsepower, 6.5-liter V12 engine seems and unlikely candidate for a convertible, but Lamborghini gives the people what they want.
However, with a top speed of 217 miles per hour, it would take you a little more than three minutes of pinning the speedometer to go through a gallon of gas. That isn't likely to be foremost in your mind when you take off the two 13-pound carbon fiber roof panels and show off what this road-legal racer can do, but it's tough to ignore when you spend big swaths of your drive at the pump. An Aventador isn't made for preening along some packed city street -- it wants and open road and forgiving speed limits. Give it both.
Aston Martin V12 Vantage S
Starting price: $186,295
Combined miles per gallon: 12
Want to hit 60 mph in 4.2 seconds and top out at 205? This 565-horsepower brute will get you there for roughly half the cost of the Lamborghini with a somewhat curvier look. Its updated satellite navigation system, standard Bluetooth, text message integration and apps including Apple CarPlay also make it friendlier for the daily commute than the average supercar. It's a bit more fierce than James Bond's brand tends to be, but that light chassis and big engine mean business.
More of What's Trending on TheStreet:
Game of Thrones Has Become Huge -- Here's How You Can Quickly Tell