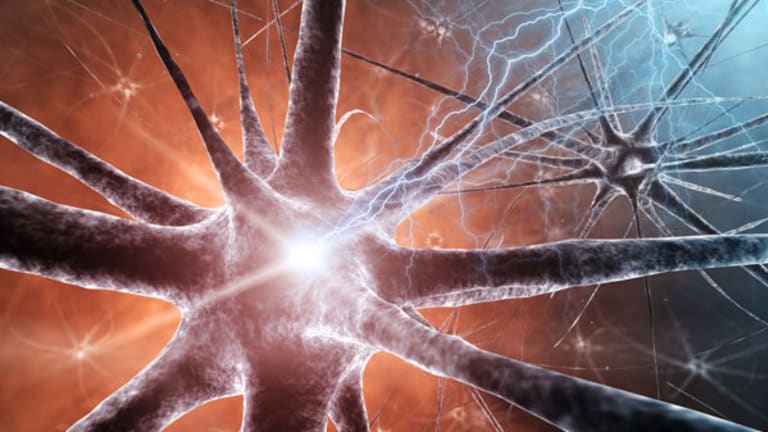 Bluebird Sickle Cell Gene Therapy Results Keep Getting Better
Six months after infusion with the Bluebird gene therapy known as LentiGlobin, almost half of the oxygen-carrying red blood cells in a single patient are normal and functioning.
Six months after infusion with the Bluebird gene therapy known as LentiGlobin, almost half of the oxygen-carrying red blood cells in a single patient are normal and functioning.
VIENNA, Austria (TheStreet) -- A French teenager with severe sickle cell disease continues to improve following treatment with a one-time gene therapy from Bluebird Bio (BLUE) - Get Report, according to updated results from a small clinical trial presented Saturday.
Before treatment, nearly all of the study patient's naturally grown red blood cells were deformed or "sickled" and therefore malfunctioning -- the defining characteristic of the inherited blood disorder. The only way to keep his sickle cell disease under control was to undergo monthly transfusions of donor red blood cells.
But six months after infusion with the Bluebird gene therapy known as LentiGlobin, almost half of the oxygen-carrying red blood cells in the boy's body are normal and functioning.
For the past three months, the boy, 13, has not required transfusions or experienced any sickle cell-related events requiring hospitalization, Bluebird reports.
It's folly to draw definitive conclusions from data on a single patient, although patients with severe sickle cell disease are not known to spontaneously improve on their own. With all the requisite caution required from small, early stage studies, Bluebird's new sickle cell data plus additional, promising results from two beta-thalassemia patients also presented Saturday support the company's strategy of using gene therapy to cure inherited diseases.
These new Lentiglobin gene therapy data are a "general validation of the fundamentals of what we're doing and the impact it can have on patients," said Bluebird CEO Nick Leschly. "You just changed a 13-year-old kid's entire view of the world. That's the human side which drives us."
The new LentiGlobin data from a French study were presented Saturday at a scientific meeting of the European Hematology Association underway in Vienna.
After six months of follow-up, the sickle cell patient's blood contained 40% "marked" beta globin, a measure of normally functioning hemoglobin. This healthy marked hemoglobin, the oxygen-carrying molecule in red blood cells, is produced by the working gene inserted into patients via Bluebird's gene therapy. Overall, the patient's total anti-sickling hemoglobin was 45%, and he has not been re-hospitalized for a sickle-cell related event since being treated with the gene therapy.
As announced last month, after four and half months of follow up, the same sickle cell patient's blood contained 24% marked hemoglobin and 32% total anti-sickling hemoglobin.
"The kinetics of response are encouraging," said Leschly, referring to LentiGlobin's ability to increase the level of healthy, functioning red blood cells over time. "We're now above the threshold level in this patient where we believe we can have an impact on the disease."
Bluebird believes Lentiglobin can begin to reduce or eliminate the serious and life-threatening events associated with sickle cell disease when marked plus native anti-sickling hemoglobin reaches at least 30%.
The follow-up period for the single sickle cell patient is still relatively short, but already, other biomarkers which measure the health of red blood cells and organ function are improving and returning to normal levels, Bluebird said.
Two beta-thalassemia patients also treated with Lentiglobin in the same French study have been followed for 16 months and 14 months, respectively, and have not required blood transfusions. The levels of healthy marked hemoglobin in these two beta thalassemia patients remained stable and unchanged from results reported last December. Here is a summary of the updated patient data presented Saturday, supplied by Bluebird:
Last month, Bluebird announced agreements with U.S. and European regulators to use existing and new studies to support approval filings for Lentiglobin in beta-thalassemia. The first sickle cell patient enrolled in a new U.S.-based study was recently infused with Lentiglobin, Bluebird announced Saturday.
Sickle cell disease is an inherited disorder in which a mutated gene produces misshapen red blood cells. The disease gets its name because the deformed red blood cells looks like sickles or crescents. Healthy red blood cells -- made up of the protein hemoglobin which carries oxygen throughout the body -- resemble oval donuts without a hole in the center. They're flexible and move easily through the body.
Sickled red blood cells contain abnormal hemoglobin which is inflexible and sticky. Sickled red blood cells don't carry oxygen well and clump together in blood vessels, causing extreme pain and organ damage. Sickle cell disease is diagnosed in approximately 250,000 to 300,000 people each year globally. An estimated 20 million to 25 million people are living with the disease.
Beta-thalassemia is a related disease also caused by a missing or defective gene which prevents oxygen-carrying hemoglobin from functioning properly. Beta-thalassemia patients suffer from chronic anemia and typically require regular and lifelong blood transfusions. Approximately 40,000 people are born with beta-thalassemia each year globally.
The success of Bluebird to date, even with a relatively small amount of clinical data in patients, has led a resurgence in investor interest in gene therapy stocks like UniQure (QURE) - Get Report, Spark Therapeutics (ONCE) - Get Report and Avalanche Biotechnologies (AAVL) . Bluebird, with a market value exceeding $6 billion, remains Wall Street's favorite gene therapy stock.
Adam Feuerstein writes regularly for TheStreet. In keeping with company editorial policy, he doesn't own or short individual stocks, although he owns stock in TheStreet. He also doesn't invest in hedge funds or other private investment partnerships. Feuerstein appreciates your feedback; click here to send him an email.