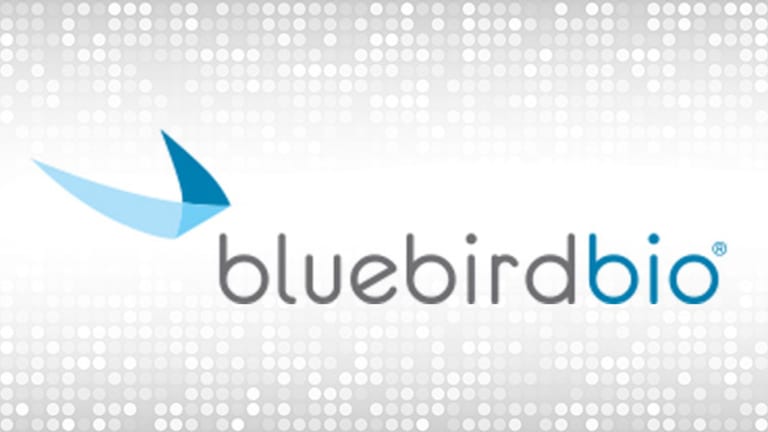 Bluebird, Celgene T-Cell Therapy Eliminates Multiple Myeloma With Minimal Side Effects
'We're seeing impressive, early responses with BB2121 without the toxicity,' says Bluebird CEO Nick Leschly.
'We're seeing impressive, early responses with BB2121 without the toxicity,' says Bluebird CEO Nick Leschly.
Two patients with advanced multiple myeloma, a type of blood cancer affecting plasma cells, have been put into stringent complete remission ongoing for four and six months, respectively, by a genetically engineered T cell therapy from Bluebird Bio (BLUE) - Get Report .
Another five patients treated with the same Bluebird therapy, known as BB2121, had a "very good partial response" (a real term, meaning close to a complete remission) or a partial response. None of the patients experienced severe immune-related or neurological safety issues from BB2121, the company said.
Bluebird is developing BB2121, a type of chimeric antigen receptor T-cell, or CAR-T, in partnership with Celgene (CELG) - Get Report . The new data reported Wednesday from a phase I study are the first look at BB2121's performance in multiple myeloma patients no longer responding to multiple lines of prior drugs.
While still early, the positive responses and safety profile of BB2121 compare favorably to two other multiple myeloma-targeted CAR-Ts from the National Cancer Institute and a collaboration between Novartis (NVS) - Get Report and the University of Pennsylvania.
"We're seeing impressive, early responses with BB2121 without the toxicity," said Bluebird CEO Nick Leschly in an interview Wednesday morning. Bluebird shared the BB2121 data with me under embargo.
The relative safety of Bluebird's CAR-T, so far, is a key distinguishing feature, particularly given the recent toxicity issues seen with an experimental CAR-T from Juno Therapeutics (JUNO) , Leschly added.
The phase 1 BB2121 data are being presented Thursday at the EORTC-NCI-AACR Molecular Targets and Cancer Therapeutics Symposium in Munich, Germany.
To make BB2121, Bluebird extracts immune T cells from multiple myeloma patients, and in a lab, genetically engineers them to recognize a protein known as B-cell maturation antigen (BCMA). The BCMA protein is found on malignant and healthy plasma cells. Once injected back into the patient, the altered T cells seek out and kill BCMA-containing cells.
For the phase 1 study, Bluebird recruited 11 patients with multiple myeloma no longer responsive to a median of six prior therapies, including newly approved antibody drugs like Darzalex.
The 11 multiple myeloma patients were pre-treated with two chemotherapy drugs, cyclophosphamide and fludarabine, to kill their existing T cells. Then, they were split into four groups for treatment with escalating doses of the anti-BCMA CAR-T therapy BB2121.
Wednesday, Bluebird is reporting efficacy data from the first three dose cohorts of BB2121 encompassing nine patients. The objective response rate among the nine patients is 78%.
One of three patients treated with the lowest BB2121 dose -- 50 million cells -- achieved a partial response that subsequently relapsed.
All six patients treated with the next two highest doses of BB2121 -- 150 million and 450 million cells -- achieved objective responses. None have relapsed to date.
The two multiple myeloma patients with stringent complete remissions were treated with the 150 million-cell dose of BB2121. A stringent complete response means the elimination of all evidence of tumor anywhere in the body. These patients remain in stringent complete remission for four and six months, respectively. The third patient treated at this BB2121 dose has a "very good partial response" with the elimination of minimal residual disease.
All three patients treated at the 450 million-cell dose of BB2121 have achieved a partial response with a median follow up of eight weeks.
"We have relatively little follow up, so we are certainly hopeful that we'll see better responses emerge in these three patients. It's just early," said David Davidson, Bluebird's chief medical officer.
To date, the ability of CAR-T therapies to completely eliminate cancer cells has come at a cost, mainly a severe and potentially fatal side effect known as cytokine release syndrome -- a type of immune system hyper-reaction which causes high fever, muscle pain, heart and kidney problems.
More recently, Juno Therapeutics has been forced to halt a study of its own CAR-T therapy targeting a different protein due to fatal brain swelling.
The multiple myeloma patients treated with BB2121 in the phase I study have, to date, only experienced mild, or grade 1 and 2, cytokine release syndrome and grade 1 neurotoxicity.
"In the context of the whole [CAR-T] field where not too long ago it was assumed to see a deep clinical response it was almost a requirement to have significant cytokine release syndrome. That seems not to be the case here. The caveat is it's early data," said Davidson.
Novartis and the University of Pennsylvania will present data from an early study of a competing anti-BCMA CAR-T in multiple myeloma at the American Society of Hematology annual meeting, which begins on Saturday.
According to a research abstract with preliminary data already disclosed, one of six treated patients in the Novartis study achieved a stringent complete remission. Another patient achieved a very good partial response. There were also two reports of grade 3 cytokine release syndrome and a report of grade 4 neurotoxicity.
A different anti-BCMA CAR-T tested by the National Cancer Institute demonstrated a single complete response among 12 patients that lasted for 17 weeks before relapase but also caused significant toxicity.
Looking ahead, Bluebird intends to enroll additional multiple myeloma patients into the phase I study and explore higher doses of BB2121. (Two patients have already been treated with an 800 million-cell dose but haven't been followed long enough to determine response.)
Barring any problems and assuming an optimal dose is found, Bluebird believes it can advance BB2121 directly into a pivotal clinical trial, which if successful, could lead to marketing approval. The regulatory path of BB2121 is basically the same used by Kite Pharma (KITE) for its CAR-T to treat lymphoma patients.
Bluebird is in charge of completing the ongoing phase I study. Under their collaboration agreement, Celgene would take over development of BB2121 to conduct the pivotal study.
Adam Feuerstein writes regularly for TheStreet. In keeping with company editorial policy, he doesn't own or short individual stocks, although he owns stock in TheStreet. He also doesn't invest in hedge funds or other private investment partnerships. Feuerstein appreciates your feedback; click here to send him an email.