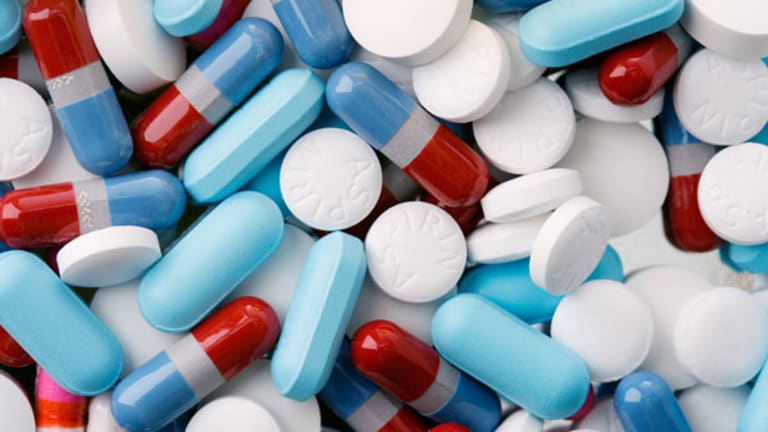 Bluebird Bio, Intercept Pharma Reach Accords on Pivotal Trial Designs
Bluebird Bio and Intercept Pharma have reached separate agreements with regulators on the designs of key clinical trials for their respective blood disorder and fatty liver disease drugs.
BOSTON (TheStreet) -- Bluebird Bio (BLUE) - Get bluebird bio, Inc. Report and Intercept Pharmaceuticals (ICPT) - Get Intercept Pharmaceuticals, Inc. Report have reached separate agreements with regulators on the design of pivotal clinical trials intended to get their respective gene therapy and fatty liver disease drugs approved.
For BlueBird, the path to European approval for its gene therapy in beta-thalassemia, a rare blood disorder, could be relatively short and may not involve new clinical trials.
Intercept reached an agreement with U.S. and European regulators on the design for a single (but large) phase III trial for obeticholic acid (OCA) in patients with nonalcoholic steatohepatitis (NASH). NASH is commonly referred to as fatty liver disease because patients literally have livers which are inflamed and enlarged due to the accumulation of fat. In more advanced NASH patients, the liver becomes fibrotic, which can lead to cirrhosis.
The phase III study will enroll 2,500 patients with NASH and liver fibrosis. The patients will be treated with either a low and high dose of OCA or a placebo. After 72 weeks of treatment, an interim analysis on 1,400 patients will be performed on co-primary endpoints: first, a decrease in liver fibrosis by at least one stage; and second, resolution of NASH with no worsening of fibrosis.
The efficacy endpoints to be used in the phase III study are similar to those used in Intercept's successful phase II study. In that older study, OCA demonstrated a statistically significant reduction in liver fibrosis compared to placebo. OCA also improved NASH resolution compared to placebo, but the benefit was not statistically significant.
Intercept is not being asked to conduct a cardiovascular outcomes study of OCA, alleviating a concern raised by investors.
If the interim analysis is successful, Intercept will be able to seek accelerated approval in Europe and the U.S. The company, however, will continue to follow patients in the study on a blinded basis until a pre-specified number of liver-related clinical events, including progression to cirrhosis, occur. The phase III study is expected to begin enrolling patients in the third quarter.
The overall design of Intercept's OCA study in NASH is largely in line with the company's previous guidance and investor expectations, except for the size. The requirement to enroll 2,500 patients is more than had been expected, and likely pushes back timeline for the interim analysis, study completion and an approval filing if the data are positive.
Intercept shares were down about 11% to $280.08 in Tuesday morning trading, largely due to the larger NASH trial size and a sell-on-the news reaction. 
The design of Intercept's phase III NASH trial further separates the company from its competitors, specifically Genfit (GNFTF) , the French drug company also developing a competing NASH drug, GFT505. Genfit's phase II study of GFT505 in NASH failed, in part because the drug was unable to demonstrate any reduction in liver fibrosis.
Genfit could be in more trouble if U.S. and European regulators require the company to run a phase III study with a design similar to Intercept's.
Switching back to Bluebird and its Lentiglobin gene therapy for beta-thalassemia, the best news Tuesday was the agreement in Europe allowing for a conditional approval filing based on data from the two small studies already underway. Bluebird already presented positive interim results from these two studies last December. More patients are being enrolled, and updated results will be presented later this year.
Bluebird said its agreement with European regulators opens the possibility of getting Lentiglobin approved faster than the company originally expected. But on a conference call Tuesday, Bluebird executive remained cautious regarding the exact timing, deferring questions on how much more follow-up data from the ongoing studies will be required, and when a European filing might occur.
Regulators at the U.S. Food and Drug Administration want Bluebird to conduct additional trials of its Lentiglobin gene therapy. The company has two new studies planned. One will focus on adult and adolescent patients, the other on children, enrolling 15 patients each. Both studies will use transfusion independence at 12 months as the primary endpoint.
If the studies are positive, Bluebird will seek accelerated approval for Lentiglobin in the U.S., the company said.
Bluebird executives were coy on the definition of study success. Neither of the two planned studies will have control arms, and the company wouldn't say if the FDA has a transfusion-independence benchmark in mind. 
Shares of Bluebird were up more than 5% to $164.70 in Tuesday morning trading.
Adam Feuerstein writes regularly for TheStreet. In keeping with company editorial policy, he doesn't own or short individual stocks, although he owns stock in TheStreet. He also doesn't invest in hedge funds or other private investment partnerships. Feuerstein appreciates your feedback; click here to send him an email.