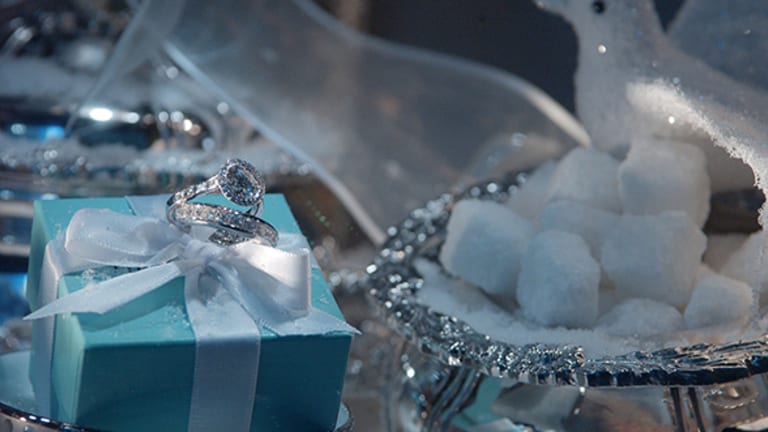 Blue Nile Stock Explodes On Buyout -- Time for Tiffany (TIF) to Sell?
Blue Nile (NILE) shares were surging Monday on news of a private equity buyout. Is it time for Tiffany & Co. (TIF) to explore a deal?
If private equity sees unappreciated value in struggling online jeweler Blue Nile (NILE) , why wouldn't they sniff around embattled high-end player Tiffany & Co. (TIF) - Get Tiffany & Co. Report as well?  
Shares of Blue Nile rocketed as much as 34% in early afternoon trading on Monday as it agreed to a $500 million buyout from private equity firms Bain Capital and Bow Street. The all-cash deal represented a 34% premium over Blue Nile's closing price on Nov. 4. Tiffany & Co. shares rose about 3% in response to the transaction.
Similar to Blue Nile, Tiffany has battled several quarters of sluggish sales of engagement rings in the U.S. and muted spending by consumers on jewelry. Overseas sales have been particularly challenging as well.   
Tiffany reported second-quarter earnings, that adjusted for one-time items declined 5% from the prior year to 86 cents a share. Executives foresee full-year sales declining by a low-single-digit percentage from the prior year, and earnings dropping by a mid-single-digit percentage.
Net sales declined 6% year over year to $932 million, slightly missing analyst forecasts for $933.9 million. In the Americas division, same-store sales dropped 9%, excluding the impact of the strong U.S. dollar. Wall Street was looking for a 7.8% increase. As in prior quarters, the strong dollar continues to impact tourist spending in major U.S. markets for Tiffany such as New York City, where it has prominent stores on Fifth Avenue and Wall Street.
Meanwhile, same-store sales in Tiffany's Asia Pacific region plunged 9% on a constant currency basis in large part to "significant" declines in Hong Kong. Both a strong Hong Kong dollar and the Chinese government anti-corruption crackdown on gift-giving for party officials continue to weigh on luxury goods players.
Given the sustained pressure on oil prices, same-store sales dropped 22% for Tiffany in the United Arab Emirates region where it has five stores. "We are increasingly concerned that Tiffany is situated in the cross hairs of a more challenged consumer environment in the U.S. and abroad," analysts at Oppenheimer wrote recently.
The less than sparkly financial performance of Tiffany has weighed on its stock price. Tiffany shares have nosedived about 32% since hitting an all-time high of $110 in late November 2014, badly lagging the S&P 500's 2.9% gain.
Aside from the allure of scoring a 179-year old retail icon on the cheap and then fixing its business before unloading it via a future IPO, private equity may be drawn to Tiffany for another reason. In fact, it's one element that the Internet only Blue Nile lacks.  
Tiffany owns the building that houses its well-known flagship store at 727 Fifth Avenue, and private equity could move quickly to sell the building in its entirety for a nice chunk of change.
According to Tiffany's annual report, approximately 45,500 square feet of the 124,000 square foot building are devoted to retail sales, with the balance devoted to administrative offices, certain product services, jewelry manufacturing and storage. The New York City flagship store is also the focal point for the company's marketing and public relations efforts, says Tiffany.
A sale would likely take the form of "sale-leaseback" transaction, which is something department store Macy's (M) - Get Macy's Inc Report is reportedly considering for its giant flagship store that it owns in Herald Square in New York City. The property could fetch billions of dollars, according to some reports.
Tiffany's property is unlikely to be as lucrative as Macy's given its much smaller size (the Macy's store has about 1 million of selling space and is the largest department store in the U.S.), but it could sell for a hefty sum in the still hot New York City commercial property market. Tiffany could then ink a long-term lease for the store and use the proceeds to enrich its private equity owners.