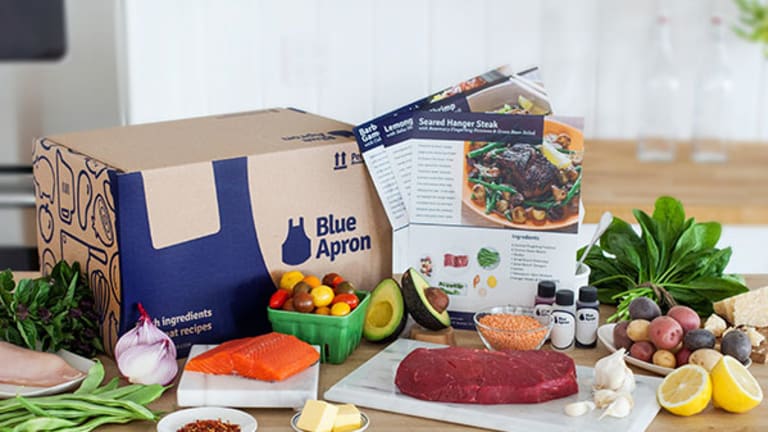 Blue Apron Is Changing Cooking Forever -- Here's What It's Like Making Meals With It
Blue Apron, which recently raised $135 million to help it expand, is taking the country by storm. Here's what it looks like to cook meals using the service.
This article was originally published on September 11.
If you haven't heard by now, Millennials are a busy bunch.
They work long hours, lead busy social lives and it's gotten to the point where dating occurs on an app, as opposed to meeting someone at a bar or through friends. This pertains to all facets of their lives -- including cooking and eating right. Enter Blue Apron.
The food and ingredient delivery service, which recently raised $135 million at a $2 billion valuation, is changing the way people eat and cook, especially a younger generation that doesn't want to go to the supermarket or doesn't have the time to do so.
"Our mission is to make incredible home cooking accessible to everyone," said Blue Apron co-founder and CEO Matt Salzberg in a June statement, in conjunction with the
Fidelity Investments
-led financing.
In June, Blue Apron noted it was selling more than 3 million meals a month, up nearly threefold from November, with each meal costing users approximately $10.
Ordering meals is simple. After users have signed up on the company Web site, they can select one of two options: a couples' plan, which has three meals for two people (totaling six meals) or a slightly more expensive family plan, which can feed between four and five people, totaling between 12 and 15 meals.
Once you've selected your plan, Blue Apron will send you one box per week with a variety of different meals, with simple, easy-to-use recipes and precisely measured ingredients for a wonderful dining experience.
If you're someone who enjoys cooking but doesn't want to spend time at the supermarket and measuring ingredients, Blue Apron may be right for you.
Here's what it looks look to make several meals from Blue Apron.
This is the standard Blue Apron box, featuring three meals. The first thing you'll realize when you pick it up -- it's heavy!! This box felt like it weighed 30 pounds or more.
If there's one thing many millennials want, it's a company that's socially responsible.
Blue Apron does its part by offering eco-friendly packaging. Considering its overall impact on the environment, including shipping and packaging, it shows Blue Apron is serious about keeping to the Millennial ethos of social responsibility.
Here's a look at all the ingredients inside of a foil package, kept together for freshness.
This is the No. 1 reason why the box is so heavy -- each box is packed with two of these giant ice packs.
Here's a look at all the ingredients laid out -- cod, pork chops and chicken were the main entrees. You can also see the vegetables and grains for each meal, including spinach, green beans, tomatoes, corn, onions and more. Blue Apron also included the spices and seasonings used for each meal.
(Note: I wound up making the cod a completely different way than suggested using different ingredients, so it's not included in this story.)
Blue Apron doesn't just give you the ingredients. It provides step-by-step instructions on how to prepare everything, including cucumbers.
Here's another insert on benton berries, as well as instructions on de-seeding and prepping a cucumber.
Now we're at the good part: the first recipe.
This is pork chops and kamut. You'll notice that along with a brief description of what kamut is (a type of wheat), Blue Apron has laid out the precise ingredients needed for this meal.
On the back of the recipe page are step-by-step instructions. Even if you're not the greatest chef in the world, they're really easy to follow along with and it becomes fun as well!
Sear the pork chops, cook the vegetables, cut the stone fruit, add the salsa (step 3 is made). Voila -- here's the finished product.
Not only is it aesthetically pleasing, it's exceptionally fresh and delicious. (It was so good, I considered not going out with my friends the next night to eat the left over pork chop).
Next up is the tandoori chicken.
One of the great things about Blue Apron is it provides you with recipes you wouldn't think to make on your own.
Here are the easy-to-follow recipe instructions for making the tandoori chicken. All of the ingredients are fresh, with not a hint of spoilage or browning on the vegetables.
The finished product.
Though it was a meal I probably would've never made myself, the tandoori chicken was excellent. It was just the right amount of spicy and the lentil, eggplant and cucumber-mint yogurt was the perfect complement.