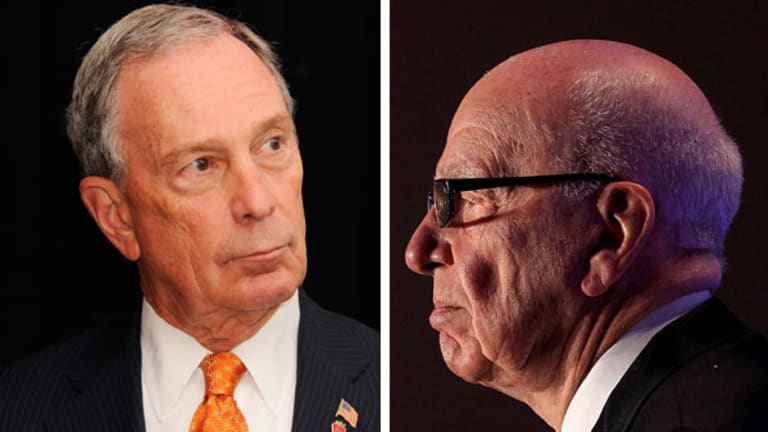 Bloomberg's 'Spygate' Marks Murdoch's Latest Salvo
The New York Post has played pitbull as News Corp. attempts to chip away at Bloomberg's profitable analytics business.
NEW YORK (
) - It's been 13 days since
The New York Post's
Mark DeCambre broke the news that
Bloomberg
reporters allegedly used proprietary information from the company's terminals to write about investment bankers, including those at
Goldman Sachs
(GS) - Get Report
.
In a media feeding frenzy fueled in part by Schadenfreude, the Post has beat a steady drum. The U.S. tabloid of Rupert Murdoch's sprawling
News Corp.
(NWSA) - Get Report
, the Post can't seem to get enough of a story that places rival Bloomberg uncomfortably in the spotlight.
Also see:
Bloomberg Privacy Breach Angers Wall Street Traders
And no wonder. Keeping Bloomberg's perceived and real transgressions in the news cycle is arguably good for Murdoch's own newsgathering operations,
The Wall Street Journal
, Dow Jones Newswires and the Post.
Both the Journal and Dow Jones compete head-to-head with Bloomberg's juggernaut of 2,400 reporters worldwide. Having worked at Bloomberg News, I can attest to its spirited rivalry with the Journal, made more intense by the ever-increasing number of former Journal editors and reporters who now work for the company, founded by New York Mayor Michael Bloomberg.
Also see:
Broadcasters Fear the Music in Aereo Fight
For News Corp., which was battered but has arguably survived the U.K.-phone hacking scandal, taking Bloomberg News down a few notches might be good for business, and even staff morale.
Call it a Cold War between two of the largest business-focused news organizations in the world, and two of its biggest personalities. Murdoch's right-wing politics are well known, and though Mayor Bloomberg is decidedly pro-business, his positions on a variety of social issues - gun control, public health - are solidly liberal.
Murdoch took some 50 years to build News Corp. into a company with $34 billion in annual sales while it took the Mayor about 30 years to build his enterprise into a $7.9 billion operation that essentially sells one thing: financial information services.
Today, Dow Jones Newswires, the Journal and the Post compete with Bloomberg on breaking news, but News Corp would really like to be competing on financial information, which is where the real money can be found.
Eighteen months ago, Murdoch hired former Bloomberg executive Lex Fenwick to be CEO of Dow Jones to remake the company's financial data business, known as Factiva. Since then, Fenwick has been recruiting other former Bloomberg terminal developers to help him jump start a business that Dow Jones fumbled back in the 1990s, before Murdoch owned the company.
Fenwick has a tough task. For 2012, Dow Jones held just a little over 1% of the $25.5 billion global financial data and news market, according to Burton-Taylor International Consulting, a market research operation based in Osprey, Florida. That comes to just $265 million in sales to the financial industry from Dow Jones Newswires and Factiva, said Burton-Taylor.
By comparison, Bloomberg held a 30.8% share of the market, on revenue of $7.9 billion, followed by
Thomson Reuters
with a 29.5% stake, or $7.5 billion in sales.
"Dow Jones is having a lot of issues as it redoes Factiva, which is part of this puzzle," Ken Doctor, a media analyst at Outsell Inc. in Burlingame, Calif., said in a phone interview. "They brought in former Bloomberg leadership to run the B-to-B side of the company, and they're struggling a lot with the change. They're struggling with customers, they're changing pricing, they're changing products. Dow Jones is not in a strong position."
Dow Jones spokeswoman Sara Blask, in an e-mail, declined to comment on the company's financial data operations, and competition with Bloomberg.
The Post's eagerness to pump the Bloomberg story comes as Murdoch is months away from splitting The Post, the Journal, Dow Jones and his other worldwide news properties into a separately-traded company that will retain the News Corp. name. Murdoch's television and movie businesses will be reincorporated as 21st Century Fox.
Like any news operation that relies on print for part of its revenue, Murdoch is eager to see the new News Corp. grow its financial data business. Chipping away at Bloomberg is a reasonably good strategy.
"There are plenty of vendors but no one has the functionality and experience and knowledge that's gone into their products like Bloomberg and Thomson," said Vasant Dhar, a professor at New York University's Stern School of Business and director of its Center for Business Analytics. "There are alternatives, but they've become very entrenched. This discussion about privacy and data may be a good thing for the market, it might put some competitive pressures on the incumbents."
Ty Trippet, a Bloomberg spokesman, declined to comment on the company's competitors.
As the story of Bloomberg's reporters use of the terminal has unfolded, the Post has taken to calling the matter "Spygate." And while that may be typical tabloid hyperbole, there are some who still wonder what Bloomberg does with all that data that records the keystrokes of its 320,000 subscribers, many of whom are very wealthy and powerful.
In the process, the Post has seemingly enjoyed poking fun at Bloomberg the mayor. In a May 18 story, the newspaper characterized the company's selection of former
IBM
(IBM) - Get Report
CEO Sam Palmisano to evaluate current practices as the beginnings of a cover-up. The notion being that Bloomberg is more interested in damage control than unearthing negative information that might be used to further the story.
Also see:
Bloomberg 'independent' adviser mayor's pal
The Post, and by extension News Corp., would love some more dirt. It's good for the news cycle, and maybe even the bottom line.
Written by Leon Lazaroff in New York