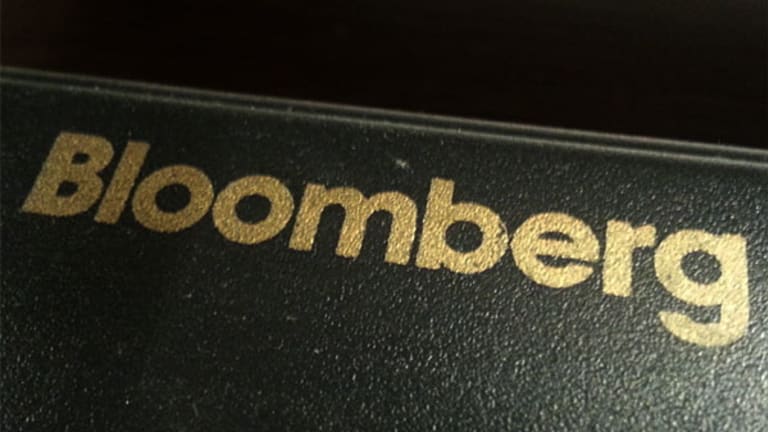 Bloomberg Boosts Messaging Oversight as Change Looms
Bloomberg is giving Wall Street firms greater control over the communications of their traders, amid LIBOR and FX market manipulation probes.
Updated from 10:36 a.m. ET to include Markit comment and additional information throughout.
NEW YORK (TheStreet) -- Bloomberg said on Tuesday it will centralize compliance tools for its Instant Bloomberg messaging feature in an effort to give the company's banking and asset management customers greater control over the communications their employees make on the popular terminal.
Bloomberg's move comes as regulators around the world investigate large banks for potential manipulation in the setting of short-term interest rates and for potential collusion in foreign exchange markets. Instant messages, a popular means to negotiate prices and execute trades in credit, interest rate and foreign exchange markets, have been at the heart of recent regulatory probes.
Regulators have focused on communications in the context of the London Interbank Offered Rate (LIBOR), and on group chat rooms where traders negotiate foreign exchange prices. In LIBOR probes, investigations have found that some interest rate traders used instant messages to unduly influence the rates their bank would disclose as their short-term borrowing cost. Those communications appear to have allowed some firms to unduly influence the setting of LIBOR, to the benefit of their trading books.
Separately, regulators are investigating FX markets for potential price manipulation by traders in group chat rooms. Some banks such as UBS (UBS) - Get UBS Group AG Report are reported to have prohibited traders from communicating in group chat rooms. Others like Deutsche Bank (DB) - Get Deutsche Bank AG Report and JPMorgan (JPM) - Get JPMorgan Chase & Co. Report are reported to be considering similar action, or dispatching senior staff to approve employee participation in group chats.
Recent quarterly filings show that many of the largest banks in the U.S. are cooperating on LIBOR and FX market probes.
Bloomberg's effort, known as the Bloomberg Compliance Center, is aimed at giving banks greater control and audit ability over traders' instant message and email communications.
The new features will give compliance staff the ability to monitor their employee communications on Bloomberg terminals in real time. It also will create so-called "exception reporting" that will give compliance departments the ability block some communications altogether through keyword restrictions and other parameters.
Presumably, that could give banks a greater ability to enforce Chinese walls internally and with counterparts, while pre-emptively preventing some communications that would raise flags with regulators and law enforcement. Many of the features appear to reinforce compliance functionality already present on the terminal.
The compliance center will also generate chat room participation reports for firms and allow them the ability to search, store and download communications employees make on the Bloomberg terminal for up to five years.
Bloomberg's press release today indicated customers had asked for increased oversight of employee communications on the terminal, which is a stalwart on most large trading desks.
"Recently, there has been discussion around the use of chat rooms, and our clients have expressed interest in more precise and reliable communication-related compliance tools," the company said. "While market participants rely on the security, stability and consistency of the Instant Bloomberg chat service to view securities, share information and engage in trade negotiations, compliance officers want a better way to manage these communications," the firm added.

Trading by Instant Message
Bloomberg's instant messaging feature, while likely little understood by the average investor, is central to the trading in the credit, interest rate and foreign exchange markets that often drive the profits of large banks on Wall Street and other financial centers around the world. In those markets, traders often submit data, bid and ask offers, and even negotiate actual transactions using Instant Bloomberg.
That activity has made Instant Bloomberg and email the two most popular functions on the $20,000.00 a year Bloomberg terminal. While traders generally express happiness with Bloomberg's suite of over 31,000 analytic and data functions, messaging and email communications are often taken to be the terminal's most important feature. Bloomberg subscribers send more than 15 million instant messages -- and 200 million emails -- every day, the company said on Tuesday.
Without a terminal, many on Wall Street might find it hard to communicate with potential customers.
The importance of instant messaging in many traders' daily work and Bloomberg's efforts to sustain that activity has made it hard for users to switch to lower-cost terminals offered by firms such as Thomson Reuters (TRI) - Get Thomson Reuters Corporation Report. Bloomberg has roughly 315,000 subscribers and the firm is reported to have generated $7.9 billion in 2012 revenue.
A recent survey conducted by William Blair showed that between 69% and 80% of traders in equity, fixed income, commodity, foreign exchange and hedge fund markets were Bloomberg terminal subscribers. The survey allowed for traders' use of multiple terminal platforms and showed Thomson Reuters as having second leading market share with between 8% and an 18% share. The study, however, cited only a small 1,900 user sample size. Burton-Taylor pegs the market shares of Bloomberg and Thomson Reuters at about 30%, respectively.
Here Comes the Competition
Of course, Bloomberg's dominance on Wall Street and, particularly on the most sophisticated trading floors, has piqued the interest of rivals. After years of growing terminal sales and rising prices, Bloomberg now appears to be facing one of the biggest tests yet to its product.
Financial data provider Markit said in October it would team up with Thomson Reuters and eight large banks on an open messaging network that appears directly targeted at Bloomberg. The messaging network has been taken by some as a means for the cost-cutting financial sector to break Bloomberg's grip on Wall Street.
BofA Merrill Lynch (BAC) - Get Bank of America Corp Report, Barclays (BCS) - Get Barclays Plc Report, Citigroup (C) - Get Citigroup Inc. Report, Credit Suisse (CS) - Get Credit Suisse Group AG Report, Deutsche Bank (DB) - Get Deutsche Bank AG Report, Goldman Sachs (GS) - Get Goldman Sachs Group, Inc. Report, JPMorgan Chase (JPM) - Get JPMorgan Chase & Co. Report and Morgan Stanley (MS) - Get Morgan Stanley Report, some of Bloomberg's largest customers, are participating in Markit and Thomson Reuters' open messaging network. Thomson Reuters will open its over 200,000 user-strong Eikon Messenger product to any firm, so long as they provide access to their internal directory.
The network has yet to be fully implemented, however, it appears designed as a means to improve communications within firms and among counterparts. While Bloomberg's system is generally characterized as open only to subscribers of the terminal, the Markit and Thomson Reuters product seeks to federate the messaging platforms of all participant firms and broaden communication across the financial services sector.
It also may minimize the need for third-party platforms.
The service is expected to allow banks to communicate peer to peer with clients in an encrypted manner and without the use of an intermediary, one large institution said. If a bank can use its own internal services, as the Markit and Thomson Reuters product stipulates, it could also minimize the need for a firm to purchase third party chat and messaging products.
"There is a huge advantage of a firm to use their own infrastructure to originate messaging," Alex Paidas, a spokesperson for Markit, said in a Friday telephone interview. He said the messaging network has been in development for about two years, and confirmed that it is expected to support trading and price discovery.
"Our messaging service is unbundled and is a low cost-option," Paidas said. "We are not suggesting that terminals disappear overnight. That is not the idea here," he added.
Is Bloomberg a One-Trick Pony?
To be seen is whether buy side firms are interested in joining an open communications network and whether traders, especially those dealing in Wall Street's most sophisticated products see reason to change their messaging habits. BlueMountain Capital Management, a large credit focused hedge fund, is the only major buy side firm to publicly express its support for the Markit and Thomson Reuters product.
While Bloomberg's messaging functions are a common thread between users, they also rely on the terminal's analytic tools to communicate prices and execute trades in an efficient manner. The Bloomberg terminal's $20,000 a year cost may appear expensive to ordinary stock investors, however, it may be considered a value for many of Wall Street's most lucrative trading desks given the efficiency of the terminal and the amount of workflow a single trader handles in a single day.
Messaging may be the function that drives the so-called "stickiness" of the Bloomberg terminal, but the company also relentlessly looks for ways to increase the value proposition of its product with increased functionality and data. For instance, Bloomberg's award-winning and expansive news operations are often considered to be a supplementary feature to the terminal, even if they are now also looked at as an important revenue stream.
Recently launched services run the gamut from First Word, a large team of Bloomberg reporters that publish quick bursts of breaking news, to Bloomberg Industries, a staff of research analysts that provide users with insight into companies and industry trends. 
Bloomberg's announcement of increased compliance features for its messaging product appears to be yet another effort to prove the overall economic value of the terminal. That seems to be of crucial importance now that Bloomberg's large customers are re-examining their reliance on messaging networks and have committed to supporting a rival platform.
Meanwhile, as Wall Street adapts to new regulations like the creation of centralized clearing hubs and swap execution facilities for over-the-counter derivatives trades, in addition to greater scrutiny over employee communications, it will be interesting to see if the industry's use of the Bloomberg terminal also changes.
--Written by Antoine Gara in New York