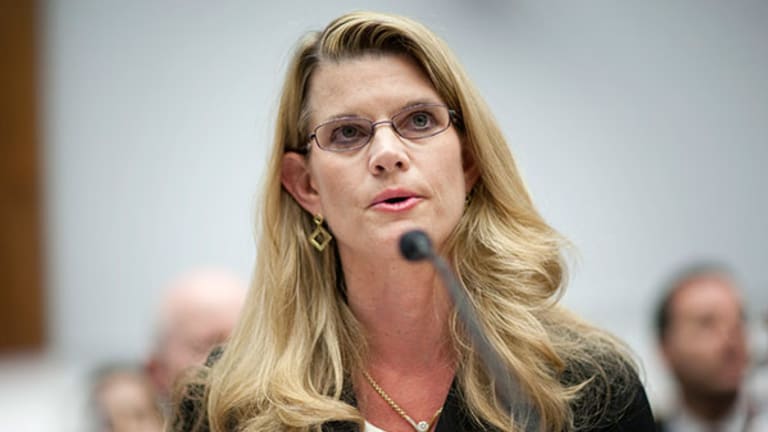 Blonde Go-Getter Fined $1 Million in Bank of America Fraud Case
Rebecca Mairone, a mid-level Countrywide executive in a hurry in 2007 and 2008, will pay the government $1 million and face a public shaming that may be difficult to overcome.
NEW YORK (TheStreet) -- Rebecca Mairone was a mid-level Countrywide executive in a hurry when the housing market was booming. And that life choice has cost her $1 million, and a public shaming.
The $1 million fine to a woman whom U.S. District Court Judge Jed Rakoff on Wednesday described as "a relatively new employee who had to prove herself," was handed down by the judge as a penalty for what he called "an intentional scheme to misrepresent the quality of the mortgage loans that [Countrywide] processed."
Mairone worked on a program know internally at Countrywide as the "High Speed Swim Lane" (HSSL) and the "Hustle." Loans issued through the program were then sold to the so-called government-sponsored enterprises, Fannie Mae (FNMA) and Freddie Mac  (FMCC) .
Read more:Countrywide Leader Named in Hustle Suit is Now a JPMorgan Exec
Rakoff also fined Bank of America (BAC) - Get Bank of America Corp Report which bought Countrywide in 2008, roughly $1.26 billion over the same scheme, which a civil jury had already determined to be fraudulent in Oct. 2013 in response to charges brought by U.S. Attorney Preet Bharara.
"Evidence of the defendants' fraudulent scheme and fraudulent intent was ample," Rakoff wrote in his 19 page opinion.
Mairone was the scheme's "catalyst," according to Rakoff, choosing a word used by Countrywide's own employees to describe her role.
"Despite her implausible testimony to the contrary, from which the Court draws an adverse inference, there was convincing evidence that Ms. Mairone - the relatively new employee who had to prove herself - most aggressively pushed forward the HSSL fraud and most scathingly denounced those who raised concerns," Rakoff wrote.
He cited an instance where an employee "relayed to Ms. Mairone a lengthy list of concerns about the erosion of loan quality under the HSSL program."
In response, Mairone "not only gave his concerns the back of her hand but also directed thereafter that quality assurance reports be sent only to her rather than distributed more widely, that loan specialists no longer be notified of errors in their HSSL loans, that the quality-assurance checklist be eliminated, and that other changes be made to increase volume and sales at the expense of quality."
Read more:$25 Billion Deal and JPMorgan Stumble to Aid of Bronx Homeowner
Mairone could not be reached for comment. Her attorney, Bracewell & Giuliani partner Marc Mukasey, sent the following statement via email:
"We continue to maintain that Rebecca never intended to defraud anyone and never did defraud anyone. Unfortunately, more powerful people chose her as a scapegoat because they thought she was an easy target. We will fight on to clear her name."
Rakoff acknowledged Mukasey's point in his opinion, referring to the lawyer as "Ms. Mairone's excellent counsel." (At another point the judge admitted he was "momentarily mesmerized by defendants' superb attorneys.")
Still, he added, "the fact that other, higher-level individuals arguably participated in the fraud but were, for whatever reason, not charged by the Government, does not significantly lessen Ms. Mairone's culpability for her leading role in the fraud."
Mukasey, who in March told Reuters Mairone now goes by her maiden name of Steele, declined all further comment.
Mairone was employed at JPMorgan Chase (JPM) - Get JPMorgan Chase & Co. Report until July 1, according to an email Wednesday from bank spokesman Jason Lobo, who did not respond to additional questions.
Mairone will not pay the $1 million in one lump sum because Rakoff believes "while she is certainly not a candidate for welfare," doing so "would strain her resources to the limit." As a result, she must pay 20% of her gross income per quarter until the fine is paid.
As for Bank of America, spokesman Lawrence Grayson wrote via email that "We believe that this figure simply bears no relation to a limited Countrywide program that lasted several months and ended before Bank of America's acquisition of the company. We're reviewing the ruling and will assess our appellate options."
Read more:Federal Judge Rakoff Sees No Prosecution for Top Wall Street Execs
Disclosure: TheStreet's editorial policy prohibits staff editors, reporters and analysts from holding positions in any individual stocks.