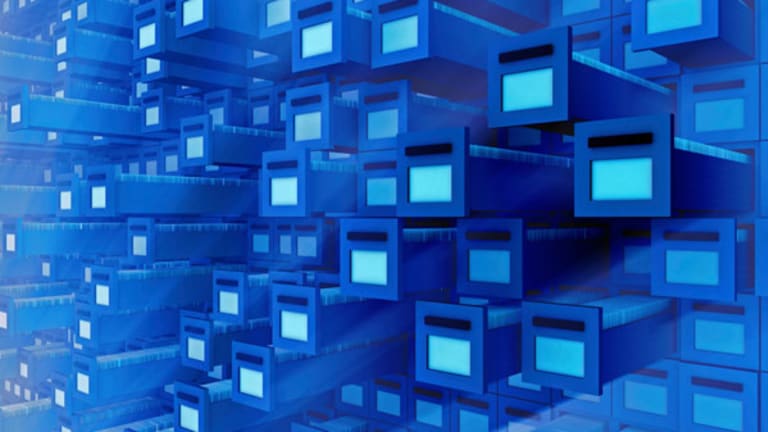 Blockbuster Bankruptcy Won't Deter Shareholders
Blockbuster shareholders are rallying together after the company files for bankruptcy.
NEW YORK (
) --
Blockbuster
(BLOKA.PK)
shareholders sure are resilient.
Regardless of the fact that a bankruptcy filing will whip shareholders and investors holding subordinate debt clean, they aren't giving up.
Lead by shareholder Gregory P. Maggipinto, Blockbuster shareholders are rallying together and working on an alternative plan that would satisfy the senior secured debt holders, the senior subordinated debt holders, and the equity holders.
Under one proposal outlined in a letter over the weekend, the 2012 senior subordinated debt holders and equity holders would each agree to take 15% of the new enterprise, leaving 70% for a group of investors willing to meet the company's cash needs. Those needs are estimated to be $150 million, and can be met in the form of an immediate cash infusion.
The 2014 senior secured debt holders would then be offered $540 million for their notes, equivalent to 90 cents on the dollar. This plan would lower debt from $900 million to $360 million.
If additional cash is needed, it could be backstopped by a credit line from new equity holders, the sale of assets or offer partners participation stakes in joint ventures for cash to pay down senior note holders.
Another proposal calls for selling off some of the European operations, while another proposes liquidating Blockbuster's stake in the NCR kiosk partnership, set to generate substantial royalties in 2011.
"Any of these arrangements could easily have been done during the 'fluid' negotiations," Maggipinto wrote. "Unfortunately, facts will show that management decided, instead, to hand the company over to corporate raider
. Icahn, who engaged in a proxy fight for years to install his own directors at Blockbuster, was the man who appointed CEO Jim Keyes in July 2007."
"During this extended period of feigned debt negotiation, Blockbuster management spent millions of dollars fighting the election of a shareholder-friendly board member, Greg Meyer, claiming in print that his ideas to help the shareholders by offering equity to the studios in exchange for much needed liquidity would 'put the company's fate in the hands of an outside agent,'" Maggipinto continued. "The fate of the shareholders today indicates that management's plan was to do just that, only the outside agent of their choosing was a group led by Keyes' friend Carl Icahn. No signal was given to the shareholders about the status of the debt negotiations until the company announced last week that its 'successful' refinance plans centered on wiping them out."
Shareholders have complained they have been left in the dark throughout this process, and have set up a forum,
, to vent these frustrations.
The former leader of this group, Niko Celentano, who resigned last week after selling off his position in the company, sent a letter to CEO Jim Keyes last month, after reports surfaced that a bankruptcy filing was imminent. In the letter he said, "With the news out now that Blockbuster is looking to file a bankruptcy, you have left us no choice but to prepare our legal representation should this occur and we as shareholders, not be included in any settlements.
"Please understand this loyal group of shareholders has stuck with the company through this tough time," it continued, "and fully expect to be part of the turnaround that is ahead."
Shareholders are also demanding Keyes resigns. Celentano sent an e-mail on Thursday to the company: "Jim Keyes and all involved will be held accountable for their actions that led to this today," he wrote. "Jim Keyes and his BOD's have failed all shareholders in their fiduciary responsibilities due to them. Jim Keyes is the main reason Blockbuster is in this position today due to his denial of being in a business model that did not work anymore.
"If Jim Keyes would have seen the changes that were evolving in this industry in the past few years," the note continued, "Blockbuster would not have been in the courts today filing Chapter 11 bk protection.... Jim Keyes has failed in his job as CEO of Blockbuster and should resign immediately."
According to the bankruptcy filing, more than 80% of the company's senior noteholders have agreed to support the plan and provide $125 million in "debtor-in-possession" financing to help support Blockbuster's operations while it undergoes the restructure.
Under the plan, bonds will be converted into equity and nearly all of Blockbuster's $1 billion in debt will be eliminated.
--Written by Jeanine Poggi in New York.
>To contact the writer of this article, click here:
Jeanine Poggi
.
>To follow the writer on Twitter, go to
.
>To submit a news tip, send an email to:
.
Readers Also Like: