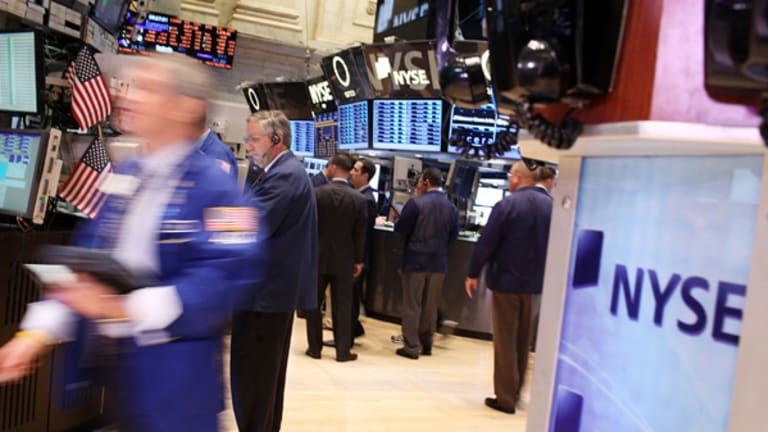 Blending ETFs, Stocks at the Sector Level
A thoughtful grouping of individual stocks, ETF weightings and domestic and foreign ETFs can outperform many sector ETFs alone.
A thoughtful grouping of individual stocks, ETF weightings and domestic and foreign ETFs can outperform many sector ETFs alone.
NEW YORK (TheStreet) -- Index Universe recently published an interview with well-regarded investment manager David Kotok from Cumberland Advisors about using ETFs to build a portfolio at the sector level. The interview focused on Cumberland's process and used the health care sector as an example of how to use multiple funds to create the desired exposure.
Kotok notes that he and his team make overweight or underweight decisions for each of the
S&P 500
sectors based on "macro inputs" and a "rationale for the decision." Cumberland is overweight health care because he believes all the bad news is priced in and that health care is growing as a portion of GDP. The firm's current exposure in the sector, per the article, consists of the
Healthcare Sector SPDR
(XLV) - Get Report
,
iShares Dow Jones US Medical Devices ETF
(IHI) - Get Report
and the
PowerShares S&P Small Cap Healthcare Portfolio
(PSCH) - Get Report
.
This is an excellent way to capture the full utility available from the ETF product wrapper. For investors willing and able to devote the time, blending together different exposures within the sector allows for very precise portfolio construction. One step further would be a combination of narrow-based ETFs like Kotok uses and individual stocks.
The advantages in using an ETF/individual stock combination include even more precision as not every segment of the market is represented in an ETF and also the opportunity for higher dividend yields.
10 Stocks That Could Rise in Market Decline >>
For example the Healthcare Sector SPDR has a trailing yield of 1.95% but most of the larger constituents of that fund yield far more than that.
Johnson & Johnson
(JNJ) - Get Report
is the largest holding in the fund and yields 3.6%.
Pfizer
(PFE) - Get Report
,
Merck
(MRK) - Get Report
and
Abbott Labs
(ABT) - Get Report
are also large holdings in the fund and yield 3.92%, 4.37% and 3.37% respectively.
It is reasonable that not every market participant would be comfortable picking stocks in every sector, but increasing the dividend yield of the portfolio is a reason to incorporate at least some individual names.
10 Stocks That Fidelity Funds Are Buying >>
Another consideration is the use of foreign ETFs and thematic ETFs (which may or may not include foreign stocks). We can see the advantage illustrated in the materials sector. The
Basic Materials Sector SPDR
(XLB) - Get Report
is a domestic fund with 64% in chemicals stocks and only 24% in metals and mining.
The
iShares S&P Global Materials Sector Index Fund
(MXI) - Get Report
is obviously global, has 50% in metals and mining and only 40% in chemicals. Over the last few years the boom was in mining stocks, not chemical stocks, and so going into the May 2008 peak for the sector the trailing 12-month return for MXI was 32% vs. just 15% for XLB.
However, while the boom times were been better for the mining-centric MXI, the last 12 months were not so kind as MXI has lagged badly going down 14% compared to just 6% for XLB.
For one final example, let's look at the allocation our firm has for client accounts in the industrial sector. We use a very similar approach as Kotok and Cumberland but include individual stocks. For ETFs in the sector we use the
PowerShares Water Portfolio
(PHO) - Get Report
, which is 58% industrial stocks and has a much smaller market cap than the sector benchmark
Industrial Sector SPDR
(XLI) - Get Report
.
The other ETF we use is the
iShares S&P Emerging Markets Infrastructure Index Fund
(EMIF) - Get Report
and although only 32% in industrials we believe the composition of the fund makes it a fit for this sector. It has a trailing yield of 3%. We combine those funds with individual stocks
Volvo
(VOLVY)
,
ABB
(ABB) - Get Report
and
Northrup Grumman
.
12 Highest-Rated Consumer Stocks Picked by S&P >>
While our mix could fare poorly depending on what the market has in store, it obviously captures plenty of foreign and thematic segments within the sector and a dividend yield that is quite a bit higher than XLI.
At the time of publication, the author's firm had client holdings in EMIH, PHO, ABB, VOLVY, NOC, MXI and XLI. Positions may change at any time.
This contributor reads:
On Twitter, this contributor follows: