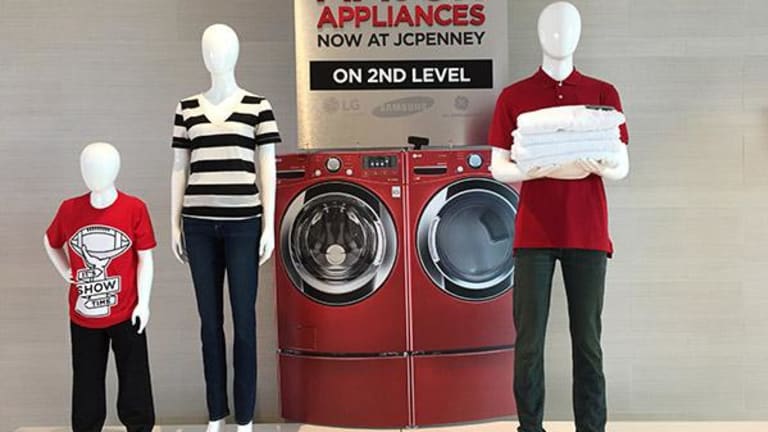 Blast From the Past: J.C. Penney Selling Appliances for First Time in Millennial Lifetime
J.C. Penney's new appliance sections may feel weird to millennials, but the ideas makes a ton of sense.
We millennials have seen a lot of new products and technologies come down the pike, but here's something that's a blast from the past: J.C. PenneyJCP is selling appliances again for the first time in most of our lifetimes.
Though J.C. Penney sold appliances during our parent's era -- from 1963 to 1983 -- under its own brand called Penncrest, for my generation the go-to places for our parents to buy a fridge were generally Home DepotHD , Lowe'sLOW or SearsSHLD (back when Sears was doing OK).
Now, though, in case you're in the market for a stainless steel Samsung refrigerator to go along with pair of cheap of NikeNKE sneakers, a cheesy family portrait or discounted sweatpants for gym class, Penney's is a one-stop shop.
The company exited the appliance category more than 30 years ago to focus on its apparel business, in hindsight a missed opportunity as boomers bought their first homes in the 1980s and then went on a remodeling boom that ended badly in the late 2000s.
But now, J.C. Penney is back in a big way in the appliance business in a bid to capitalize on people remodeling their homes that are appreciating in value again.
To be sure, J.C. Penney uses a showroom model for its appliance section, meaning it doesn't hold the appliance inventory on its books. Instead, orders are shipped from suppliers which reduces costs for J.C. Penney and minimizes the threat of profit-busting markdowns.
Stainless steel is the main appliance color at the kitchen appliance section in J.C. Penney Bayshore.
After a successful 22-store test that kicked off in February, J.C. Penney is in the process of introducing major appliances from Samsung, LG, GE Appliances and Hotpoint to about 500 stores. The shops are currently in 200 stores, with the remaining 300 set to open by the end of the fall. Additionally, consumers now have the ability to buy household appliances on the company's website.
"We continue to be very pleased with the excellent results of our appliance businesses," J.C. Penney CEO Marvin Ellison told analysts on an Aug. 12 call, adding that it has seen sales and profit margins in appliances perform above its expectations.
Ellison, a former top executive at Home Depot, said, "We know that there will be market share up for grabs with some of the disruption happening with some of the leading appliance retailers in the marketplace."
Ellison likely was referring to the disruption being caused by Sears' aggressive store-closure plan, which in effect is removing its formerly sought-after appliance offerings from malls. A great example of the disruption that J.C. Penney stands to benefit from when it comes to appliances is in the South Shore Mall in Bayshore, New York.
Sears once occupied a huge three-level store at one corner of the mall along with Macy'sM and J.C. Penney just a few steps away. But, the store closed midway through 2015 due to lagging sales. This writer recalls visiting the location with his dad to buy a new TV and fridge sometime in the late 1980s. However, with the Sears now gone from the often busy mall (which has been completely renovated), there isn't a single place in there that sells the unique combination of replacement products such as major appliances and necessities like basic apparel. A Home Depot is roughly a mile away from the mall, a Lowe's five miles or so, but neither of those places sell jeans.
In effect, Sears has ceded an entire market to a competitor. "J.C. Penney is stealing market share from Sears -- store closures are proving to be a positive overall," wrote B. Riley analyst Jeffrey Van Sinderen in a note on Monday.
This floor-space at J.C. Penney Bayshore was once dominated by big-ticket furniture such as couches. 
Share loss for Sears in appliances is nothing new, however. According to a recent report from market research firm Stevenson, Sears shed an astounding $1 billion in appliance revenue last year. The sales drop reduced its market share among the top 50 U.S. appliance sellers to 19.5% last year, from 23.5% in 2014, putting it in third place behind home improvement retailers Lowe's and Home Depot.
The report points out that Sears held a commanding 40% share of the U.S. appliance market 20 years ago.
As for the overall experience of J.C. Penney's appliance departments, this millennial came away impressed with the brands on offer and the prices. There was one important takeaway worth mentioning. The selection was much larger than J.C. Penney may be leading Wall Street to believe -- in many respects the floor-space dwarfs the presentations seen at the local Home Depot, Lowe's and even Best BuyBBY. All of the traditional appliance sellers should be on notice, says this millennial who may go on to buy a fridge from his mom's favorite clothing store.