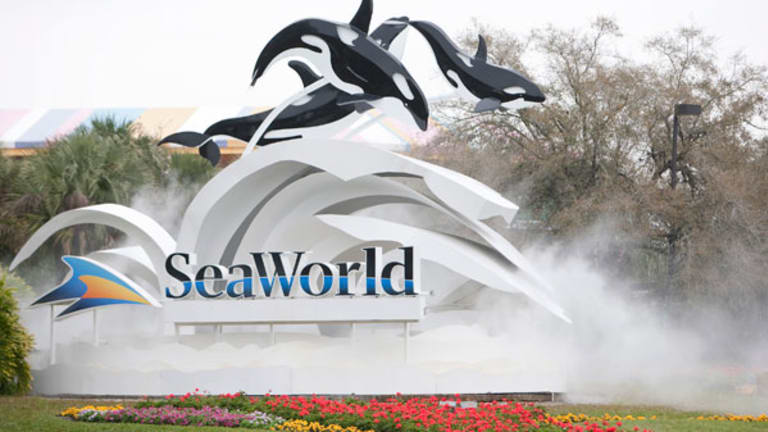 Blackstone, Vampire Squid Sucking Life From SeaWorld: Street Whispers
Corporate kleptomaniacs bore us to death with legalese while they fee up Shamu's house.
NEW YORK (
) --
The Blackstone Group
(BX) - Get Blackstone Group Inc. Class A Report
and
Goldman Sachs
(GS) - Get Goldman Sachs Group, Inc. (GS) Report
' proposed initial public offering of SeaWorld stinks like a rotting whale carcass, but that isn't necessarily news.
Still, the deal deserves our attention if only for the likely futile hope that such scrutiny will counter the secret strategy of Wall Street takeover sharks: bore the world to death while quietly raking in
on the planet.
While Blackstone is apparently the main owner of SeaWorld, someone with a sense of humor at Goldman Sachs decided the infamous vampire squid also ought to have a stake. The size of the stake isn't specified. A Goldman spokeswoman declined to comment.
Blackstone bought SeaWorld from
Anheuser-Busch
(BUD) - Get Anheuser-Busch InBev SA/NV Sponsored ADR Report
in 2009. Since then, it has increased the company's debt load to pay itself two dividends worth a total of $610 million. Blackstone also purchased more than $100 million in SeaWorld debt. Some of the proceeds of the IPO will be used to pay Blackstone an unspecified fee.
Blackstone will retain control over SeaWorld after the IPO, which is a good thing for Blackstone, since it will allow the buyout firm to continue receiving all sorts of kickbacks from the company.
Take Equity Healthcare, for example, a sort of middleman among middlemen affiliated with Blackstone. SeaWorld's prospectus states that Equity Healthcare, which it contracted at the start of the year, "provides to us certain negotiating, monitoring and other services in connection with our health benefit plans. Because of the combined purchasing power of its client participants, Equity Healthcare is able to negotiate pricing terms for providers that are believed to be more favorable than the companies could obtain for themselves on an individual basis."
That doesn't sound too different from the pitch originally made by health insurers: that they help companies keep medical costs down by exerting leverage over doctors. But now it seems Blackstone's companies need someone to police the police. Meanwhile, it charges SeaWorld $2.50 per employee per month for the 8,400 employees who participate in the plan, which will rise to $2.60 in 2013 and $2.70 in 2014.
Another Blackstone affiliate called Core Trust Purchasing Group (CPG) "secures from vendors pricing terms for goods and services that are believed to be more favorable than participants in the group purchasing organization could obtain for themselves on an individual basis," according to the prospectus.
CPG, which has a five-year deal with SeaWorld, gets a commission from vendors for the purchases made by SeaWorld, and then Blackstone appears to get another, separate cut, though the language in the prospectus isn't very clear on this point.
Blackstone touts both Equity Healthcare and CPG on its website as part of its
Portfolio Operations Group
, implying that SeaWorld's deals with these companies isn't in any way unique. Presumably, many of the companies owned by Blackstone have similar arrangements. That's the whole point: that Blackstone and all the companies it runs with its more than $200 billion under management is a more effective negotiator than SeaWorld would be by itself. But where do Blackstone's allegiances lie: with maximizing the profitability of SeaWorld or sucking as much money as it can out of the company as quietly as it can? Blackstone spokespeople didn't immediately respond to a request for comment.
All of these arrangements--the loading up with debt, the dividends to Blackstone, the Portfolio Operations Group--are at least reasonably visible, if not transparent, in SeaWorld's IPO prospectus.
Who Owns What when it comes to SeaWorld is buried under 1000 leagues of legalese. Forgive me from quoting at length from that legalese so that I can display it in all of its serpentine brilliance. The following three sentences are intended to explain--or at least legally cover the appropriate asses--with regard to Who Owns What:
On December 1, 2009, investment funds affiliated with The Blackstone Group L.P. and certain co-investors, through SeaWorld Entertainment, Inc. and its wholly-owned subsidiary, SeaWorld Parks & Entertainment, Inc. ("SWPEI"), acquired 100% of the equity interests of Sea World LLC (f/k/a SeaWorld, Inc.) and SeaWorld Parks & Entertainment LLC (f/k/a Busch Entertainment Corporation) from certain subsidiaries of Anheuser-Busch Companies, Inc. We refer to this acquisition and related financing transactions as the "2009 Transactions." As a result of the 2009 Transactions, Blackstone and the other co-investors currently own, through SW Cayman L.P., SW Cayman A L.P., SW Cayman B L.P., SW Cayman C L.P., SW Delaware D L.P., SW Cayman E L.P., SW Cayman F L.P., SW Cayman Co-Invest L.P., SW Cayman (GS) L.P. and SW Cayman (GSO) L.P. (collectively, the "Partnerships"), 100% of the common stock of SeaWorld Entertainment, Inc., the issuer in this offering.
So who owns SeaWorld and all its confusing chain of subsidiaries? Lots of shell companies, most of which have the word Cayman in the title, except for the one that has Delaware in the title.
But my favorite of the three sentences is the simplest: "we refer to this acquisition and related financing transactions as the '2009 Transactions.'"
What related financing transactions? They are apparently on equal par with the acquisition since after that point, the prospectus refers repeatedly, not to the acquisition, but to the "2009 Transactions."
They may be buried somewhere amid all the other information in the prospectus, but they are undoubtedly far more complex than the simple notion that "Blackstone bought SeaWorld," which is the only information that a casual reader of business news is likely to have any hope of retaining. Who knows what unknown land-mines and special favors are in the heart of those "2009 transactions?"
And by the way, since Goldman Sachs may be conflicted as a co-lead underwriter of the IPO, it is supposedly being supervised by
Citigroup
(C) - Get Citigroup Inc. Report
. Everywhere you look in the prospectus, there are slimy little sea-nuggets of this sort.
Again, there's little that's unique to SeaWorld about these issues. Similar points could be raised about any one of Blackstone's portfolio companies, or many others owned by private equity giants such as
Fortress Investment Group
(C) - Get Citigroup Inc. Report
,
Carlyle Group
(CG) - Get Carlyle Group L.P. Report
or
KKR
(KKR) - Get KKR & Co. Inc. Class A Report
.
These corporate kleptomaniacs, run mostly by old hands who worked for some earlier incarnation of all the banks we bailed out in 2008 and 2009, are likely to become increasingly important in the coming years. That's because they have escaped much of the regulation aimed at preventing future bank bailouts.
Imagine the world were a swimming pool and 1000 killer whales peed in it all all at once. A routine deal for Blackstone is at least that toxic. So, routine or not, as Arthur Miller once wrote when telling a very different kind of "routine" story about a mediocre salesman: attention must be paid.
--
Written by Dan Freed in New York
.
Disclosure: TheStreet's editorial policy prohibits staff editors, reporters and analysts from holding positions in any individual stocks.