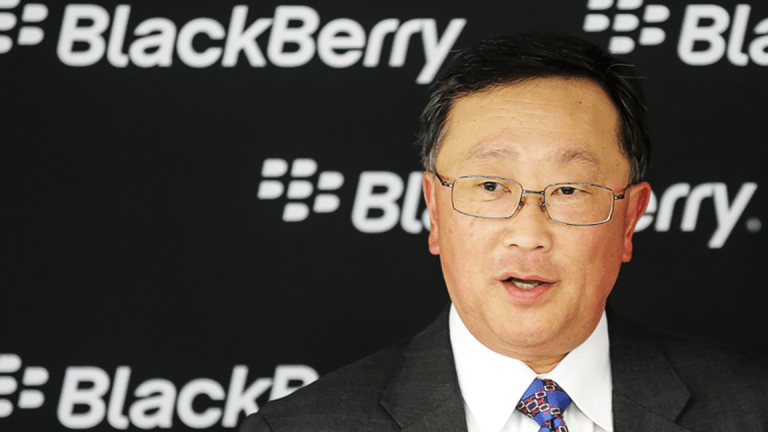 BlackBerry CEO John Chen Continues to Push Most of the Right Buttons
After having overreacted to a revenue miss in June, markets are quite happy with BlackBerry's strong August quarter report, which reflected well on its enterprise and licensing momentum.
As of Aug. 21, BlackBerry Ltd.  undefined was down 22% from where it traded on June 22, the day before the company posted mixed May quarter numbers that disappointed investors. The stock plummeted even though the quarterly numbers weren't half as bad as they first looked after factoring in accounting quirks and the loss of some one-time revenue recorded in the February quarter.
Shares have now recovered nearly all of those losses, as BlackBerry, which has been run by CEO John Chen since  2013, rose 13.4% on Thursday in response to a September quarter sales/EPS beat and decent guidance. But outside of some licensing deals and a moderate billings uptick, not a ton has changed for the company and its turnaround efforts since markets overreacted to the prior quarter's results in June.
BlackBerry reported adjusted August quarter (fiscal second quarter) revenue of $249 million (down 29% annually) and adjusted EPS of $0.05 (up from breakeven EPS a year ago). That beat consensus analyst estimates of $220 million and breakeven.
The company also guided for fiscal 2018 (ends in February 2018) revenue of $920 million to $950 million, above a $919.5 million consensus. And it guided for fiscal 2018 software and services revenue growth of 10% to 15%, more or less affirming a prior outlook. BlackBerry also reiterated guidance for positive full-year EPS and free cash flow (FCF), excluding hardware-related restructuring costs and an $815 million windfall related to an arbitration dispute with Qualcomm Inc. (QCOM) - Get QUALCOMM Incorporated Report .
Enterprise software and services revenue, closely watched since the businesses covered by it are at the heart of BlackBerry's turnaround plan, was flat on an adjusted basis at $102 million, after having dropped by $5 million in the May quarter. But after backing out deferred revenue stemming from past acquisitions, it grew 11% to $93 million.
Perhaps more importantly, given how much of BlackBerry's enterprise business is now subscription-based and not recognized as revenue right away, Chen disclosed on the earnings call that BlackBerry's core unified endpoint management (UEM) business, which covers a number of products for managing and securing mobile devices, apps and content, saw 19% billings growth. That's better than the high-single digit growth seen in the May quarter.
Chen also forecast UEM billings will continue growing at a double-digit clip for the rest of fiscal 2018. He talked up UEM wins with the likes of UBS and Fifth Third Bank, as well as broader momentum in the federal vertical, where BlackBerry recorded 23 $100,000-plus deals and seven $500,000-plus deals. And BlackBerry's professional services revenue, which had much to do with the prior quarter's revenue miss due to the disappearance of one-time revenue related to an app-deployment deal, was said to be up 40% annually.
Giving the August quarter a big boost: "Licensing, IP and other" revenue, which among other things covers patent-licensing deals and software licensing revenue related to the use of BlackBerry software on third-party phones, jumped to $56 million from $16 million thanks to licensing deals with Ford Motor Co. (F) - Get Ford Motor Company Report , watch maker Timex and low-end phone vendor BLU. BlackBerry and Ford announced an automotive software alliance last October, and expanded it in March; BLU had previously been sued by BlackBerry for infringement. And in tandem with its report, BlackBerry announced a licensing deal with Chinese electronics manufacturer NTD that it says will involve developing the first phones to receive the "BlackBerry Secure" designation on account of their use of BlackBerry security software.
More of What's Trending on TheStreet:
Editors' pick: Originally published Sept. 29.
Momentum wasn't as strong for the BlackBerry Technology Solutions (BTS) unit, which covers the popular QNX automotive OS as well as IoT and RF antenna tuning offerings: BTS revenue was flat annually at $38 million. In June, it was reported that Toyota Motor Co. would stop using QNX within its cars in favor of Linux (Tesla Inc. also prefers to have its infotainment systems run on Linux). On the flip side, BlackBerry is just a week removed from announcing that auto parts giant Delphi will make QNX part of the autonomous driving solution it's developing with Intel Corp. and plans to start rolling out in 2019.
Not surprisingly, with BlackBerry in the midst of exiting its phone business in favor of licensing deals, handheld devices revenue fell to just $16 million from $105 million a year ago. Likewise, service access fee (SAF) revenue, which is tied to a withering BlackBerry installed base, plunged to $37 million from $91 million.
On an annual basis, BlackBerry is still getting a boost from its aggressive cost-cutting efforts: R&D spend fell 29% to $70 million and sales, marketing and admin spend fell 20% to $110 million. But operating expenses were flat sequentially, and BlackBerry guided on its call for modest November quarter sequential growth due to higher sales/marketing investments.
As rivals such as Microsoft Corp. (MSFT) - Get Microsoft Corporation (MSFT) Report , SAP SE (SAP) - Get SAP SE Sponsored ADR Report  and VMware Inc. (VMW) - Get VMware, Inc. Class A Report would gladly vouch, BlackBerry's UEM offerings still face plenty of stiff competition. Microsoft has seen strong adoption for its aggressively-priced and frequently-bundled Enterprise Mobility Suite (EMS), and VMware has reported continued momentum for its AirWatch enterprise mobility management (EMM) platform.
But BlackBerry, aided by its security/compliance strengths and the assets it obtained from its $425 million 2015 acquisition of EMM rival Good Technology, clearly has some momentum in verticals such as government and financial services. It also seems to be making headway in growing its professional services business with the help of its security expertise: Chen claimed BlackBerry's pipeline of cybersecurity consulting deals is growing "very nicely," and that a 7-figure deal was recently closed in the Middle East.
In either the enterprise mobility or automotive fields, BlackBerry isn't by any means a juggernaut mowing down big-name rivals. But thanks to some unique strengths and generally decent execution, the good news continues to outweigh the bad. Meanwhile, the company's software and patent-licensing momentum clearly looks a little better than it did at the beginning of the year.
And with BlackBerry still only valued at around four times its expected fiscal 2018 sales after backing out $1.9 billion in net cash, that should be more than enough for investors to continue giving a thumbs-up to Chen's efforts to turn around what was not too long ago a very troubled company.